Events
|
Top 10
|
What's Hot
|
Community
|
New Reviews
|

Thu, May 31
3:00 - 5:00 PM
Bookstore
Free

Bryan Welch, publisher of Mother Earth News and Utne Reader, signs Beautiful and Abundant (Book-signing)

Thu, May 31
7:00 - 9:00 PM
Barn Beach Reserve
Optional $10 donation supports E. Lorene Young Community Garden

Bryan Welch, publisher of Mother Earth News and Utne Reader, discusses humanity's definitive challenge

Beautiful and Abundant, by the publisher of Mother Earth News and Utne Reader, is that rare book about crisis in the natural world that does not despair—it is instead victoriously hopeful. Both a practical guide to making your lifestyle more sustainable, and a lesson in looking beyond immediate obstacles toward humanity's ultimate destination; envisioning a world that is aesthetically beautiful, economically abundant, ethically fair, and irresistibly contagious.

Click here to learn more...
Buy a SIGNED copy of Beautiful and Abundant - $25.95

Fri, Jun 1
5:00 PM VIP Dinner

An Evening with Dr. Andrew Bacevich: Re-Considering American Global Policy





7:30 PM Lecture followed by Book Signing
Sleeping Lady Retreat Center
Tickets: $15 / $20 (lecture only) or $100 (lecture and dinner)
Call 509-548-6344 or 800-574-2123 for reservations

"Andrew Bacevich speaks truth to power, no matter who's in power, which may be why those of both the left and right listen to him." — Bill Moyers

West Point graduate, retired Colonel, and international relations professor Andrew Bacevich challenges conventional wisdom on national security. With vivid, incisive analysis, Bacevich assails and exposes the biases and habits fueling America's notion that overwhelming superiority will oblige others to accommodate America's needs and desires—whether for cheap oil, cheap credit, or cheap consumer goods. As we enter a period when our militarism has become both unaffordable and increasingly dangerous, replacing the current Washington consensus is crucial to America's future and may yet offer the key to the country's salvation.

To take stock of The Short American Century and place it in historical perspective, Bacevich has assembled a richly provocative range of perspectives from numerous distinguished historians from Jeffry Frieden to Emily Rosenberg. What did this age of reputed American preeminence signify? What caused its premature demise? What legacy remains in its wake?

"Tough-minded, bracing, and intelligent . . . the country is lucky to have a fierce, smart peacemonger like Bacevich." — The New York Times Book Review

Proceeds from this event will benefit the Leavenworth Rotary Scholarship Fund.

Click here to learn more...
Buy a SIGNED copy of The Short American Century: A Postmortem - $25.95
Buy a SIGNED copy of Washington Rules: America's Path to Permanent War - $15.00
Buy a SIGNED copy of The Limits of Power: The End of American Exceptionalism - $14.00

Fri, June 1
7:00 - 8:00 PM
Leavenworth Library
Free

TGIF: Jane Kirkpatrick, inspirational speaker and award-winner author, shares heartwarming stories (Presentation)





Sat, Jun 2
1:00 - 3:00 PM
Bookstore
Free

Award-winning inspirational Christian, western, and women's author Jane Kirkpatrick shares new releases and heartwarming classics (Book-signing)

A lively and humorous speaker, Kirkpatrick is a frequent keynote presenter for conferences, women's retreats, and workshops. Jane believes that our lives are the stories that others read first and she encourages groups to discover the power of their own stories to divinely heal and transform. Jane speaks to the privilege of following one's passion wherever the dreams may lead.

Jane Kirkpatrick's 19th historical novel, Where Lilacs Still Bloom, is based on the life of Hulda Klager, a German immigrant with an eighth-grade education and a burning desire to create something beautiful in the world. Where Lilacs Still Bloom is a story of triumph over impossible odds and of the power of a generous heart.

Click here to learn more...
Buy a SIGNED copy of Where Lilacs Still Bloom - $14.99
Buy a SIGNED copy of The Daughter's Walk - $14.99
Buy a SIGNED copy of Barcelona Calling: A Novel - $14.99

Fri, Jun 15
7:00 - 8:00 PM
Leavenworth Library
Free

TGIF: Best-selling true-crime author Gregg Olsen shares his new YA novel: Envy (Presentation)

Sat, Jun 16
1:00 - 3:00 PM
Bookstore
Free

Gregg Olsen joins our June book buzz

In Port Gamble (aka "Empty Coffin"), Washington, truth is about as hard to come by as a sunny day. One minute Katelyn is a depressed teen with a loser life. The next, she's lying on a stainless steel slab, eyes glassy, skin frosted over, and very, very dead. New York Times bestselling Gregg Olsen's YA debut Envy exposes cyber-bullying in this ripped-from-the-headlines story—with a paranormal touch.

Click here to learn more...
Buy a SIGNED copy of Envy - $9.95

Sat, Jun 16
1:00 - 3:00 PM
Bookstore
Free

Book Buzz: Authors Gregg Olsen, Bernadette Pajer, and Kathleen O'Brien dazzle with electric mysteries, paranormal young adult, and a journey through loss into love.

Best-selling Gregg Olsen kicks off his eerily paranormal young adult Empty Coffin series with Envy, a hard-hitting look at cyber-bullying. Bernadette Pajer takes us back to the early days of electricity with another electrifying whodunit featuring savvy professor Bradshaw, as Fatal Induction follows A Spark of Death. Kathleen M. O'Brien debuts A Light in the Heart, an inspirational story of a shattered woman rebuilding her life, struggling through pain and loss to find purpose and love.

Buy a SIGNED copy of Envy - $9.95

Buy a SIGNED copy of Fatal Induction - $14.95

Thu, Jun 28
7:00 - 9:00 PM
Wenatchee Library
Free

Heather Barbieri presents a potent, unforgettable love story: The Cottage at Glass Beach (Presentation)

Fri, Jun 29
7:00 - 8:00 PM
Leavenworth Library
Free

TGIF: The Cottage at Glass Beach: an unforgettable love story from Heather Barbieri

Sat, Jun 30
1:00 - 3:00 PM
Bookstore
Free

Heather Barbieri book-signing

Heather Barbieri follows The Lace Makers of Glenmara, her acclaimed Gaelic-tinged drama, with The Cottage at Glass Beach, the resonant tale of a woman who, in the wake of scandal, flees to a remote Maine island to reconnect with her past—and to come to terms with the childhood tragedy that has haunted her for a lifetime. Set on the rugged New England coast, Barbieri's The Cottage at Glass Beach infuses a potent and unforgettable love story with characters that will remain with you long after the final chapter.

Click here to learn more...
Buy a SIGNED copy of The Cottage at Glass Beach - $24.99
Buy a SIGNED copy of The Lace Makers of Glenmara - $14.99

Fri, Jul 13
7:00 - 9:00 PM
Barn Beach Reserve
Free

The Informed Gardener Blooms Again (Presentation)

Sat, Jul 14
1:00 - 3:00 PM
Book Store
Free

Informed Gardener Linda Chalker-Scott joins a panoply of innovative authors at our multi-author Book Buzz!

The Informed Gardener Blooms Again picks up where The Informed Gardener left off, using scientific literature to debunk a new set of common gardening myths. Once again, Linda Chalker-Scott investigates the science behind each myth, reminding us that urban and suburban landscapes are ecosystems requiring their own particular set of management practices.

Click here to learn more...
Buy a SIGNED copy of The Informed Gardener Blooms Again - $18.95
Buy a SIGNED copy of The Informed Gardener - $18.95

Sat, July 14
1:00 - 3:00 PM
Free

A panoply of innovative authors at our July Book Buzz!

Enjoy wickedly funny true confessions by local author Mark Neher; Jess Steven Hughes' action packed debut historical novel set in ancient Rome; Jeanne Maththews' latest Dinah Pelerin mystery; a thoughtful look at well-functioning non-profit boards by Vaughn Sherman, and gardening facts sorted from fiction by horticulture expert Linda Chalker-Scott.

Holy cow! Is nothing sacred? Local author Mark Neher returns with a second witty look at life: Saturday Morning Sins. Fans of Neher's first book, Target Practice: My Life in the Bullseye will be delighted by this latest collection of stories from the self-confessed "high-functioning obsessive-compulsive Catholic boy."




Jess Steven Hughes' The Sign of the Eagle is a breathtaking historical novel of action and suspense set in the year 71 A.D. amid the exotic and vibrant streets of ancient Rome. Macha, the strong-willed daughter of a legendary Celtic British king and wife of the Roman tribune, Titus, is the only one who can prove her husband innocent of treason, solve the murders of two slaves who possessed information that could have exonerated Titus, and ultimately save the life of the Roman Emperor Vespasian.




In Jeanne Matthews' Bonereapers, third in the exciting mystery series, Dinah Pelerin leaves sunny Hawaii on an undercover fact-finding mission to Longyearbyen, Norway. She discovers that no fortress, however remote or carefully constructed, can protect against human corruption and those who seek control of the world's food supply.




Vaughn Sherman has thoroughly enjoyed years of service to nonprofits and now shares his expertise to bring success and satisfaction back to nonprofit board service and governance. His book Walking the Board Walk is essential reading for members of nonprofit boards and community groups of all sizes and specialties.




In The Informed Gardener Blooms Again, horticulturalist Linda Chalker-Scott picks up where her acclaimed Informed Gardener left off, using scientific literature to debunk common gardening myths.

Click here to learn more...
Buy a SIGNED copy of Saturday Morning Sins by Mark Neher - $13.95
Buy a SIGNED copy of Target Practice: My Life in the Bullseye by Mark Neher - $14.95
Buy a SIGNED copy of The Sign of the Eagle by Jess Steven Hughes - $16.95
Buy a SIGNED copy of Bonereapers by Jeanne Matthews - $14.95
Buy a SIGNED copy of Walking the Board Walk: Secrets of an Enjoyable Nonprofit Board Experience by Vaughn Sherman - $12.95
Buy a SIGNED copy of The Informed Gardener Blooms Again by Linda Chalker-Scott - $18.95
Buy a SIGNED copy of The Informed Gardener by Linda Chalker-Scott - $18.95

Fri, Jul 20
7:00 - 8:00 PM
Leavenworth Library
Free

TGIF: Plunge into The Emerald Storm with best-selling author William Dietrich (Presentation)

Sat, Jul 21
1:00 - 3:00 PM
Bookstore
Free

Acclaimed William Dietrich signs his breathless new adventure, The Emerald Storm (Book-signing)

Dietrich's swashbuckling adventure The Emerald Storm follows hard on the heels of his acclaimed thriller Blood of the Reich—with Dietrich's trademark impeccable historical setting and detail. "A breathlessly exciting adventure, as fast-paced as an Indiana Jones movie and just about as entertaining," says a Booklist Starred Review.

Click here to learn more...
Buy a SIGNED copy of The Emerald Storm - $25.99

Fri, Jul 27
7:00 - 8:00 PM
Leavenworth Library
Free

TGIF: open letters from 1920's China with Dennis and Carolyn Buckmaster as they share Healing, Romance and Revolution (Presentation)

Sat, Jul 28
1:00 - 3:00 PM
Bookstore
Free

Dennis and Carolyn Buckmaster sign Healing, Romance and Revolution (Book-bigning)

In Healing, Romance and Revolution Dennis and Carolyn Buckmaster share actual letters from 1920's China written by a witty, perceptive, adventurous young nurse. History students and casual readers alike will be gripped as they travel back in time with this observant young American to a land embroiled in upheaval as Chaing Kia-shek undertakes his northern expedition.

Click here to learn more...
Buy a SIGNED copy of Healing, Romance and Revolution - $17.95

ABFAS May Top 10 Best-Sellers...

Hand-made, Exquisitely Crafted Wooden Items From a Western Mountain Workshop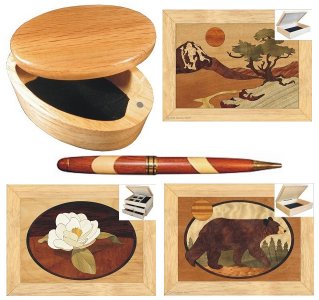 Unique wooden boxes handcrafted with extreme care to provide premium quality. Their strength rests in a special technique of mitered joints in conjunction with rabbet joints and a spline. Lined with velvet to protect and display your precious mementos or jewelry.


A Book For All Seasons Partners with Page Ahead
Succeeding begins with reading, says Page Ahead. A Book For All Seasons donates to Page Ahead, and we invite you to join us.
Page Ahead operates on one simple and astounding fact: being read to as a youngster is the foremost predictor of academic success in childhood. A child who lacks early exposure to reading often suffers from low self-esteem, struggles academically, and is at higher risk for substance abuse, teen pregnancy, and delinquency.
Since 1990 Page Ahead has placed over 2 million brand-new books into the hands of at-risk children through collaborations with schools, social service agencies, preschools, and early childhood centers across Washington State.
"I want to extend my appreciation to Page Ahead for the beautiful books we received at Greenwood Elementary. I have never seen a collection of donated books that are as beautiful as these. Typically, donated or grant-funded books are paperback castoffs, often outdated, although the gift is always well intended. The books from Page Ahead are in beautiful, new condition, and each is timely and of interest to students. Our kids are going to be thrilled with their new books! Sincerely, Ruthanne Rankin, Librarian"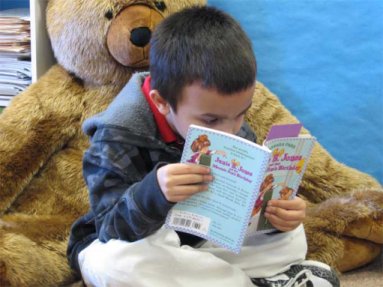 New Books Only, Please
Why a new book? Because Page Ahead serves children who receive free lunches, live in subsidized housing, receive English language tutoring, or read below grade level, a new book is a gift chosen, kept, and treasured. A new book tells a child, "You are valuable." A new book feels good in the hands. A new book is a prized possession. Children are more likely to learn about responsibility if they find value in their possessions. A new book encourages reading and heightens a sense of anticipation about receiving another book.
Come by A Book For All Seasons today to learn how you can help children in need enjoy the feel of a new book in their hands.
You can learn more about Page Ahead at pageahead.org.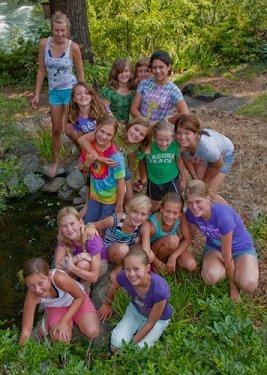 Dr. Fu is Back!
Dr. Fu (aka Amy Carlson) is back with another wickedly wonderful wordophile's sweet summer adventure.
What has two legs, two arms, a brain, rolls around in verbs, pounces on poetry, and explodes with giggles? A language loony; a human child experiencing Avra Kedavra Kamp, a literary arts camp for 8-12 year old persons.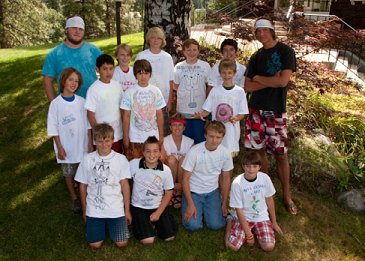 Avra Kedavra Kamp invites kids/families in the Wenatchee Valley in need of quality summer activity to this week-long day camp of Word wackiness. Get more information, and sign up for the best week for your family, here. (www.bearrunantics.com) Hurry! Space is limited.

A Book For All Seasons Embraces the

Ten Percent Shift Pledge:

and

You

Can Too.
A Book For All Seasons is one of over 100 local businesses to take the ten percent shift pledge. We'ved pledged to increase our buying from local independent business by ten percent over the coming year.
To learn more, or to take the pledge yourself, visit www.tenpercentshift.ca.
"Think Local" Suggestions For Father's Day
If you've taken the ten percent shift pledge, or are just trying to think local for father's day ...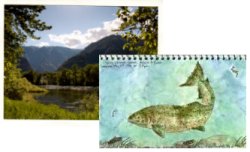 You can find cards by local artists/photographers, such as Reed Carlson and Heather Murphy, at A Book For All Seasons.

A Book For All Seasons also carries exquisite Pacific Northwestern or Western artisan items for Dad—like these handcrafted wooden boxes.
Help Dad retain his brain—we've got a wide variety of Sudoku, Sumoku, Icosoku, Crosswords, and more.
For a book-loving Dad, some fabulous Washington authors include:
Jim Lynch: His latest, Truth like the Sun, is an entertaining, cat-and-mouse political novel vibrating between the 1962 Seattle world's fair and today. His previous works, Border Songs and The Highest Tide, also celebrate Washington State.
Matt Ruff: Seattle's best-selling, award-winning author of Bad Monkeys and Set this House in Order offers a mind-bending alternate history in his latest, Mirage.
Kevin O'Brien: one of Seattle's finest thriller authors delights fans with Disturbed, Killing Spree, Make them Cry and many others.
Best-selling William Dietrich offers swashbuckling Napoleonic adventure (The Emerald Storm) or chilling thriller (Blood of the Reich).
Jess Walter: Spokane author, National Book Award finalist and winner of the Edgar Allan Poe Award; his fiction includes: The Financial Lives of the Poets, The Zero, and Citizen Vince (one of Luke Astell's favorite books).
If Dad loves non-fiction, think of Tim Egan's fascinating studies of the northwest (The Big Burn, The Good Rain) or the dustbowl (The Worst Hard Times). How about Ivan Doig's Winter Brothers, a magnificent evocation of the Pacific NW drawing on 1850s voices and diaries. Or the favorite The White Cascade, Gary Krist's gripping tale of the Stevens Pass avalanche.
If Dad loves to get out in the hills, think of Fred Beckey's Climbing Guides or of East of the Divide by Leavenworth author Chester Marler. If Dad loves to get into the kitchen, consider Edible Seattle, Savoring Leavenworth, or Pacific Feast. If Dad likes to cast a line, think of Dennis Dauble's Fishes of the Columbia Basin. And if Dad is fascinated by birds or science, he won't want to miss Thor Hanson's Feathers: the Evolution of a Natural Miracle. Last but definitely not least: the exquisite photography of The Wenatchee Valley and Its First Peoples.

What's New? What's Hot Off The Press? What's Just Been Released?
Fiction | Non-Fiction | Young Adult | Early Grades & Picture Books |
Fiction

Canada by Richard Ford $27.99
The only writer ever to win both the Pulitzer Prize and Pen/Faulkner Award for a single novel (Independence Day) Richard Ford follows the completion of his acclaimed Bascombe trilogy with Canada. After a five-year hiatus, this undisputed American master delivers a haunting and elemental novel about a young man forced by catastrophic circumstance to reconcile himself to a world that has been rendered unrecognizable.
Undone by the calamity of his parents' robbery and arrest, fifteen-year-old Dell is spirited across the Canadian border by a family friend in hopes of delivering him to a better life. Dell struggles under the vast prairie sky to remake himself and define the adults he thought he knew. But his search for grace and peace only moves him nearer to a harrowing and murderous collision with Remlinger, an elemental force of darkness.
Instead of being offered a better life, Dell is set on a collision course with an enigmatic and charismatic American whose cool reserve masks a dark and violent nature. A true masterwork of haunting and spectacular vision from one of our greatest writers, Canada is a profound novel of boundaries traversed, innocence lost and reconciled, and the mysterious and consoling bonds of family. Told in spare, elegant prose, both resonant and luminous, it is destined to become a classic.
"One of his generation's most eloquent voices." Michiko Kakutani, New York Times
"One of the finest curators of the great American living museum." Washington Post Book World
Richard Ford is one of America's most lauded literary figures. Winner of both the PEN/Faulkner Award and the Pulitzer Prize for his novel Independence Day, Ford is also the author of The Sportswriter, The Lay of the Land, and the story collections Rock Springs and Women with Men. He is editor of several anthologies, including The Granta Book of the American Long Story and Best American Short Stories 1990. He lives in East Boothbay, Maine.

Buy Canada by Richard Ford - $27.99
Fiction

Caleb's Crossing By Geraldine Brooks $16.99
Once again, Geraldine Brooks takes a remarkable shard of history and brings it to vivid life. In 1665, a young man from Martha's Vineyard became the first Native American to graduate from Harvard College. Upon this slender factual scaffold, Brooks has created a luminous tale of love and faith, magic and adventure.
The narrator of Caleb's Crossing is Bethia Mayfield, growing up in the tiny settlement of Great Harbor amid a small band of pioneers and Puritans. Restless and curious, she yearns after an education that is closed to her by her sex. As often as she can, she slips away to explore the island's glistening beaches and observe its native Wampanoag inhabitants. At twelve, she encounters Caleb, the young son of a chieftain, and the two forge a tentative secret friendship that draws each into the alien world of the other. Bethia's minister father tries to convert the Wampanoag, awakening the wrath of the tribe's shaman, against whose magic he must test his own beliefs. One of his projects becomes the education of Caleb, and a year later, Caleb is in Cambridge, studying Latin and Greek among the colonial elite. There, Bethia finds herself reluctantly indentured as a housekeeper and can closely observe Caleb's crossing of cultures.
Like Brooks's beloved narrator Anna in Year of Wonders, Bethia proves an emotionally irresistible guide to the wilds of Martha's Vineyard and the intimate spaces of the human heart. Evocative and utterly absorbing, Caleb's Crossing further establishes Brooks's place as one of our most acclaimed novelists.
Geraldine Brooks is the author of Year of Wonders and the nonfiction works Nine Parts of Desire and Foreign Correspondence. Previously, Brooks was a correspondent for The Wall Street Journal, stationed in Bosnia, Somalia, and the Middle East.
Non-fiction

Drift: The Unmooring of American Military Power by Rachel Maddow $25.00
"One of my favorite ideas is, never to keep an unnecessary soldier," Thomas Jefferson wrote in 1792. Neither Jefferson nor the other Founders could ever have envisioned the modern national security state, with its tens of thousands of "privateers"; its bloated Department of Homeland Security; its rusting nuclear weapons, ill-maintained and difficult to dismantle; and its strange fascination with an unproven counterinsurgency doctrine.
Written with bracing wit and intelligence, Rachel Maddow's Drift argues that we've drifted away from America's original ideals and become a nation weirdly at peace with perpetual war, with all the financial and human costs that entails. To understand how we've arrived at such a dangerous place, Maddow takes us from the Vietnam War to today's war in Afghanistan, along the way exploring the disturbing rise of executive authority, the gradual outsourcing of our war-making capabilities to private companies, the plummeting percentage of American families whose children fight our constant wars for us, and even the changing fortunes of G.I. Joe. She offers up a fresh, unsparing appraisal of Reagan's radical presidency. Ultimately, she shows us just how much we stand to lose by allowing the priorities of the national security state to overpower our political discourse.
Sensible yet provocative, dead serious yet seriously funny, Drift will reinvigorate a "loud and jangly" political debate about how, when, and where to apply America's strength and power—and who gets to make those decisions.
"Maddow recaps milestones in a decades-long process of giving presidents dangerously convenient and unaccountable war-making powers: the Reagan administration's gigantic military buildup, Iran-Contra illegalities, and assertions of executive privilege; the supplanting of soldiers with private contractors under Clinton and Bush; the growth of the CIA's secret drone air force; the many invasions, from Grenada to Iraq, launched by commanders-in-chief without constitutional authority. The author presents sharp, well-supported analyses of these episodes, spicing them with a caustic wit that skewers everything from Army recruitment ads to the Air Force's habit of accidentally dropping or misplacing its nuclear warheads... [an] incisive look at the follies of militarism" — Publishers Weekly
"In her hard-hitting debut, popular MSNBC host Maddow examines how the country has lost control of its national-security policy...[Written with] humor and verve." — Kirkus Reviews (Starred Review)
"An insightful look at the cost of military vigilance to ideals of democracy." — Booklist (Starred Review)
"Maddow wears her expertise lightly, counterbalancing hard details with phrases (e.g., "the lemons-into-lemonade-moment" or "the sliding-off-the-aircraft-carrier-thing") that keep her narrative invigorating...Highly recommended to all readers engaged in the world today and with how we got here." — Library Journal (Starred Review)
"Drift is a provocative, important book that displays all the qualities of its author—intelligence, humor, depth, and originality. Maddow raises vital questions about how the American ways of war have changed and endangered our democracy, but she does so without cant or predictability. America's most charismatic liberal has crafted here an argument for skepticism about our military-industrial complex that will persuade many conservatives—a remarkable achievement" — Steve Coll, author of Ghost Wars
"Here's this conservative's assessment of Rachel Maddow's Drift It's scathingly funny, deeply insightful, and informed throughout by a deep and abiding sense of patriotism. Bravo, Rachel!" — Andrew J. Bacevich, author of Washington Rules: America's Path to Permanent War
"Brilliant book. Drift will stun Americans with its portrait of a hyperventilating United States that has produced too many real live Dr. Strangelove moments." — The Atlantic
"In Drift, people who love Rachel Maddow will discover that her gift for finding amazing anecdotes and funny, revealing details totally translates to the page. People who hate her may be surprised by how often in Drift she espouses some of the most conservative values: a suspicion of big government and unbridled federal power, a zeal to cut wasteful spending and a yearning to return to the intentions of the Founding Fathers." — Ira Glass, host of public radio's "This American Life"

Buy Drift: The Unmooring of American Military Power by Rachel Maddow - $25.00
Young Adult

Okay for Now By Gary D. Schmidt $16.99
Recommended for ages 8-15
As a fourteen-year-old who just moved to a new town, with no friends and a louse for an older brother, Doug Swieteck has all the stats stacked against him.
So begins a coming-of-age masterwork full of equal parts comedy and tragedy from Newbery Honor winner Gary D. Schmidt. As Doug struggles to be more than the "skinny thug" that his teachers and the police think him to be, he finds an unlikely ally in Lil Spicer—a fiery young lady who "smelled like daisies would smell if they were growing in a big field under a clearing sky after a rain." In Lil, Doug finds the strength to endure an abusive father, the suspicions of a whole town, and the return of his oldest brother, forever scarred, from Vietnam. Together, they find a safe haven in the local library, inspiration in learning about the plates of John James Audubon's birds, and a hilarious adventure on a Broadway stage.
In this stunning novel, Schmidt expertly weaves multiple themes of loss and recovery in a story teeming with distinctive, unusual characters and invaluable lessons about love, creativity, and survival.
"This is Schmidt's best novel yet—darker than The Wednesday Wars and written with more restraint, but with the same expert attention to voice, character and big ideas." — Kirkus Reviews (Starred Review)
"Readers will miss Doug and his world when they're done, and will feel richer for having experienced his engaging, tough, and endearing story." — School Library Journal (Starred Review)
"The book is exceptionally well written. Schmidt creates characters that will remain with the reader long after the book is done. Doug's voice is unforgettable as he tries to help and protect his mom....While there is much stacked against him, he is a character filled with hope that the reader cannot help but root for.....Schmidt writes a journal-type story with a sharp attention to detail, patterns in the story line, and an unexpected twist at the end." — VOYA
Gary D. Schmidt is the bestselling author of Okay For Now, the Newbery Honor and Printz Honor book Lizzie Bright and the Buckminster Boy, and the Newbery Honor book The Wednesday Wars. He is a professor of English at Calvin College in Grand Rapids, Michigan.

Buy Okay for Now By Gary D. Schmidt - $16.99
Young Adult

Bitterblue (Graceling) By Kristin Cashore $19.99
Recommended for ages 14 and up
The long-awaited final book in the New York Times bestselling Graceling and Fire series.
Eight years after Graceling, Bitterblue is now queen of Monsea. But the influence of her father, a violent psychopath with mind-altering abilities, lives on. Her advisors, who have run things since Leck died, believe in a forward-thinking plan: pardon all who committed terrible acts under Leck's reign, and forget anything bad ever happened. But when Bitterblue begins sneaking outside the castle—disguised and alone—to walk the streets of her own city, she starts realizing that the kingdom has been under the thirty-five-year spell of a madman, and the only way to move forward is to revisit the past.
Two thieves, who only steal what has already been stolen, change her life forever. They hold a key to the truth of Leck's reign. And one of them, with an extreme skill called a Grace that he hasn't yet identified, holds a key to her heart.
"Bitterblue, now 18, is in power... spirited and frustrated, she dons a disguise, sneaks out, and quickly befriends a printer and a handsome thief. Complications, naturally, ensue... devotees of the earlier books and fans of Megan Whalen Turner's intricate political fantasies will relish this novel of palace intrigue." — Publishers Weekly (Starred Review)
Kristin Cashore grew up in the northeast Pennsylvania countryside as the second of four daughters. She received a bachelor's degree from Williams College and a master's from the Center for the Study of Children's Literature at Simmons College, and she has worked as a dog runner, a packer in a candy factory, an editorial assistant, a legal assistant, and a freelance writer. She currently lives in the Boston area. Graceling, her first book, was an ALA Best Book for Young Adults. Fire is her second book.

Buy Bitterblue (Graceling) By Kristin Cashore - $19.99
Early Grades and Picture Books

The Monstrous Book of Monsters By Libby Hamilton $17.99
This lift-the-flap pop-up book will engage many ages up to twelve
Do you dare to delve into the freakishly funny Monstrous Book of Monsters, where nothing is as it seems?
Apparently written by Dr. Thomas Jelly, and packed with nauseating novelties and foul facts, this book will teach you how to avoid monsters, show you how to spot them in the news or on the street, and give you a peek inside their dangerous (and smelly) world. At the end, we learn that Dr. Jelly has fallen foul of the infamous book monster, and the readers themselves will be lucky to escape the same fate!
"'Written' by Dr. Thomas Jelly, this is a tongue-in-cheek, interactive guide to avoiding, identifying, capturing, and disposing of monsters, should the need arise. Goony cartoons depict monsters hiding behind flaps in a cutaway of a human home ('A fridge boggart is a real pest'); another spread presents the winners of the 'Monster Record Breakers' competition, which include a cute pink beast, whose mouth opens to reveal a pop-out cave of ferocious teeth. From monster defense (a 'Home Defense Kit' includes a mirror, garlic, and soap) to the debunking of monster myths—werewolves don't exist, but watch out for werefish—monster hunters will have the tools they need to survive." — Publishers Weekly
Libby Hamilton has written a variety of books for children, including Horse: The Essential Guide for Young Equestrians. She lives in London. Debut illustrator Aleksei Bitskoff's fantastical creatures captivate children and adults alike. He recently graduated from the Camberwell College of Arts and lives in London. Jonny Duddle has been a concept artist for Aardman Animations and created fantastic illustrations for fiction and novelty books, including Alienology. He wrote and illustrated The Pirate Cruncher.

Buy The Monstrous Book of Monsters By Libby Hamilton - $17.99
Early Grades and Picture Books

Baby's Book Tower: Four Mini Board Books (Leslie Patricelli Board Books) By Leslie Patricelli $9.99
Read them like books! Stack them like blocks! Little ones are sure to reach out for these tiny board books starring Leslie Patricelli's beloved baby character.
Included in this set is a sampling of Leslie Patricelli's must-have toddler titles, perfectly sized for little hands. Featured are four fun, chunky books:
No No Yes Yes
Baby Happy Baby Sad
Quiet Loud
Yummy Yucky
Amiably illustrated in a bright, graphic style, Patricelli's spirited board books star an obliging, bald, and very expressive toddler who acts out each pair of opposites with comically dramatic effect.
YES! This must-have toddler title sheds light on some concepts with a comical flair.
Yanking cat by tail: no NO. Gentle pat on back: yes YES. And its funny how dumping a bowl of food gets a very different reaction from mastering the use of a spoon. An expressive baby demonstrates familiar behaviors—and their predictable responses—in an amusing board book that merits a giant YES!
A towering ice-cream cone makes Baby HAPPY. But when that delectable treat goes splat, it makes Baby SAD. And how quickly HAPPY turns to SAD when a favorite red balloon flies away! Even the littlest listeners will relate to this playful look at a pair of emotions that are part of every baby's day.
Whether you read it quietly or loudly, learning about opposites has never been more fun—or funny—than with this winning board book.
Sniffles are quiet, but sneezes are loud. Amiably illustrated in a bright, graphic style, Leslie Patricelli's spirited board book, QUIET LOUD, stars an obliging, bald, and very expressive toddler who acts out each pair of opposites with comically dramatic effect.
Learning about opposites has never been more fun—or funny—than with this winning board book. Yummy!
Spaghetti is yummy, but worms—and blue crayons, and sand, and other things too gross to mention—are definitely yucky when tasted. Another bright, bold, humorous board book your toddler will love.
Leslie Patricelli is the author-illustrator of a best-selling series of board books featuring her adorable bald baby, including POTTY and TUBBY. She is also the creator of two picture books about the Patterson Puppies, as well as HIGHER! HIGHER!, a Boston Globe-Horn Book Honor winner. She sketched out her first children's book, YUMMY YUCKY, when her then one-year-old son was putting everything in his mouth. "After hearing myself say 'Yucky!' or 'Yummy!' for months on end, this book seemed to write itself," she says. "Talking to and watching my young children all day gave me a voice and inspiration for these books. I write down what I say to them and what they say to me."

Buy Baby's Book Tower: Four Mini Board Books (Leslie Patricelli Board Books) by Leslie Patricelli - $9.99