Events
|
Top 10
|
What's Hot
|
Community
|
New Reviews
|

Fri, Nov 4
7:00 - 8:00 PM
Leavenworth Library
Free

TGIF: Sarahlee Lawrence presents award-winning River House (Presentation)

Sat, Nov 5
1:00 - 3:00 PM
Bookstore
Free

Sarahlee Lawrence shares award-winning River House at our November Book Buzz

Sarahlee Lawrence has run some of the most dangerous rivers of the world as an accomplished river guide. Living her dream on the wild waters led her back to the place she least expected—to her dusty beginnings on her family's remote central Oregon ranch. Her award-winning memoir River House is a beautiful story about a daughter's return and her relationship with her father, as together they brave the cold winter and build a log house by hand.

Click here to learn more...
Buy a SIGNED copy of River House - $16.95

Sat, Nov 5
1:00 - 3:00 PM
Bookstore
Free

November Book Buzz! History, memoir, past-life synchronicities, and a charming romance






Four Fabulous Authors! Enjoy authoritative NW histories, riveting memoir, past-life synchronicities, and fresh charming romance at our November bookbuzz.

In award-winning River House by SarahLee Lawrence, breathtaking adventures on the world's wildest rivers culminate in a daughter's return to build a log house by hand with her father. Karen Estes' Plane of the Ecliptic shares an ordinary woman's extraordinary journey for meaning, into a realm where lives intertwine beyond the veil of space and time. Northwest history expert Kurt R. Nelson shares both his comprehensive 200-yr history and his latest exploration of a formative seven-year period of northwest treaty building and breaking. In Pam Stucky's charming debut, Letters from Wishing Rock, Ruby finds passion and companionship—but will she be able to open her heart to true love?

Buy a SIGNED copy of River House - $16.95

Buy a SIGNED copy of Plane of the Ecliptic - $14.95

Buy a SIGNED copy of Treaties and Treachery - $18.95

Buy a SIGNED copy of Fighting for Paradise: A Military History of the Pacific Northwest - $35.00

Fri, Nov 11
7:00 - 9:00 PM
Barn Beach Reserve
Free

Dog Days, Raven Nights (Presentation)

Sat, Nov 12
1:00 - 3:00 PM
Bookstore
Free

John and Colleen Marzluff sign Dog Days, Raven Nights

A young couple heads deep into backwoods Maine to try to understand ravens, ultimately following over 300 birds. Entertaining stories of tiny cabins, harsh Maine winters, raising and training sled dogs, young ravens who mud-wrestle, and more. Today John, a highly regarded wildlife ecologist, continues his research on these fascinating birds, and is the author of over 100 scientific articles and four books including In the Company of Crows and Ravens. "Fascinating and beautifully written," says The Seattle Times.

Click here to learn more...
Buy a SIGNED copy of Dog Days Raven Nights - $28.00

Fri, Nov 18
7:00 - 8:00 PM
Leavenworth Library
Free

Images of America: Leavenworth's History Through Photographs (Presentation)

Sat, Nov 19
1:00 - 3:00 PM
Bookstore
Free

Rose Holck signs Images of America: Leavenworth

Every town has a unique history—if you could only see the way it used to be, and hear the stories of the people who once lived here. Now, thanks to Rose Kinney-Holck, the Upper Valley Museum, and many interested citizens, you can.

Rose Kinney-Holck gathered and compiled Leavenworth area family and historic photos for the "Images of America" series—a series dedicated to celebrating the history of neighborhoods, towns, and cities across the country. Using archival photographs, her work makes history available to all. Rose will share stories at Leavenworth Library Friday evening, and offer a book-signing Saturday. With Rose, watch the past come alive—watch Leavenworth change from native days to the present.

Click here to learn more...
Buy a SIGNED copy of Images of America: Leavenworth - $21.99

Fri, Nov 25
12:00 - 4:00 PM
Bookstore
Free

Savor Leavenworth with Morgan Fraser (Book-signing)

Join us Friday, November 25, as Morgan Fraser releases Savoring Leavenworth, a wine-pairing cookbook from our own Wenatchee River Valley. Like her successful Savoring Chelan, she presents a beautifully illustrated and richly diverse who's who of our region's talent, showcasing all new recipes paired with area wines.

Click here to learn more...
Buy a SIGNED copy of Savoring Leavenworth - $34.95

Sat, Nov 26
1:00 - 3:00 PM
Bookstore
Free

Sheila Robert's latest! The Nine Lives of Christmas (Book-signing)

What do a shy woman in need of a makeover, a commitment-phobic fireman, and a cat on his ninth life have in common? They're about to find out in bestselling Sheila Roberts' humorous, heartwarming Christmas novel about a matchmaking cat and his endeavors to bring a couple together in time for the holidays.




Click here to learn more...
Buy a SIGNED copy of The Nine Lives of Christmas - $14.99

Wed, Dec 7 6:00 - 8:00 PM
Sun, Dec 11 Noon - 4:00 PM
Sat, Dec 17 or Sun, Dec 18 Noon - 4:00 PM
Bookstore
Free

Four Fabulous Opportunities to Meet the Author of Savoring Leavenworth!
Meet regional wine-pairing author Morgan Fraser, author of Savoring Leavenworth and Savoring Chelan (Book-signing)

Savoring Leavenworth, a wine-pairing cookbook from our own Wenatchee River Valley. Morgan Fraser follows up her exquisite Savoring Chelan, with her latest release—Savoring Leavenworth, a wine-pairing cookbook for Leavenworth and the Wenatchee River Valley. Savoring Leavenworth pairs wines from the Leavenworth area with recipes from local chefs and cooks, winery owners and winemakers. Again enlisting the help of photographer Richard Uhlhorn and watercolor artist Kerry Siderius, Fraser's new release showcases all new recipes paired with area wines. Fraser thanks Joanne and Alex Saliby and many other local chefs and winemakers for their expertise and contributions.

Click here to learn more...
Buy a SIGNED copy of Savoring Leavenworth - $34.95

ABFAS October Top 10 Best-Sellers...

| | | | | |
| --- | --- | --- | --- | --- |
| | | | | |
| | | | | |
| | | | | |
| | #7 - The Twelve Days of Christmas in Washington by John Abbott Nez | | | |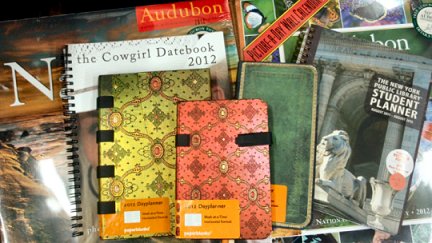 Fabulous Selection of Calendars and Planners
A BOOK FOR ALL SEASONS has a fabulous selection of planners, calendars — all shapes and sizes — and journals. Whether you like jewels, kitties, or cowgirls, the Power of Now or Mom's Desk Planner — we've got just the thing. Come on down and see!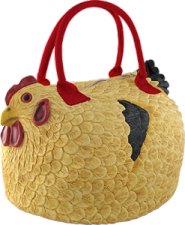 It's a Plane —
No, It's a Rubber Chicken —
No, It's Your New Purse!
Make a rubber chicken work for you! Our Chicken Bag is sure to bring a smile each time you carry it.

Another Fabulous and Fun School BOOKFAIR celebrates "A World Of Reading."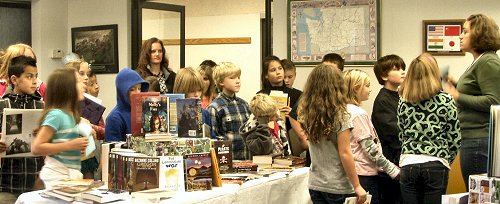 Thank you Osborn Elementary! for once again inviting A Book For All Seasons to partner in Osborn's bookfair.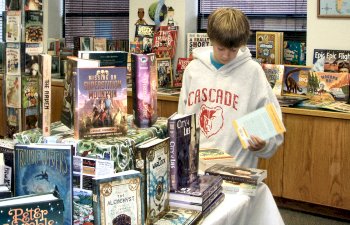 With fifteen percent of all sales donated directly to Osborn library, parent volunteers also gathered direct donations of new books off the librarian's wish-list; collected boxes of gently used books for classroom use, reading prizes, and awards; donated and raffled off gift certificates; and ensured that every student had the opportunity to bring something home from the bookfair — whether a twenty-cent colorful sillyband or a personally autographed book from a Newberry Award-winning author.
Creative organizer-volunteers Kelli Craig and Diana Emery made it all work! Thanks also to many other parent volunteers, to Osborn's wonderful principal Kelli, and to the cooperation of the entire school district — this fabulous event puts new library books into our children's hands every year.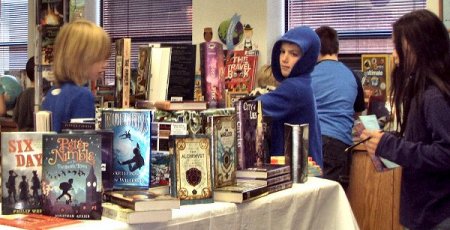 What's New? What's Hot Off The Press? What's Just Been Released?
Fiction | Non-Fiction | Young Adult | Early Grades & Picture Books |
Fiction

Train Dreams by Denis Johnson $18.00
Denis Johnson's Train Dreams is an epic in miniature, one of his most evocative and poignant fictions. Robert Grainer is a day laborer in the American West at the start of the twentieth century—an ordinary man in extraordinary times. Buffeted by the loss of his family, Grainer struggles to make sense of this strange new world. As his story unfolds, we witness both his shocking personal defeats and the radical changes that transform America in his lifetime.
Suffused with the history and landscapes of the American West—its otherworldly flora and fauna, its rugged loggers and bridge builders—the new novella by the National Book Award-winning author of Tree of Smoke captures the disappearance of a distinctly American way of life.
"a tender, lonesome and riveting story...It's a love story, a hermit's story ... It's also a small masterpiece. You look up from the thing dazed, slightly changed...it might be the most powerful thing Johnson has ever written." — The New York Times Book Review
"The story is a snapshot of early 20th-century America as railroad laborer Robert Granier toils along the rails that will connect the states and transform his itinerant way of life. Drinking in tent towns and spending summers in the wilds of Idaho, Granier misses the fire back home that leaves no trace of his wife and child. The years bring diminishing opportunities, strange encounters, and stranger dreams, but it's not until after participating in the miracle of flight—and a life-changing encounter with a mythical monster—that Granier realizes what he's been looking for. An ode to the vanished West that captures the splendor of the Rockies as much as the small human mysteries that pass through them, this svelte stand-alone has the virtue of being a gem in itself." — Publishers Weekly

Buy Train Dreams by Denis Johnson - $18.00
Fiction

The Cat's Table By Michael Ondaatje $26.00
In the early 1950s, an eleven-year-old boy in Colombo boards a ship bound for England. At mealtimes he is seated at the "cat's table"—as far from the Captain's Table as can be—with a ragtag group of "insignificant" adults and two other boys, Cassius and Ramadhin. As the ship makes its way across the Indian Ocean, through the Suez Canal, into the Mediterranean, the boys tumble from one adventure to another, bursting all over the place like freed mercury. But there are other diversions as well: one man talks with them about jazz and women, another opens the door to the world of literature. The narrator's elusive, beautiful cousin Emily becomes his confidante, allowing him to see himself "with a distant eye" for the first time, and to feel the first stirring of desire. Another Cat's Table denizen, the shadowy Miss Lasqueti, is perhaps more than what she seems. And very late every night, the boys spy on a shackled prisoner, his crime and his fate a galvanizing mystery that will haunt them forever.
As the narrative moves between the decks and holds of the ship and the boy's adult years, it tells a spellbinding story—by turns poignant and electrifying—about the magical, often forbidden, discoveries of childhood and a lifelong journey that begins unexpectedly with a spectacular sea voyage.
"lithe and quietly profound: a tale about the magic of adolescence and the passing strangers who help tip us into adulthood in ways we don't become aware of until much later." — The Washington Post
"this lovely, shimmering book...is a tender meditation on how a child can be 'smuggled away accidentally, with no knowledge of the act, into the future'...Mr. Ondaatje succeeds so well in capturing the anticipation and inquisitiveness of boyhood." — The New York Times
"a quietly enthralling work. Highly recommended." — Library Journal
Michael Ondaatje is the author of five previous novels, a memoir, a nonfiction book on film, and several books of poetry. The English Patient won the Booker Prize; Anil's Ghost won the Irish Times International Fiction Prize, the Giller Prize, and the Prix Médicis. Born in Sri Lanka, Michael Ondaatje now lives in Toronto. Learn more at: www.michaelondaatje.com

Buy The Cat's Table by Michael Ondaatje - $26.00
Non-fiction

Steve Jobs by Walter Isaacson $35.00
From the author of the bestselling biographies of Benjamin Franklin and Albert Einstein, comes the exclusive biography of Steve Jobs.
Based on more than forty interviews with Jobs conducted over two years—as well as interviews with more than a hundred family members, friends, adversaries, competitors, and colleagues—Walter Isaacson has written a riveting story of the roller-coaster life and searingly intense personality of a creative entrepreneur whose passion for perfection and ferocious drive revolutionized six industries: personal computers, animated movies, music, phones, tablet computing, and digital publishing.
Although Jobs cooperated with this book, he asked for no control over what was written nor even the right to read it before it was published. He put nothing off-limits. He encouraged the people he knew to speak honestly. And Jobs speaks candidly, sometimes brutally so, about the people he worked with and competed against. His friends, foes, and colleagues provide an unvarnished view of the passions, perfectionism, obsessions, artistry, devilry, and compulsion for control that shaped his approach to business and the innovative products that resulted.
Driven by demons, Jobs could drive those around him to fury and despair. But his personality and products were interrelated, just as Apple's hardware and software tended to be, as if part of an integrated system. His tale is instructive and cautionary, filled with lessons about innovation, character, leadership, and values.
"Here is an encyclopedic survey of all that Mr. Jobs accomplished, replete with the passion and excitement that it deserves." — The New York Times
"Isaacson's biography can be read in several ways. It is on the one hand a history of the most exciting time in the age of computers, when the machines first became personal and later, fashionable accessories. It is also a textbook study of the rise and fall and rise of Apple and the brutal clashes that destroyed friendships and careers. And it is a gadget lover's dream, with fabulous, inside accounts of how the Macintosh, iPod, iPhone and iPad came into being. But more than anything, Isaacson has crafted a biography of a complicated, peculiar personality—Jobs was charming, loathsome, lovable, obsessive, maddening—and the author shows how Jobs's character was instrumental in shaping some of the greatest technological innovations of our time." — The Washington Post

Buy Steve Jobs by Walter Isaacson - $35.00
Young Adult

Shine By Lauren Myracle $16.95
Recommended for mature readers ages 14 and up.
When her best guy friend falls victim to a vicious hate crime, sixteen-year-old Cat sets out to discover who in her small town did it. Richly atmospheric, this daring mystery mines the secrets of a tightly knit Southern community and examines the strength of will it takes to go against everyone you know in the name of justice.
Against a backdrop of poverty, clannishness, drugs, and intolerance, Myracle has crafted a harrowing coming-of-age tale couched in a deeply intelligent mystery. Smart, fearless, and compassionate, this is an unforgettable work from a beloved author.
"Cat eventually uncovers the truth in a cliffhanging climax in which she confronts fear, discovers that love is stronger than hate and truly 'shines.' Raw, realistic and compelling." — Kirkus Reviews
"The page-turning mystery and Cat's inspiring trajectory of self-realization will draw readers in and give them plenty to ponder." — The Bulletin of the Center for Children's Books
"Dramatic in both content and presentation." — Los Angeles Times
"Myracle captures well the regret that many feel for things in their past about which they are ashamed. Cat's reflections on these moments are spot-on." — School Library Journal
"praise be, author Lauren Myracle moves beyond Old Dixie cliches to deliver her finest novel yet, a sensitive portrayal of a contemporary small town bound to silence by old secrets and loyalties." — The Washington Post
Lauren Myracle is the New York Times bestselling author of the Internet Girls trilogy—ttyl, ttfn, and l8r, g8r—as well as Rhymes with Witches, Bliss, and the new Flower Power series, among many other books for teens and young adults. She lives in Fort Collins, Colorado, with her family. Visit her online at laurenmyracle.com.

Buy Shine By Lauren Myracle - $16.95
Young Adult

Behemoth (Leviathan Series #2) By Scott Westerfeld , Keith Thompson (Illustrator) $9.99
Recommended for ages twelve and up
This thrilling retrofuturistic adventure will appeal to both boys and girls. In this fabulously illustrated steampunk alternative history), it is the cusp of World War I. The Austro-Hungarians and Germans have their Clankers, steam-driven iron machines loaded with guns and ammunition. The British Darwinists employ genetically fabricated animals as their weaponry. Their Leviathan is a whale airship, and the most masterful beast in the British fleet.
In Leviathan, the first in the four-book series, Alek (a "Clanker" and an heir-in-hiding) encounters Deryn (a girl posing as a boy to win midshipman post on the fabulous airship). Their futures are inextricably linked now, as they journey toward Constantinople with the mysterious package. Suddenly all their secrets are in jeopardy when their mission goes awry. The only way to save themselves in a hostile, politically charged city is to offer up the thing that matters most—their airship, the Leviathan.
In this striking futuristic rendition of an alternate past where machines are pitted against genetically modified beasts in the First World War, lines between allies and enemies blur, and the consequences are Behemoth.
"a racketing adventure, packed with genetically engineered beasties, human-looking machines and nosy American reporters... romantic and exciting ... gleeful battles, well-appointed airships, wee clockwork library helpers and sea monsters. Keith Thompson's lively black-and-white illustrations suit perfectly." — Kirkus Reviews
"The action is nonstop in Westerfeld's thrilling sequel to last year's Leviathan...Battles abound between eccentric fighting machines and even stranger fabricated 'beasties' as Deryn and Alek prove their courage and ingenuity ... This exciting and inventive tale of military conflict and wildly reimagined history should captivate a wide range of readers. Thompson's evocative and detailed spot art ... sweetens the deal." — Publishers Weekly
"Daring escapes, secret missions, and new friends and allies abound in Westerfeld's energetic and smartly imagined alternate history. While the first book in the trilogy centers on page-turning battles between the machines of the Clankers and the beasties of the Darwinists, volume two shifts slightly to focus on equally suspenseful espionage. Characters develop nicely, and the plot is full of good, twisty science fiction thrills. Thompson's detailed "Victorian Manga" spot and full-page illustrations return to bolster the enjoyment factor." — Timothy Capehart
"Westerfeld keeps the action literally flying along in this spellbinding sequel ... [readers] are sure to be captivated and will be left clamoring for more." — School Library Journal
Scott Westerfeld's previous works the Uglies series, the Midnighters trilogy, Peeps, and The Last Days, an ALA Best Book for Young Adults. Visit Westerfeld on the Web at scottwesterfeld.com or follow him on Twitter at @ScottWesterfeld. See Keith Thompson's artwork at keiththompsonart.com.
Also available: book 3 in the series: Goliath.
Early Grades and Picture Books

Energy Island: How One Community Harnessed the Wind and Changed Their World By Alan Drummond $16.99
Recommended for ages 6-10
Hold onto your hats! It's windy on the Danish island of Samsø. Meet the environmentally friendly people who now proudly call their home Energy Island.
At a time when most countries are producing ever-increasing amounts of CO2, the rather ordinary citizens of Samsø have accomplished something extraordinary—in just ten years they have reduced their carbon emissions by 140% and become almost completely energy independent. A narrative tale and a science book in one, this inspiring true story proves that with a little hard work and a big idea, anyone can make a huge step towards energy conservation.
"[a] remarkably accessible book about the path to energy independence." — The New York Times
"Drummond fills his pages with detailed images ... while sidebars describe a range of energy-related issues from renewable energy to climate change." — The Washington Post
"The Danish island of Samsø ... is so windy that it became a perfect place to test a variety of non-fossil fuel energy experiments. Drummond tells the island's story from the point of view of Samsø's youngsters, which makes the message approachable ... In "our little home" the kids do normal things like ride bikes and play on the beach in summer, and play games inside in winter. So when the communal kids' voice begins explaining the logical process leading to the island's windmill/solar panel-energy blossoming, the transition to science lecture works ...illustrator [Drummond] keeps the story alive and moving with his light and breezy pen and water color sketches." — Kathleen Karr

Buy Energy Island: How One Community Harnessed the Wind and Changed Their World By Alan Drummond - $16.99
Early Grades and Picture Books

One Love By Cedella Marley, Bob Marley, Vanessa Newton (Illustrator) $16.99
Adapted from one of Bob Marley s most beloved songs, One Love brings the joyful spirit and unforgettable lyrics of his music to life for a new generation. Readers will delight in dancing to the beat and feeling the positive groove of change when one girl enlists her community to help transform her neighborhood for the better. Adapted by Cedella Marley, Bob Marley's first child, and gorgeously illustrated by Vanessa Newton, this heartwarming picture book offers an upbeat testament to the amazing things that can happen when we all get together with one love in our hearts.
"As she did in Three Little Birds, Cedella Marley adapts a song by her late father, reggae musician Bob Marley. She takes liberties with the lyrics: ...'One love, what the flower gives the bee./ One love, what Mother Earth gives the tree.' ... Brantley-Newton's cheery, mixed-media illustrations ...[develop] the book's plot, in which a girl galvanizes her multiethnic community to pick up litter and plant flowers to open 'One Love Park,' their cooperative efforts driving home the 'let's get together' thrust of the refrain. Filled with patterned materials and bold colors, Brantley-Newtons illustrations are as sunny as the characters' dispositions, and the scenes include several visual nods to Bob Marley. Conflict-free, it's simply a feel-good story of a community coming together." — Publishers Weekly

Buy One Love By Cedella Marley, Bob Marley, Vanessa Newton (Illustrator) - $16.99