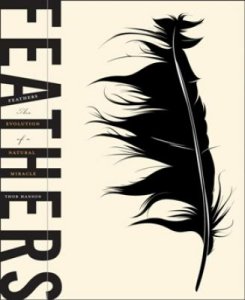 Feathers: The Evolution of a Natural Miracle
by Thor Hanson
Summary
Feathers are an evolutionary marvel: aerodynamic, insulating, beguiling. They date back more than 100 million years. What are feathers? How did they evolve? What do they mean to us?
In Feathers, biologist Thor Hanson integrates the research of paleontologists, ornithologists, biologists, engineers, and even art historians into a sweeping natural history, showing how feathers have been used to fly, protect, attract, and adorn across centuries and across the globe.
Engineers call feathers the most efficient insulating material ever discovered. Feathers are at the root of biology's most enduring debate. They silence the flight of owls and keep penguins dry below the ice. They have decorated queens, jesters, and priests. And they have inked documents from the Constitution to the novels of Jane Austen.
Feathers is a captivating and beautiful exploration of this most enchanting object.
Praise
"Conservation biologist Hanson ... may be the first to consider feathers in many contexts: paleontology, evolution, physiology, anatomy, aerodynamics, fashion, culture, literature, and history. In this enjoyable, wide-ranging, and well-researched book, Hanson explains the mechanisms whereby feathers keep birds cool or warm; the complex—at times extravagant—role feathers play in wild bird courtship; the controversies among scientists as to how and why feathers evolved; feather forensics, useful in crime and aircraft crash investigations; the millinery trade (feathers as fashion); and the modern use of feathers and the dynamics of the bedding and clothing industries they support. Useful appendixes include heavily annotated diagrams of different feather types and a brief list of major conservation associations... Highly recommended." — Library Journal
"In this wide-ranging study of our feathered friends, the author also looks at the many uses of feathers throughout history... In fact, feathers were the highest-value cargo carried on the ill-fated Titanic...A delightful ramble through the byways of evolution and the wonderful world of birds." — Kirkus Reviews
"Mr. Hanson is gifted at explaining scientific findings and controversies... gracious, funny, persuasive and wide ranging." — The New York Times
"[Hanson] looks at, thinks about, dreams of and chases [feathers] across the globe. In doing so, he writes the story of the world as seen through the story of feathers... Feathers will encourage you to look at flight differently. In fact, it will make you want to gently pick up a sparrow and take a good look at what you have been missing.... Damn good book." — BBC Wildlife
"Hanson adorns his narrative with fascinating digressions ... an impressive blend of beauty, form, and function." — Natural History
"Hanson's unpretentious style makes what is essentially an excellent scientific work into an enjoyable read for the ignorant and uninitiated.... an illuminating study of an evolutionary marvel." — The Economist
"a winning book.... Mr. Hanson may be a scientist but he writes like a man who believes in the value of story.... He is a very good explainer of serious biology.... But like all true birdwatchers, Mr. Hanson knows it isn't just the bird at the far end of the binoculars but the human being at the near end that matters, and he is writing as much about the human urge to understand, appreciate and appropriate the wild world as he is writing about feathers, which he calls, in his subtitle, a 'natural miracle.' The unifying element in his writing is a contagious curiosity about the explainable world.... Feathers is an earthbound book, but this does not keep the author—or the reader—from looking up in wonder." — Wall Street Journal
About the Author
Thor Hanson is a conservation biologist, Switzer Environmental Fellow, and member of the Human Ecosystems Study Group. His first book, The Impenetrable Forest: My Gorilla Years in Uganda, won the 2008 USA Book News Award for nature writing. Hanson lives with his wife on an island in Washington State.

Buy SIGNED copy of Feathers: The Evolution of a Natural Miracle - $15.99