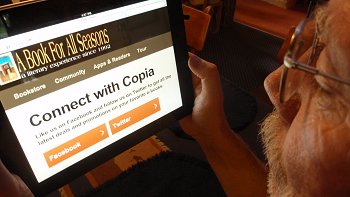 E-book With Your Local Independent!
Purchasing ebooks from A Book For All Seasons is as easy as 1-2-3:
Create your account today—it's FREE, quick and easy.
Download the FREE software.
Purchase from our wide selection and low prices, downloading onto a device you ALREADY HAVE — your PC, Mac, iPad, phone, ereader, or any of 100+ devices that support Adobe ePub files. (We carry great e-readers too, of course.)
---
Frequently Asked Questions
Q: I don't have to buy a reader? A: I bet you own a device that accepts Adobe ePub files, such as any PC, Mac, ipad, or Android or Windows 7 Phone. Most e-readers are Adobe ePub compatible, including Sony eReader, Kobo and over 100 other platforms and devices. Blackberry is coming soon. Nook has been compatible, but check yours for specifics. Kindle is not currently compatible. Click here for the most up-to-date list of Adobe ePub compatible devices.
Q: But what if I want to buy an ereader?
A: Okay, we carry the Copia ereader along with our hundreds-of-thousands selection of ebooks.
Q: Isn't Copia also a great way to form online book groups, meet fellow book-lovers, and share and discuss favorite passages?
A: Yes! Learn more about that here.
Q: But I want to support my independent local bookstore. Can ebooks do that?
A: Sign up through our website! Any e-books purchased through your new account will help support A Book For All Seasons.
Q: Is there a cute YouTube video to help me learn more?
A: Of course. Try this one. Full of information—and it's funny.
Q: What else do I need to know?
A: You know what, it's not as complicated as you might think. Why not sign up and give it a try?