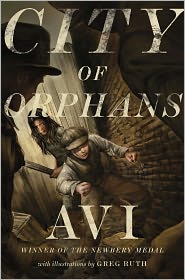 City of Orphans
The streets of 1893 New York are full of life: crowded, filthy, dangerous. If you are a newsboy like thirteen-year-old Maks Geless, you need to watch out for Bruno, leader of the Plug Ugly Gang. With Bruno's boys in fierce pursuit, Maks discovers Willa, a strange girl who lives alone in an alley. It is she, stick in hand, who fights off the Plug Uglies—but further dangers await.
Maks must find a way to free his sister Emma from The Tombs, the city jail where she has been imprisoned, accused of stealing a watch at the glamorous new Waldorf Hotel. Maks, believing her innocent, has only four days to prove it. Fortunately, there is Bartleby Donck, the eccentric lawyer (among other employments) to guide Maks and Willa in the art of detection.
Against a backdrop alive with the sights and sounds of tenement New York, Maks, as boy detective, must confront a teeming world of wealth and crime, while struggling against powerful forces threatening new immigrants and the fabric of family love.
Praise
"Avi's vivid recreation of the sights and sounds of that time and place is spot on... Heroic deeds, narrow escapes, dastardly villains...and a family rich in love and hope are all part of an intricate and endlessly entertaining adventure. Terrific!" — Kirkus Reviews (starred review)
"vibrant... a terrifically exciting read." — Publishers Weekly (starred review)
"Dickensian street action...gripping ...Just as compelling as the fast-moving plot's twists and turns is the story's social realism, brought home by the contrasts between the overcrowded, unsanitary slums...and the luxurious Waldorf.... A riveting historical novel." — Booklist (starred review)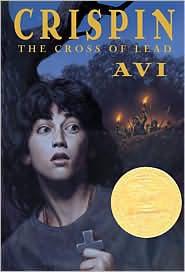 Crispin: The Cross of Lead
Winner of the Newberry Award, ALA Notable, Booksense Top Ten, Best Children's Books of the year, Colorado Book Award and more.
"Asta's son" is all he's ever been called. He and his mother are but poor peasants in fourteenth-century medieval England. But this thirteen-year-old boy who thought he had little to lose soon finds himself with even less—no home, family, or possessions.
Accused of a crime he did not commit, he has been declared a "wolf's head." That means he may be killed on sight, by anyone. If he wishes to remain alive, he must flee his tiny village. All the boy takes with him is a newly revealed name—Crispin—and his mother's cross of lead.
His journey through the English countryside is amazing and terrifying. Especially difficult is his encounter with the juggler named Bear. A huge, and possibly even mad, man, Bear forces the boy to become his servant. Bear, however, is a strange master, for he encourages Crispin to think for himself. Though Bear promises to protect Crispin, the boy is being relentlessly pursued. Why are his enemies so determined to kill him?
Crispin is gradually drawn right into his enemies' fortress where—in a riveting climax—he must become a different person if he is to save Bear's life and his own. He discovers that by losing everything, he has gained the most precious gift of all: a true sense of self.
A master of breathtaking plot twists and vivid characters, Avi brings the full force of his storytelling powers to the world of medieval England.
"The suspense stays taut until the very end of the book…Exciting and true to the past. This novel is historical fiction at its finest." — VOYA
Crispin's adventures continue in: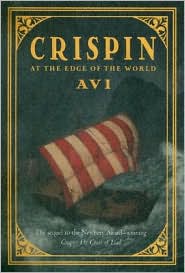 Crispin at the Edge of the World
An ALA Notable book, Child Magazine Best Children's Book of the Year, National Parenting Publication Award Honors Award, Best Children's Books of the Year, and Booksense Children's Pick Winner.
Crispin and Bear have set off to live their lives as free men. But they don't get far before their past catches up with them: Bear is being pursued by a secret brotherhood who believe he is an informer. When Bear is badly wounded, it is up to Crispin to make decisions about their future: where to go, whom to trust. Along the way, they become entangled with an extraordinary range of people, each of whom affects Crispin and Bear's journey in unexpected ways. To find freedom and safety, they may have to travel to the edge of the world—even if it means confronting death itself.
In this riveting sequel to the Newbery Award–winning Crispin: The Cross of Lead, Avi explores themes of war, religion, and family as he continues the adventures of Crispin and Bear.
"an extraordinary work of lyrical simplicity.... Readers will devour this story and eagerly anticipate the conclusion of Crispin's adventures." — School Library Journal
And the trilogy's thrilling conclusion: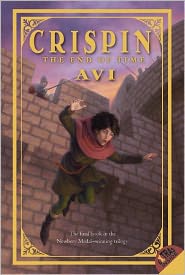 Crispin: The End of Time
"As long as I could keep myself out of bondage, I would be true to Bear's teaching. And so it was that beyond all else, I was determined to keep my freedom." But the road to liberty is filled with danger, betrayal, and loss. Crispin must decide for himself what freedom really means—and how high a price he is willing to pay for it.
"Avi guides his hero toward a final, very satisfying destiny in this wonderfully realized conclusion to the Crispin trilogy.... Crispin eventually falls in with a band of traveling musicians, who, he finds out in increasingly suspenseful scenes, are murderous thieves who hold a terrified boy in thrall. The story of how he and the child, Owen, escape their clutches makes for a heart-stopping read. As in the other titles in the saga, characters and setting are expertly rendered.... Thrilling and beautifully wrought." — Kirkus (starred review)
"this final volume in the Crispin trilogy showcases the same strengths as the earlier books: brisk, suspenseful narrative with effortlessly interwoven details of medieval life and provocative questions of ethics and morality...another rousing page-turner..." — The Horn Book