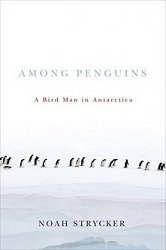 Among Penguins: A Bird Man in Antarctica
by Noah Strycker
Summary
The year he graduated from college, 22-year-old Noah Strycker was dropped by helicopter in a remote Antarctic field camp with two bird scientists and a three months' supply of frozen food. His subjects: more than a quarter million penguins.
Compact, industrious, and approachable, the Adélie Penguins who call Antarctica home visit their breeding grounds each Antarctic summer to nest and rear their young before returning to sea. Because of long-term studies, scientists may know more about how these penguins will adjust to climate change than about any other creature in the world.
Bird scientists like Noah are less well known. Like the intrepid early explorers of Antarctica, modern scientists drawn to the frozen continent face an utterly inhospitable landscape, one that inspires, isolates, and punishes.
With wit, curiosity, and a deep knowledge of his subject, Strycker recounts the reality of life at the end of the Earth—thousand-year-old penguin mummies, hurricane-force blizzards, and day-to-day existence in below freezing temperatures—and delves deep into a world of science, obsession, and birds.
Among Penguins weaves a captivating tale of penguins and their researchers on the coldest, driest, highest, and windiest continent on Earth. Birders, lovers of the Antarctic, and fans of first-person adventure narratives will be fascinated by Strycker's book.
Praise
"Strycker, an accomplished birder, writes entertainingly about spending three exciting and strenuous months in Antarctica helping a research team study utterly charming Adélie penguins.... Highly recommended." — Library Journal
"At the age of 24, Strycker has already studied birds on six continents and his evocative writing reveals enough wit, meticulous description, and passion to satisfy any nature writing enthusiast (particularly young ones)." — Publishers Weekly (starred review)
"A fine offering by one of America's rising stars in the realm of nature writing... Noah Strycker is going places, and he is taking us along for the ride. There is something fundamentally sunny about Among Penguins. This book will be a fan favorite for years to come." — Ted Floyd, Editor, Birding
"Cape Crozier, against the largest ice shelf on Earth, in the shadow of an extinct volcano, and at the doorstep of the least human-affected stretch of ocean remaining on the planet, is one of Earth's power spots. It's refreshing to get Noah Strycker's impressions of this place through his day-to-day experiences; he definitely had all his senses tested." — David Ainley, author of The Adélie Penguin: Bellwether of Climate Change
About the Author
Noah Strycker is a graduate of Oregon State University, a marthoner, and a competitive tennis player. Although only 24 he has studied birds on six continents. In addition to Antarctica, Noah has studied birds in Ecuador, Costa Rica, Panama, Fiji, Mexico, New Zealand, the Australian Outback, Farallon Island, Hawaii, Alaska, Maine, California, Michigan, and Oregon. He has helped Taiwan design an ecotourism program, and searches for Ivory-billed Woodpeckers in Florida between birding trips. Noah's "life list" is approaching 2,000 birds on six continents - one-fifth of all the world's species. He is Associate Editor of the American Birding Association's magazine, Birding.
Noah says: "I hope you will join me in nudging the world one feather at a time. Ultimately, birds are a lifestyle. They are a reason and focus for action. In the best moments, the chase has nothing to do with wings and plumage; birds are life itself. And, on that level, I'm happy to be a birder at large."
Learn more at: http://noahstrycker.com

Buy SIGNED copy of Among Penguins: A Bird Man in Antarctica - $19.95