Events
|
Top 10
|
What's Hot
|
Community
|
New Reviews
|

Thu, Jun 2
7:00 - 9:00 PM
Wenatchee Library
Free

Go "A Little Country" With Author Jane Porter (Presentation)

Sat, Jun 4
1:00 - 3:00 PM
Bookstore
Free

Jane Porter joins our book-buzz—five authors, five times the fun! (Book-buzz)

In New York City, Shey's a glamour-girl model and loving wife and Mom. When it all falls apart, can she possibly fit in back on the family ranch in Texas, with her Southern Baptist family? Just maybe, Shey can reinvent herself, looking for happiness—and even love—as she goes a little country. "If you like good old-fashioned romance, you'll adore this story," say reviewers.

Click here to learn more...
Buy a SIGNED copy of She's Gone Country - $13.99

Fri, Jun 3
7:00 - 8:00 PM
Leavenworth Library
Free

TGIF: Jonathan Evison's historical epic, West of Here (Presentation)

Sat, Jun 4
1:00 - 3:00 PM
Bookstore
Free

Jonathan Evison joins our book-buzz — five authors, five times the fun! (Book-buzz)

Pacific Northwest wilderness, history, and people blaze into life in West of Here, the newest release from Jonathan Evison, winner of the Washington State Book Award. From the rugged mudflats of the northwestern frontier, to a rusting strip mall cornucopia, West of Here is a conversation between two epochs, one rushing blindly toward the future, and the other struggling to undo the damage of the past.

Click here to learn more...
Buy a SIGNED copy of West of Here - $24.95

Sat, Jun 4
1:00 - 3:00 PM
Bookstore
Free

BOOK-BUZZ: Meet authors, win prizes, have fun! (Book-buzz)

Leadership, past lives, war heros, historical fiction and romance: another fabulously diverse mix of authors graces June's book-buzz. Come meet:

Award-winning, best-selling Jonathan Evison,
Jane Porter, one of Seattle's hip chick-lit favorites,
Paul Hansen on the true-life summer that turned a troubled teen's life around,
Retired Major Robert J. Reilly sharing healing true tales from Vietnam vets who went back in peacetime,
Franki deMerle, novelist of psychic premonitions, past-life memories, and true love.

And of course, expect prizes, surprises, and fun!

Click here to learn more...
Buy a SIGNED copy of West of Here - $24.95
Buy a SIGNED copy of She's Gone Country - $13.99
Buy a SIGNED copy of Turnaround Summer - $14.95
Buy a SIGNED copy of Return of the Warriors: Vietnam War Veterans Face the Ghosts of Their Past on Their Personal Battlegrounds - $45.95
Buy a SIGNED copy of Dragonfly Dreams - $19.95
Buy a SIGNED copy of Deception Past - $15.95

Fri, Jun 10
7:00 - 9:00 PM
Barn Beach Reserve
Free

Jennifer Hahn shares her exquisite Pacific Feast, a guide to NW foraging cuisine (Presentation)

Sat, Jun 11
1:00 - 3:00 PM
Bookstore
Free

Jennifer Hahn signs Pacific Feast: a cook's guide to west coast foraging and cuisine (Book-signing)

An intimate guide to the food at our feet, Pacific Feast shares expert advice on how to identify the good eats, harvest responsibly, and create delicious meals. Author Jennifer Hahn provides detailed field notes on 40 species—wood sorrel, salal berries, big leaf maple, oyster mushrooms, clams, sea beans, several varieties of kelp, and more—including where to find them, which parts are edible, and their best culinary uses. Her evocative stories of foraging adventures will inspire and educate home cooks and nature lovers alike.

Click here to learn more...
Buy a SIGNED copy of Pacific Feast: a cook's guide to west coast foraging and cuisine - $21.95

Thu, Jun 16
5:00 - 7:00 PM
Bookstore
Free

Execute Your Game Plan-- Become the Best You Can Be (Book-signing)

NBA All-Star's New Book Provides Secrets for Success in the Game of Life

An inspiration to youth everywhere, James Donaldson, former Sonics player and NBA All-Star, has a heart as big as he is tall—and at 7'2" he is taller than most. Part motivational, part autobiographical, Standing Above the Crowd provides practical advice about making the right choices, overcoming fear and self doubt, and staying resilient and goal-focused in the face of tough challenges.

Click here to learn more...
Buy a SIGNED copy of Standing Above the Crowd - $19.95

Fri, Jun 17
7:00 - 9:00 PM
Barn Beach Reserve
Free

Hike Washington's History! Presentation by trail guide author Judy Bentley (Presentation)

Sat, Jun 18
1:00 - 3:00 PM
Bookstore
Free

Judy Bentley signs Hiking Washington's History (Book-signing)

Washington State has a remarkable number of historic trails—preserved in national parks, restored by cities and towns, returned to public use by the railroads, or opened to hikers by Native American tribes. Hiking Washington's History describes 40 historic trails from across the state, ranging from short day hikes to multi-day backpacking grips, from Cape Flattery in the northwestern-most corner to Chief Joseph's Summer Trail in southeastern Washington. Hiking Washington's History reveals the stories embedded in Washington's landscape.

Click here to learn more...
Buy a SIGNED copy of Hiking Washington's History - $18.95

Fri, Jun 24
7:00 - 8:00 PM
Leavenworth Library
Free

TGIF: Community on the Edge of Wilderness: Ana Maria Spagna shares Potluck (Presentation)

Sat, Jun 25
1:00 - 3:00 PM
Bookstore
Free

Award-winning author Ana Maria Spagna signs Potluck: Community on the Edge of Wilderness (Book-signing)

Award-winning author and resident of Stehekin, WA, Ana Maria Spagna explores the deep connection of people and place in her latest release: Potluck: Community on the Edge of Wilderness. "From one of the country's most-remote hamlets comes one of the West's most perceptive and lyrical literary voices," says Mountain Gazette.

"Wry, wise, and beautifully written ... a deep, honest look at ... life in a small community," says High Country News.

Click here to learn more...
Buy a SIGNED copy of Potluck: Community on the Edge of Wilderness - $18.95

Fri, Jul 8
7:00 - 8:00 PM
Leavenworth Library
Free

TGIF: Author Evelyn Searle Hess shares "To The Woods" (Presentation)

Sat, Jul 9
1:00 - 3:00 PM
Bookstore
Free

Evelyn Searle Hess signs her book: To the Woods: Sinking Roots, Living Lightly, and Finding True Home (Book-signing)

To the Woods is a tale of adventure, inspiration, and living life in concert with nature. It is the true story of Evelyn Searle Hess, who, in her late fifties, walks away from the world of modern conveniences to build a new life with her husband on twenty acres of wild land in the foothills of Oregon's Coast Range. Hess's careful attention to detail, her extensive knowledge of local flora and fauna, and her thoughtful philosophical meditations add richness to her engaging prose. Hess explores the joys of living simply and awakening to the interconnectedness of all life.

Click here to learn more...
Buy a SIGNED copy of To the Woods: Sinking Roots, Living Lightly, and Finding True Home - $18.95

Fri, Jul 15
7:00 - 9:00 PM
Barn Beach Reserve
Free

Discover Washington's Rare Plants with botanists Pam Camp and Joseph Arnett

Sat, Jul 16
1:00 - 3:00 PM
Bookstore
Free

Field Guide Authors Pam Camp and Joseph Arnett (Book-signing)

Friday's slides present a virtual tour of the natural areas of Washington, highlighting the most uncommon and rarely seen plants in the state. The Field Guide to the Rare Plants of Washington offers a window into the beauty and diversity of the rarest plants in the state, fully characterizing each rare plant through photographs, line drawings, descriptions, ecology, habitat, maps, and more.

Click here to learn more...
Buy a SIGNED copy of The Field Guide to the Rare Plants of Washington - $30.95

Fri, Jul 22
7:00 - 9:00 PM
Barn Beach Reserve
Free

Artist Marcia Shaver shares her journey on the Camino de Santiago (Presentation)

Sat, Jul 23
1:00 - 3:00 PM
Bookstore
Free

The Artist's Journey: The Perfumed Pilgrim Tackles the Camino de Santiago: a book-signing by Marcia Shaver (Book-signing)

Trials, tribulations, and testy travelers only spurred artist Marcia Shaver on in her 1,299,851 steps across Spain, from St. Jean Pied de Port, France, to Finisterre. Choosing well her walking companion, setting a practical pace with time to draw, and drinking in the revitalizing countryside, Marcia rediscovered her physical strength—and more. From the depths of her soul rose her true nature as the Pilgrim's Way nurtured it and let it shine forth. Marcia's can-do, let's-have-fun spirit transports the easy-chair traveler—and will send many a reader on the same journey of the body and soul.

Click here to learn more...
Buy a SIGNED copy of The Artist's Journey: The Perfumed Pilgrim Tackles the Camino de Santiago - $16.95

ABFAS May Top 10 Best-Sellers...

| | | | | |
| --- | --- | --- | --- | --- |
| | | | | |
| | #2 - Among Friends: A memoir of one woman's expectations, disappointments, regrets & discoveries while searching for friends-for-life by Mary Lou Sanelli | | | |
| | | | | |
| #6 - Leavenworth (Images of America) by Kinney-Holck and the Upper Valley Museum at Leavenworth | #7 - Why We Ride: Women Writers on the Horses in Their Lives by Verna Dreisbach, Jane Smiley | #8 - The Naturally Clean Home: 150 Super-Easy Herbal Formulas for Green Cleaning by Karyn Siegel-Maier | #9 - Cascade Olympic Natural History: A Trailside Reference by Daniel Mathews | #10 - Heaven Is for Real: A Little Boy's Astounding Story of His Trip to Heaven and Back by Todd Burpo |

Creativity Journals

Think of this journal as the one-stop creativity spot. Inside the journal are fun writing activities that engage the imagination and a unique set of 165 word magnets to start your writing or just play with. And the journal unfolds to reveal three panels that hold the magnets. Everything you need to get creative!
Creative, Portable, Re-usable Playsets

Have fun at the beach, on the farm, in the city and even on the moon! The play board unfolds to a 21 x 7 inch play area and comes with over 35 colorful stickers to create fun scenes. And when you fold the play board together, it becomes a carrying case that keeps all the stickers safe inside. Creative fun anywhere.
Magnetic Poetry


We carry poetry boxes for every personality and mood. Each kit contains over 200 magnetized words. Create on your fridge, file cabinet, locker door or any other steel surface. Watch the poetry emerge as you arrange. Explore Nature or Yoga, express your inner Zombie, your inner Geek and more!
Learn a language the easy way with magnetic poetry!

Magnetic Poetry World® Series Kits are the international versions of the popular American phenomenon. Each was created by native speakers of the respective language, and care was taken to bring out the poetic delights of their mother tongue for natives and learners alike. Kid's Kits, in Spanish, French, and Chinese flip: both sides stick; choose English on one side or flip to the other language.
Make Your Own Poetry Stones Deluxe Kit

Create your own beautiful word-bearing cobblestones and decorative stepping stones with the all-inclusive kit. Mix and tint the concrete, press it into any of six forms, then add colorful jewels and press-in letters and to make whatever words you want.
Perfect for Graduation!

Momiji are hand-painted resin message dolls. Turn them upside down...inside every one there's a tiny folded card for your own secret message. Spread the love.

Dr. Foo's Fun and Fabulous Avra Kedavra Kamp returns to the shade of the stately oak behind A Book For All Seasons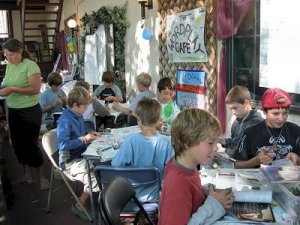 Avra Kedavra ... and poof .... The idea of a book camp came into being, where kids could exercise intentionality and wonder. Begun in 2002 by Pat Rutledge, A Book For All Seasons' owner, book camp soon fell under the magic of Dr. Foo (a.k.a. Amy Carlson). After seven years at the bookstore, the book camp wandered, sheltering in many generous Leavenworth niches, including Barn Beach Reserve and Faith Lutheran Church. This year, Dr. Foo leads Avra Kedavra Kamp full circle home, to the cozy treehouse of a balcony behind A Book For All Seasons' bookstore.
Avra Kedavra Kamp invites kids/families in need of quality summer activity to this week-long day camp of Word wackiness. Language loonies will explore the literary arts and the power of Words by rummaging about in 'Yessence' poetry, 10 minute free writing, 'verb' acting, playing literary hopscotch, storytelling, reading, Osprey Diving, Metaphor Minding, Nerbing, Syntax crashing, and just plain scrutinizing, chewing, mulling, immersing ourselves deeply in language play. As we do so, we touch the creative spark that stretches the mind and spirit.
Past themes have ranged from Inkheart to Mad Scientist, Roald Dahl to Edgar Allen Poe, Mysterious Benedicts to The Lightning Thief. As always, the theme of the current year is
TOP SECRET.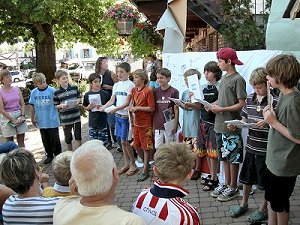 Praise
"Book Kamp has been a formative experience for my kids. It has given them confidence to write their thoughts on paper, given them challenges ... We always plan our summers so not to miss Book Kamp. And all this cool learning and delving and challenging has been outrageously fun." — Amy Massey, mom
"We feel so lucky to have discovered this treasure in the community. Dr. Foo is creative, energetic, and upbeat—bringing out the best in the kids in a safe and positive environment. Both my son and daughter counted their week at camp as an absolute summer highlight!" — Allison Gunter, mom
"This camp is superlative and supreme Fun because Dr. Foo chooses superb books and it's really, really fun." — Josie Brennan, age 9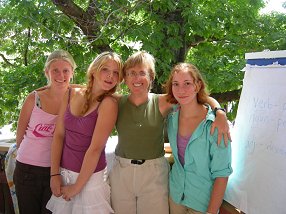 "I never thought that having tons of fun while learning was even possible! But once I attended book camp, I found out it is...Book camp is super, duper, flooper, kapooper, shluper, wooper, zooper, qweuooper fantastic!" — Blakely Browne, age 14
"I've watched Amy Carlson teach... She has both the gift of organization and wild creativity; practicality and spontaneous inventiveness. She will be a treasure in any environment where she is free to teach writing. I can't recommend her highly enough." — Susan Wooldridge, author of Poem Crazy.
Learn more about Avra Kedavra camp, and about its leader and self-proclaimed Language Looney, at http://bearrunantics.com.
Click here to register for Kamp or swing by the bookstore to pick up a registration form. Hurry, space is limited!

What's New? What's Hot Off The Press? What's Just Been Released in 2011?
Fiction | Non-Fiction | Young Adult | Early Grades & Picture Books |
Fiction

Lord of Misrule by Jaimy Gordan $15.00
A national bestseller, National Book Award Winner, and Washington Post and Time Magazine Best Book of the Year, Lord of Misrule is a brilliant novel that captures the dusty, dark, and beautiful world of small-time horse racing, where trainers, jockeys, grooms and grifters vie for what little luck is offered at a run-down West Virginia track.
Tommy Hansel has a plan: run four horses, all better than they look on paper, at long odds at Indian Mound Downs, then grab the purse — or cash a bet — and run before anyone's the wiser. At his side is Maggie Koderer, who finds herself powerfully drawn to the gorgeous, used up animals of the cheap track. She also lands in the cross-hairs of leading trainer Joe Dale Bigg. But as news of Tommy's plan spreads, from veteran groom Medicine Ed, to loan shark Two-Tie, to Kidstuff the blacksmith, it's Maggie, not Tommy or the handlers of legendary stakes horse Lord of Misrule, who will find what's valuable in a world where everything has a price.
"Assured, exotic and uncategorizable ... An incontrovertible winner, a bona fide bolt from the blue," says the New York Times.
"Lord of Misrule is filled with memorable characters who exist on the fringe, making up a whole world... Gordon's language is so textured that her pages seem three-dimensional," says the Los Angeles Times.

Lord of Misrule by Jaimy Gordan - $15.00
Fiction

A Visit from the Goon Squad By Jennifer Egan $14.95
It's hard to list all the accolades heaped on this audacious, groundbreaking book: the Pulitzer Prize, the National Book Critics Circle award, New York Times Book Review Best Book, Pen/Faulkner Award Finalist, L.A. Times Book Prize Finalist, and more.
With music pulsing on every page, A Visit from the Goon Squad is a startling, exhilarating novel of self-destruction and redemption. Jennifer Egan's spellbinding interlocking narratives circle the lives of Bennie Salazar, an aging former punk rocker and record executive, and Sasha, the passionate, troubled young woman he employs. Although Bennie and Sasha never discover each other's pasts, the reader does, in intimate detail, along with the secret lives of a host of other characters whose paths intersect with theirs, over many years, in locales as varied as New York, San Francisco, Naples, and Africa.
A Visit from the Goon Squad is a book about the interplay of time and music, about survival, about the stirrings and transformations set inexorably in motion by even the most passing conjunction of our fates. In a breathtaking array of styles and tones ranging from tragedy to satire to PowerPoint, Egan captures the undertow of self-destruction that we all must either master or succumb to; the basic human hunger for redemption; and the universal tendency to reach for both—and escape the merciless progress of time—in the transporting realms of art and music. Sly, startling, exhilarating work from one of our boldest writers
"Rippingly funny ... Egan possesses a satirist's eye and a romance novelist's heart," says The New York Times Book Review.

A Visit from the Goon Squad By Jennifer Egan - $14.95
Non-fiction

Long Distance: Testing the Limits of Body and Spirit in a Year of Living Strenuously by Bill Mckibben $15.99
At thirty-seven, celebrated journalist, writer and environmentalist Bill McKibben decided to put himself to the ultimate test: devoting a year to training as a competitive cross-country skier. Consulting with personal trainers, coaches, and doctors at the U.S. Olympic Center, he began a rigorous fitness program followed by world-class athletes and Olympic hopefuls. McKibben's year of living strenuously would culminate in a series of long-distance races—including a major ski event in Norway.
Along the way, he learned to cope with his physical limitations and, when his father was diagnosed with a life-threatening brain tumor, discovered something about the real meaning of endurance.
Told with McKibben's trademark intelligence, humor, and honesty, Long Distance is an insightful examination of the culture and mind-set of endurance athletes, and a moving and inspiring meditation on finding balance in our often-harried lives.
"A wonderful book--funny, humane, inspiring," says Bill Bryson, author of A Walk in the Woods

Long Distance: Testing the Limits of Body and Spirit in a Year of Living Strenuously by Bill Mckibben - $15.99
Non-fiction

Bird Cloud: A Memoir By Annie Proulx $26.00
Bird Cloud is the name Annie Proulx gave to 640 acres of Wyoming wetlands and prairie and four-hundred-foot cliffs plunging down to the North Platte River. On the day she first visited, a cloud in the shape of a bird hung in the evening sky. Proulx also saw pelicans, bald eagles, golden eagles, great blue herons, ravens, scores of bluebirds, harriers, kestrels, elk, deer and a dozen antelope. She fell in love with the land, and she knew what she wanted to build on it — a house in harmony with her work, her appetites, and her character, a library surrounded by bedrooms and a kitchen.
Proulx's first work of nonfiction in more than twenty years, Bird Cloud is the story of designing and constructing that house but it is equally an enthralling natural history and archaeology of the region — inhabited for millennia by Ute, Arapaho and Shoshone Indians — and a family history, going back to nineteenth-century Mississippi riverboat captains and Canadian settlers.
Proulx, a writer with extraordinary powers of observation and compassion, here turns her lens on herself. We understand how she came to be living in a house surrounded by wilderness, with shelves for thousands of books and long worktables on which to heap manuscripts, research materials and maps, and how she came to be one of the great American writers of her time.
From the Pulitzer Prize winner and author of The Shipping News and Brokeback Mountain, Bird Cloud is simply magnificent.
"Like her fiction, Proulx's memoir flows from a memorable landscape where 'the sagebrush seems nearly black and beaten low by the ceaseless wind'; the result is a fine evocation of place that becomes a meditation on the importance of a home, however harsh and evanescent," says Publishers Weekly.

Bird Cloud: A Memoir By Annie Proulx $26.00
Young Adult

The Wimpy Kid Do-It-Yourself Book (Diary of a Wimpy Kid) By Jeff Kinney $12.95
Newly released, a new and improved exciting companion to the bestselling Diary of a Wimpy Kid series.
"First of all, let me get something straight: This is a journal, not a diary."
This innovative interactive journal based on Greg Heffley's own "diary" lets kids express themselves in an exciting new way. In Diary of a Wimpy Kid Do-It-Yourself Book, kids will be asked: What was the best dream you ever had? The worst thing you ever ate? The best secret you ever heard? The most trouble you ever got in for something that wasn't even your fault to begin with? This Do-It-Yourself Book features art throughout, along with ruled and blank pages for readers to create their own stories, keep their own diaries, and record their favorites and least faves. Includes a bonus 16-page full-color comics section featuring the collected cartoons of Greg Heffley and his best friend, Rowley. "Zoo-Wee Mama" is just the beginning!

The Wimpy Kid Do-It-Yourself Book (Diary of a Wimpy Kid) By Jeff Kinney - $12.95
Young Adult

Linger (Book #2 in the Shiver series) By Maggie Stiefvater $9.99
The astonishing #1 New York Times bestseller!
Once Grace and Sam have found each other, they know they must fight to stay together. For Sam, this means a reckoning with his werewolf past. For Grace, it means facing a future that is less and less certain.
Into their world comes a new wolf named Cole, whose past is full of hurt and danger. He is wrestling with his own demons, embracing the life of a wolf while denying the ties of a human.
For Grace, Sam, and Cole, life is a constant struggle between two forces—wolf and human—with love baring its two sides as well. It is harrowing and euphoric, freeing and entrapping, enticing and alarming. As their world falls apart, love is what lingers. But will it be enough?
"If Shiver left fans wanting more, Linger will have them begging," says Romantic Times.
"Beautiful and moving...The mythology surrounding the wolf pack is clever and so well written," says a School Library Journal starred review.
"A lyrical tale of alienated werewolves and first love....her take on werewolves is interesting and original while her characters are refreshingly willing to use their brains to deal with the challenges they face," says a Publisher's Weekly starred review.

Linger (Book #2 in the Shiver series) By Maggie Stiefvater - $9.99
Early Grades and Picture Books

No One But You By Douglas Wood illustrated by P.J. Lynch $16.99
No one but you can feel the rain kiss your skin or the wind ruffle your hair, taste a ripe strawberry, or whistle with a blade of grass just the way you can. No one but you.
From Christopher Award winner Douglas Wood and celebrated illustrator P.J. Lynch comes a moving and empowering look at the experiences that belong only to us, marking a place on Earth that is ours alone. Wonderfully evocative of nature's sensory treasures, here is a perfect gift to share with a child—or to inspire loved ones of any age as they set out to create their special place in the world.

No One But You By Douglas Wood illustrated by P.J. Lynch - $16.99
Early Grades and Picture Books

Ladder to the Moon By Maya Soetoro-Ng illustrated by Yuyi Morales $16.99
One cool new evening,
Suhaila asked her mama,
"What was Grandma Annie like?"
"She was like the moon,"
her mother replied.
"Full, soft and curious.
Your grandma would wrap
her arms around the whole world
if she could."
On a night bejeweled with stars, a golden ladder unfurls outside little Suhaila's window. Her grandmother, perched on its lowest rung, invites her to climb on board for a wondrous adventure. Traveling across sky, sea, and land, together they look back at Earth while opening their minds, arms, and hearts to people everywhere, sending a healing glow to wrap the globe in an embrace as wide and warm as Grandma Annie's own.

Ladder to the Moon By Maya Soetoro-Ng illustrated by Yuyi Morales - $16.99