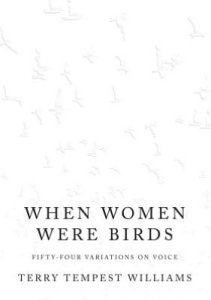 When Women Were Birds: Fifty-Four Variations on Voice
by Terry Tempest Williams
Summary
The beloved author of Refuge returns with a work that explodes and startles, illuminates and celebrates.
Terry Tempest Williams' mother told her: "I am leaving you all my journals, but you must promise me you won't look at them until after I'm gone."
Readers of Williams' iconic and unconventional memoir, Refuge, well remember that mother. She was one of a large Mormon clan in northern Utah who developed cancer as a result of the nuclear testing in nearby Nevada. It was a shock to Williams to discover that her mother had kept journals. But not as much of a shock as what she found when the time came to read them.
"They were exactly where she said they would be: three shelves of beautiful cloth-bound books...I opened the first journal. It was empty. I opened the second journal. It was empty. I opened the third. It too was empty...Shelf after shelf after shelf, all of my mothers journals were blank." What did Williams' mother mean by that? In fifty-four chapters that unfold like a series of yoga poses, each with its own logic and beauty, Williams creates a lyrical and caring meditation of the mystery of her mother's journals. When Women Were Birds is a kaleidoscope that keeps turning around the question "What does it mean to have a voice?"
"Williams, the sensitive author of Refuge, is shocked to discover her deceased mother's unwritten memoirs—shelves worth of blank pages. Under such unpromising circumstances commences a kaleidoscopic celebration and palimpsest—all metaphorical clichés but apt—on finding a voice and woman's identity beyond the silenced, selfless existence informed by children and a husband—even a family brimming with love. The empty pages of a journal manifest a hermeneutics of suspicion: the white upon which to project a lifelong journey of self-discovery. In 54 meditations (one for each year of her mother's life, and of Williams's life to date), we learn about an unusual (patriarchal) Mormon background and an upbringing that included a season of homeschooling in Hawaii, encounters with a husband-and-wife team of John Birchers while teaching high school biology, a job at the Museum of Natural History in New York City, and the meeting of her future mate over a discussion of books and birds... 'If a man knew what a woman never forgets, he would love her differently,' Williams declares in her bighearted, deliberative hymn." — Publishers Weekly (Starred Review)
About the Author
Terry Tempest Williams is the award-winning author of fourteen books, including Leap, An Unspoken Hunger, Refuge, and, most recently, Finding Beauty in a Broken World. She divides her time between Castle Valley, Utah, and Moose, Wyoming.

Buy When Women Were Birds: Fifty-Four Variations on Voice - $23.00