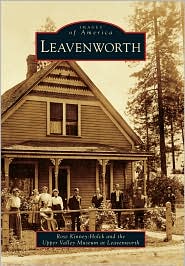 Leavenworth (Images of America)
by Rose Kinney-Holck and the Upper Valley Museum at Leavenworth
Summary
They say a picture is worth a thousand words. Now, thanks to Rose Kinney-Holck, the Upper Valley Museum, and numerous citizens and organizations with roots in Leavenworth, you can literally see the past come alive and watch Leavenworth change from native days to the present.
Rose Kinney-Holck gathered and compiled family and historic photos for the "Images of America" series—a series dedicated to celebrating the history of neighborhoods, towns, and cities across the country. Using archival photographs, each title presents the distinctive stories from the past that shape the character of the community today, making history available to all.
In her acknowledgments, Rose thanks the wonderful staff at the Upper Valley Museum, Ann Ostella, Bill Haines, Steve Croci, Corky Broaddus, Lynann DeJarnett, Mark Behler, Bill Calvert, Chris Rader, Susan Peterson, Paula Helsel, John S. Kruszka, Becky Morgan, Ron Wodaski, Marsha Skrypuch, Carol Forhan, and many, many more Leavenworthers—thanks to all who participated for this celebration of our community!