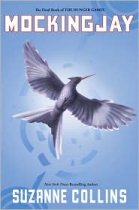 Mockingjay (Hunger Games Series #3)
by Suzanne Collins
Summary
Katniss has made it out of the bloody arena alive, but she's still not safe. The Capitol is angry. The Capitol wants revenge. Who do they think should pay for the unrest? Katniss. And what's worse, President Snow has made it clear that no one else is safe either. Not Katniss's family, not her friends, not the people of District 12.
A revolution is unfolding. Will Katniss consent to become the rebel's Mockingjay — no matter what the personal cost?
Powerful and haunting, this thrilling final installment of Suzanne Collins's groundbreaking Hunger Games trilogy promises to be one of the most talked about books of the year.
Praise
"Nothing is black or white in this gripping, complex tale, including the angry, self-doubting heroine... such tremendous crossover appeal that teens and parents may discover themselves vying for—and talking about—the family copy of Mockingjay." — The Washington Post
"This concluding volume in Collins's Hunger Games trilogy accomplishes a rare feat, the last installment being the best yet, a beautifully orchestrated and intelligent novel that succeeds on every level." — Publishers Weekly
Honors and Awards
Books from the Hunger Games trilogy have received: New York Times #1 Best-seller, Publishers Weekly Best Book of the Year, School Library Journal Best Book of the Year, Booklist Editor's Choice, New York Times Book Review Editor's Choice, New York Times Notable Book of the Year, Kirkus Best Book of the Year, and Time Magazine Top Ten Fiction Book.
About the Author
Suzanne Collins's debut novel, Gregor the Overlander, the first book in the Underland Chronicles, received wide praise both in the United States and abroad. The series has been a New York Times bestseller and received numerous accolades. Also a writer for children's television, Suzanne lives with her family in Connecticut.