Events
|
Top 10
|
What's Hot
|
Community
|
New Reviews
|

Fri, Sep 9
7:00 - 8:00 PM
Leavenworth Library
Free

TGIF: Seattle dog whisperer Duno shares Last Dog on the Hill (Presentation)

Sat, Sep 10
1:00 - 3:00 PM
Bookstore
Free

Duno joins our book-buzz: romance, mystery, the supernatural, training your dog—and cat!—and more. (Book Buzz)

Pet behaviorist Steve Duno has trained thousands of dogs, quite a few cats, and rescued many animals in need. In Last Dog on the Hill, Duno shares the story of his first rescue: a starving feral pup, Lou. Lou forever changed not only Duno's life, but also the lives of hundreds of other people and dogs. In their sixteen years together, Duno and Lou foiled an armed robbery, taught sign language to kids, comforted elderly war veterans and Alzheimer patients, reached out to gang members, and helped rehabilitate and rescue hundreds of aggressive dogs.

Enjoy Duno's presentation Friday night, or shake his hand and trade pet tales at Saturday's book buzz, where Duno joins a wide variety of mystery, supernatural, and romance authors. Expect prizes and surprises when there's a book-buzz at A Book For All Seasons.

Click here to learn more...
Buy a SIGNED copy of Last Dog on the Hill: The Extraordinary Life of Lou - $24.99

Sat, Sep 10
1:00 - 3:00 PM
Bookstore
Free

Multi-author book-buzz! Up-and-coming East Wenatchee author elucidates the supernatural; inspirational tales of man's best friend; perfectly poisoned pens mysteriously delight; while sweet old-fashioned romance never goes out of style.

In The Mystery Within, East Wenatchee author Michael Archer takes us from New Orleans to Romania, as a man delving into his family history journeys straight into the heart of the supernatural. Steve Duno inspires with Last Dog on the Hill, the true story of a hero dog and the joy he brought to hundreds of others. Bernadette Pajer's A Spark of Death takes us to 1901 Seattle, where electricity is suspicious and new-fangled, and offers us a sleuth reviewers call "smart, funny, and achingly likeable." In Jeanne Matthews' Dinah Pelerin mystery series, Dinah must cope with crocodiles, poisonous snakes, her father's complicated past, a brother who believes himself possessed by the spirit of a snake god, questionable real estate deals, sacred bones, buckets of blood, blackmailers, and even Pele the fire goddess. Divine Destiny, co-authored by Linda Lindsay and Jane Johnson, celebrates friendship, family, and the power of love and faith.

Click here to learn more...
Buy a SIGNED copy of The Mystery Within - $13.95
Buy a SIGNED copy of Last Dog on the Hill: The Extraordinary Life of Lou - $24.99
Buy a SIGNED copy of A Spark of Death - $14.95
Buy a SIGNED copy of Bones of Contention (Dinah Pelerin Series #1) - $14.95
Buy a SIGNED copy of Bet Your Bones (Dinah Pelerin Series #2) - $14.95
Buy a SIGNED copy of Divine Destiny - $34.95

Sat, Sep 17
10:00 AM - 2:30 PM
Kristall's Restaurant

Writer's Workshop: Self-publishing Without Tears

Cost: $28.00 includes full lunch and a copy of Ron's newest release

Sat, Sep 17
3:00 - 5:00 PM
Bookstore
Free

Ron Lovell signs Murder in E-Flat Major (Book-signing)

Writer's Workshop: Self-publishing Without Tears: Author Ron Lovell presents a guide to publishing and marketing your book, from manuscript to finished product. Topics include editing, page design, cover design, ISBN registration, copyright registration, dealing with distributors and bookstores, and setting up signings and other promotional events. Lovell, creator of the Thomas Martindale mystery series, has a long career in writing and in teaching writing, including as a journalist, journalism professor, and creator of five books on writing.

Book-signing: Ron will share his latest Martindale mystery, Murder in E-flat Major, where the world of classical music, incriminating fingerprints, and a federal justice system gone wrong ensnare Thomas Martindale in one of the most difficult situations of his professional life. "I have heard that death can come in many different ways," Martindale's friend says, "but never by cello."

Click here to reserve your seat NOW: $28.00 includes full lunch and a copy of Ron's newest release

Fri, Sep 23
7:00 - 8:00 PM
Leavenworth Library
Free

TGIF: Celebrated poet Katrina Roberts shares her new release, Underdog (Presentation)

Sat, Sep 24
1:00 - 3:00 PM
Bookstore
Free

Book-signing by acclaimed, award-winning poet Katrina Roberts. (Book Buzz)

In Underdog, poet Katrina Roberts considers questions of identity, asking us to meditate on how each of us is "other" — native, immigrant, sojourner, alien — and to examine our at-once shared and foreign frontiers and margins. Her poems wonder at how individuals through the ages have handled, often with grace, tremendous injustice, and they seek to comprehend the mysteries of our perpetual migrations from and toward each other.

"Katrina Roberts' poems do not admit easy phrasings; instead, they are assembled word by word... I have followed the track of her lines with heightened attention, eager for her next surprise." — Billy Collins

"I've been an admirer of Katrina Roberts's poems for years," — Sherman Alexie

Click here to learn more...
Buy a SIGNED copy of Underdog: Poems - $24.95

Sun, Sep 25
1:00 - 3:00 PM
Bookstore
Free

Therese Ambrosi Smith signs Wax, historical fiction about the real-life Rosie-the-riveters who came of age in the factories of World War II (Book-signing)

Rosie the Riveter — a familiar icon: a determined face and a powerfully-flexed arm on a poster. Rosie embodied a real generation — women who came of age in the factories of World War Two. In her debut novel, Wax, author Therese Ambrosi Smith brings this generation to life on the page. Wax is a story of transformative friendship and of secrets that can no longer be kept.

Click here to learn more...
Buy a SIGNED copy of Wax: Pearl Harbor Changed Everything - $13.95

Fri, Oct 21
7:00 - 8:00 PM
Leavenworth Library
Free

TGIF: Best-selling Kevin O'Brien shares his latest thriller: Disturbed (Presentation)

Sat, Oct 22
1:00 - 3:00 PM
Bookstore
Free

Best-selling thriller author Kevin O'Brien joins our October book-buzz! (Book Buzz)

You'll be Disturbed by best-selling Kevin O'Brien's latest thriller.

Disturbed: the houses on Willow Tree Court are sleek and modern—the kind designed to harbor happy families and laughing children. No one would guess the secrets that lurk beyond the neat lawns and beautiful facades. But someone is watching Molly's family, someone consumed with rage and vengeance. On this quiet road, a nightmare has been unleashed, and the trail of terror will lead right to Molly's door.

Click here to learn more...
Buy a SIGNED copy of Disturbed - $7.99

ABFAS August Top 10 Best-Sellers...

| | | | | |
| --- | --- | --- | --- | --- |
| | | | | |
| | | #3 - A Game of Thrones (A Song of Ice and Fire #1) by George R. R. Martin | | #5 - Field Guide to the Rare Plants of Washington Edited by Pamela Camp and John G. Gamon |
| | | | | |
| | | #8 - Leavenworth (Images of America) by Kinney-Holck and the Upper Valley Museum at Leavenworth | | #10 - The Artist's Journey: The Perfumed Pilgrim Tackles the Camino de Santiago by Marcia Shaver |


Super Travel Games: Perfect in the car; or at home all year long!
In sturdy, portable travel tins, try these three award-winning games to bring happy giggles to the backseat:
Pixy Cubes: Sixteen beautifully engraved cubes to bring hours of delight to the artist or puzzle-solver in your family. Ages 6 and up, 1-4 players, $15.99. Learn more here...
Tell Tale: Take a journey into story land, creating tales based on a variety of images. Four variations, cooperative to competitive. For ages 5 and up, 1-8 players. $12.99 Learn more here...
Spot-it: One and only one symbol makes a match: will you be the one to spot it? Fast-paced fun for ages 7 and up, 2-8 players. $12.99. Learn more here...
Eco-friendly and aesthetic, quick, easy, and LOL fun: share these award-winning games with your family.

What makes these lovely all-wooden games eco-friendly? Blue Orange plants two trees for every one used in game construction: about 20,000 trees planted each year in China.
Pengoloo: Set off on a South Pole eggs-pedition, testing your memory: which wooden penguin is hiding which color egg? Kids love this multi-award winner. Ages: 4 to Adult, 2 to 4 Players, $25.99. Learn more here...
Gobblet Gobblers: Starts with the kid-appeal and pace of tic-tac-toe and adds a fun, memory/strategy twist! Gobble up your opponent, but be careful—are you sure you remember what's underneath? Ages 5 and up, two players, $19.99. Learn more here...

Dragon Face, the new strategy of the year!
Prepare yourself for an epic battle. Your adversary holds the key to your victory. When you capture an opponent's piece, turn it upside down; it is now one of your own. Neither checkers nor chess, a strategy game to challenge the imagination. For ages 8 to adult, $29.99.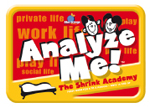 Become the next master of "The Shrink Academy" with Analyze Me!
How well do you know your friends, really? Pose these hilarious and revealing questions, then try to guess who gave which answer. For ages 18 to Adult, 3-8 Players, $19.99. Learn more here.

What Does Community Really Mean?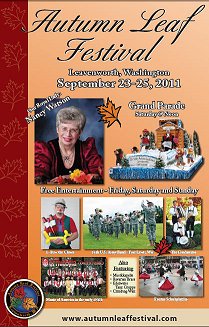 Community—it's more than just a buzzword. Do you ever stop and ponder what community really means?
Neighbors caring about neighbors is a big part of community. Another is recognition and celebration of the absolute uniqueness of our spot on earth—how each place is uniquely blessed by its inhabitants, geography and history.
Once a faltering logging town at a cross roads, Leavenworth might have dwindled or stagnated, but chose to reinvent herself, creating today's vibrant community, a place people come from around the world to experience. Our Festivals and our floats, our Chamber of Commerce, and our Royal Bavarians generate a huge part of the energy that keeps Leavenworth growing and thriving.
The Autumn Leaf Festival, begun in 1964, is Leavenworth's longest running festival. It celebrates our unique mountain landscape, and the turning colors of the autumn leaves. During this colorful fall season, enjoy the brilliantly red vine maple, the blazing yellow aspen, and our many varied recreational opportunities. Here in town enjoy hospitality, art shows, music, dancing, food booths, climbing walls, inflatable castles, family-friendly performances, and of course—the Grand Parade.
A Book For All Seasons salutes the many unsung hero-volunteers who put the umph, the sweat, and the "Guten Tag" into maintaining the unique character and community of our special town and the Upper Valley.
Enjoy Leavenworth's Autumn Leaf Festival, Sept 23-25. Learn more at www.autumnleaffestival.com.

What's New? What's Hot Off The Press? What's Just Been Released?
Fiction | Non-Fiction | Young Adult | Early Grades & Picture Books |
Fiction

Doc by Mary Doria Russell $26.00
Dodge City, Kansas, 1878, is a saloon-filled cow-town jammed with liquored-up adolescent cowboys and young Irish hookers. Violence is random and routine. When the burned body of a mixed-blood boy is discovered, there are reasons the death shocks Wyatt Earp, then a part-time policeman, and is a matter of strangely personal importance to Doc Holliday, the frail twenty-six-year-old dentist who has just opened an office at No. 24, Dodge House.
Born to the life of a Southern gentleman, Dr. John Henry Holliday was given an awful choice at the age of twenty-two: die within months in Atlanta or leave everyone and everything he loves in the hope that the dry air and sunshine of the West will restore him to health. Young, scared, lonely, and sick, he arrives on the rawest edge of the Texas frontier just as an economic crash wrecks the dreams of a nation.
Soon, with few alternatives open to him, Doc Holliday is gambling professionally and living with Kate, a Hungarian hooker with dazzling turquoise eyes who can quote Latin classics right back at him. Kate makes it her business to find Doc the high-stakes poker games that will support them both in high style.
The unlikely friendship blossoms between Doc Holliday and Wyatt Earp in their young days, before Wyatt Earp is the prototype of the square-jawed, fearless lawman; before Doc Holliday is the quintessential frontier gambler; and before the gunfight at the O.K. Corral links their names forever in American frontier mythology.
Authentic, moving, and witty, Mary Doria Russell's fifth novel redefines these two towering figures of the American West, bringing to life an extraordinary cast of historical characters.
"fantastic...a deeply sympathetic, aggressively researched and wonderfully entertaining story," says The Washington Post
"a colorful group-portrait of famous frontiersmen years before many of them would pass into legend at the O.K. Corral. ...a remarkable cast ...a memorable year-in-the-life tale of a fiery young Southern gentleman whose loyalty to his friends and love of music outshine even his fragile health and the whiskey-soaked violence of the western frontier," says Publishers Weekly.
"Full of well-developed characters and rich historical detail ...excellent ...lively and vivid," says Library Journal.
Mary Doria Russell has received nine national and international literary awards, and her novels have been translated into more than a dozen languages.

Buy Doc by Mary Doria Russell - $26.00
Fiction

The Soldier's Wife By Margaret Leroy $14.99
"What would you do for your family?" "What should you do for a stranger?" and "What would you do for love?" asks the intensely passionate novel, The Soldier's Wife.
As World War II draws closer and closer to Guernsey, Vivienne de la Mare knows that there will be sacrifices to be made. Not just for herself, but for her two young daughters and for her mother-in-law, for whom she cares while her husband is away fighting. What she does not expect is that she will fall in love with one of the enigmatic German soldiers who take up residence in the house next door to her home. As their relationship intensifies, so do the pressures on Vivienne. Food and resources grow scant, and the restrictions placed upon the residents of the island grow with each passing week. Though Vivienne knows the perils of her love affair with Gunther, she believes that she can keep their relationship and her family safe. But when she becomes aware of the full brutality of the Occupation, she must decide if she is willing to risk her personal happiness for the life of a stranger.
"...hits all the sweet spots: forbidden love, familial loyalties, agonizing moral dilemmas and the awesome responsibilities of motherhood," says The Washington Post.
"beautifully rendered... demonstrates how the longing for normalcy during wartime can vanquish, even briefly, distrust and uncover common ground. Highly recommended," says Library Journal.
"riveting and ... deliciously disturbing," says Kirkus Reviews.
Non-fiction

Nothing Daunted: The Unexpected Education of Two Society Girls in the West by Dorothy Wickenden $26.00
In the summer of 1916, two young society girls, graduates of Smith College, left New York for the wilds of Colorado. Bored by society luncheons, charity work, and the effete young men who courted them, they applied for two teaching jobs a remote mountaintop schoolhouse, shocking their families and friends.
They crossed the Continental Divide, travelling by the brand new railroad and then by spring wagon to the tiny settlement of Elkhead, where they lived with a family of homesteaders. They made the several mile journey to school each day on horseback, sometimes in blinding blizzards. Their students walked or skied on barrel staves, in tattered clothes and shoes tied together with string. The man who had lured them out west was Ferry Carpenter, a witty, idealistic, and occasionally outrageous young lawyer and cattle rancher. He had promised them the adventure of a lifetime and the most modern schoolhouse in Routt County; he hadn't let on that the teachers would be considered dazzling prospective brides for the locals.
That year transformed the children, their families, and the undaunted teachers themselves. Dorothy and Rosamond learned how to handle unruly children who had never heard the Pledge of Allegiance and thought Ferry Carpenter was the president of the United States; they adeptly deflected the amorous advances of hopeful cowboys; and they saw one of their closest friends violently kidnapped by two coal miners. Carpenter's marital scheme turned out to be more successful than even he had hoped and had a surprising twist some forty years later.
In their buoyant letters home, the two women captured the voices and stories of the pioneer women, the children, and the other memorable people they got to know. Nearly a hundred years later, New Yorker executive editor Dorothy Wickenden—the granddaughter of Dorothy Woodruff—found the letters and began to reconstruct the women's journey. Enhancing the story with interviews with descendants, research about these vanished communities, and trips to the region, Wickenden creates an exhilarating saga about two intrepid young women and the "settling up" of the West.
"the narrative...positively glimmers...a brilliant little gem of Americana," says The Washington Post.
"offers a wide cross-section of life in the American West, but the core of the story is the girls' slow adaptation to a society very different from the one in which they were raised, and their evolution from naïve but idealistic...society girls to strong-willed and pragmatic women who...raised families in the midst of the Great Depression. Wickenden brings to life two women who otherwise might have been lost to history and who took part in creating the modern-day West," says Publishers Weekly.
"vivid... readers get an excellent sense of what everyday life was like, not only for the privileged and highly educated, but for the mine worker, the homesteader, the elementary-school teacher... absorbing ...readers may well, like Woodruff and Underwood, find their hearts lost to the West," says Kirkus Reviews.

Buy Nothing Daunted: The Unexpected Education of Two Society Girls in the West by Dorothy Wickenden - $26.00
Non-fiction

Incognito: The Secret Lives of the Brain By David Eagleman $26.95
If the conscious mind—the part you consider to be you—is just the tip of the iceberg, what is the rest doing?
In this sparkling and provocative new book, the renowned neuroscientist David Eagleman navigates the depths of the subconscious brain to illuminate surprising mysteries: Why can your foot move halfway to the brake pedal before you become consciously aware of danger ahead? Why do you hear your name being mentioned in a conversation that you didn't think you were listening to? What do Ulysses and the credit crunch have in common? Why did Thomas Edison electrocute an elephant in 1916? Why are people whose names begin with J more likely to marry other people whose names begin with J? Why is it so difficult to keep a secret? And how is it possible to get angry at yourself—who, exactly, is mad at whom?
Taking in brain damage, plane spotting, dating, drugs, beauty, infidelity, synesthesia, criminal law, artificial intelligence, and visual illusions, Incognito is a thrilling subsurface exploration of the mind and all its contradictions.
"A book that will leave you looking at yourself—and the world—differently," says Kirkus Reviews.

Buy Incognito: The Secret Lives of the Brain By David Eagleman - $26.95
Young Adult

Vordak the Incomprehensible: Rule the School By Vordak T. Incomprehensible $13.99
Recommended for Ages 8 and up
Greetings, goobers! After my latest experiment worked a little too well—transforming my rather fetching figure into something significantly smaller—I've been forced to return to those halls of horror better known as...school. But going back to junior high may be my greatest opportunity for mayhem in many a month!
Try to keep up as I dramatically defeat the daily dangers of schooldom (even though everyone is against me) and mastermind a catastrophic career day, where that disgusting do-gooder Commander Virtue will be finally, fiendishly, foiled.
Fortunately for you, I have recorded every mischievous moment within these carefully crafted covers so that you may bask in my brilliance as I plot to RULE THE SCHOOL...and, eventually, THE WORLD! MUAHAHAHAHA!!!
Vordak the Incomprehensible is a world-class Supervillain and the Evil Master of all he surveys. His first book, Vordak the Incomprehensible: How to Grow Up and Rule the World has inspired a whole new generation of minions and fiends. His current whereabouts are unknown. You are hereby instructed to visit Vordak online at www.vordak.com, and he will know if you don't, so beware.
Praise for the first Vordak: Vordak the Incomprehensible: How to Grow Up and Rule the World: "a comical step-by-step guide to world domination...so magnetic and absurd that readers, especially young male ones, are going to soak up his warped wisdom like a sponge," says Publisher's Weekly in a Starred Review.
"Evil mastermind Vordak the Incomprehensible shares his 'evilosity' with aspiring supervillains in this hilarious spoof... Comical black-and-white cartoons on nearly every page extend the humor... repeated references... get funnier each time. So does the ironic fact that despite his egotistical rants, Vordak is actually a completely unsuccessful supervillain. The humor, subject matter, and visual appeal should make this a top choice for fans of Jeff Kinney's 'Wimpy Kid,'" says School Library Journal.

Buy Vordak the Incomprehensible: Rule the School By Vordak T. Incomprehensible - $13.99
Young Adult

Brain Jack By Brian Falkner $17.99
Recommended for grade 7 and up
In a dystopian near-future, neuro-headsets have replaced computer keyboards. Just slip on a headset, and it's the Internet at the speed of thought.
For teen hacker Sam Wilson, a headset is a must. But as he masters the new technology, he has a terrifying realization. If anything on his computer is vulnerable to an attack, what happens when his mind is linked to the system? Could consciousness itself be hacked?
Brian Falkner, author of The Tomorrow Code and The Project, delivers an action-packed and thought-provoking sci-fi thriller in which logging on to a computer could mean the difference between life and death.
"In America in the not-too-distant future, expert computer hacker Sam is recruited by Homeland Security after successfully engineering one of the most sophisticated hacks in history. Neuro-headsets that directly connect thoughts and computers are becoming all the rage. The headsets, however, leave users vulnerable to implanted memories and altered information, which some shady force seems to be using to its advantage. Sam, Dodge, and Vienna discover this before they are infected and are soon on the run to try to save the world by destroying the information infrastructure of the country, effectively freeing the minds of the people...raises many thought-provoking questions about the future of technology," says VOYA.
"nicely paced ... and well-crafted ...will ... have broad appeal since, despite the age of the main character [seventeen], the content is appropriate for younger readers," says School Library Journal.

Buy Brain Jack By Brian Falkner - $17.99
Early Grades and Picture Books

The Sniffles for Bear By Bonny Becker, Kady MacDonald Denton (Illustrator) $16.99
If you love the award-winning adventures of stubborn, drama-loving bear and his bright-eyed friend mouse as much as I do, you'll be delighted to learn that a brand new bear-and-mouse story will be released Septermber 2011: The Sniffles for Bear. Relentlessly cheery Mouse pushes a cold-suffering Bear to new heights of melodrama in a hilarious new adventure starring the unlikely pair.
Bear has a terrible cold. In fact, Bear is quite sure that no one has ever been as sick as he is. So when Mouse comes tap, tap, tapping on his front door eager to make Bear "as good as new" by reading a sunny story, singing a rousing chorus, and plinking a twangy tune on his banjo, the pitifully coughing Bear—growing weaker by the minute—is convinced that his tiny friend does not appreciate the gravity of the situation. Can there be any saving Bear from his certain demise? Welcome the world's most lovable curmudgeon and his endearing, unstoppable sidekick in a wry new comedy sure to have even red-eyed, sniffly-nosed readers rolling with laughter.
"High-drama king Bear and endlessly cheerful Mouse return in this gently humorous tale. Convinced that no one has ever been so sick, Bear grumpily welcomes his friend but warns that he is near death's door...Whether readers are fans of this homey pair or new to the dynamic duo's doings, they will delight in the childlike repartee and comfortable friendship," says School Library Journal
Bonny Becker is the author of all four acclaimed Bear and Mouse books, as well as a number of other award-winning picture books and middle-grade novels.

Buy The Sniffles for Bear By Bonny Becker , Kady MacDonald Denton (Illustrator) - $16.99
Early Grades and Picture Books

Zoozical By Judy Sierra $17.99
Winter weather is keeping children from visiting the zoo. So the animals are out of sorts—listless, grumpy, and no longer fun.
All except two little friends, a very small hippo and a baby kangaroo. Their hip-hopping, toe-tapping, and rap-rocking soon has the other animals joining in the hip-aroo beat. "Racoons danced in pairs, baboons danced in troops, and snakes joined the dancers as live hula-hoops."
Young readers and listeners will be amazed and delighted at how the animals chase the winter doldrums by getting along as friends, pooling their talents, and pushing themselves to new heights. After all, these are the same clever animals who learned to read in Judy Sierra's and Marc Brown's Wild About Books, an award-winning New York Times #1 bestselling picture book. ZooZical is sure to inspire some "can do" fun in kindergarten and primary grades.
"When the book opens, the 'midwinter doldrums' have descended on the zoo: 'Owls did not give a hoot./ Pandas quit being cute./ Even penguins were surly./ The Zoo gates closed early.' But a young hippo and a joey beat the blahs with a spirited, spontaneous dance, and entice the other creatures to stage a 'ZooZical,' a musical extravaganza that spotlights their many talents ('Bears walked the tightrope with elegant ease/ Flamingos whizzed by on the flying trapeze') ...Sierra's riffs on familiar tunes (rabbits sing 'If you're hoppy and you know it, clap your paws...'; seals roll onstage on a bus, barking, 'The seals on the bus go round and round...') guarantee that readings will be very musical affairs, with children enthusiastic participants," says Publishers Weekly (Starred Review)

Buy Zoozical By Judy Sierra - $17.99