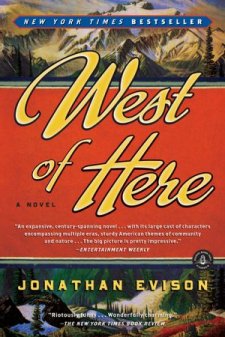 West of Here
by Jonathan Evison
Summary
The wilderness, the history, and the people of Washington blaze into life in West of Here, the newest release from Jonathan Evison, winner of the Washington State Book Award for All About Lulu.
From the rugged mudflats of the northwestern frontier, to a rusting strip mall cornucopia, West of Here is a conversation between two epochs, one rushing blindly toward the future, and the other struggling to undo the damage of the past.
In the mythic town of Point Bonita, 19th-century settlers set out to build a dam, and one hundred years later their descendants want to demolish it to bring back fish runs—but wait, there's more; much, much more. An epic western adventure wrapped in the history of one small town, West of Here is a daring, gorgeously structured and deeply satisfying expedition of a novel.
"Evison does a terrific job at creating a sense of place ... and a massive cast of characters real enough to walk off the page. A big novel about the discovery and rediscovery of nature, starting over, and the sometimes piercing reverberations of history, this is a damn fine book," says Publishers Weekly.
"Chapters that alternate between the 1890s and the present result in a Northwest historical novel with modern counterpoints, like Sometimes a Great Notion meets Citizen Vince... Fans of Jess Walter and Jim Lynch will be thrilled to find another author whose love for the Pacific Northwest and its people shines through with humor and clarity," says Library Journal.
"West of Here deftly connects lives and centuries, pipe dreams and fierce realities ... Every sentence, character and hard-won patch of Pacific Northwestern earth shimmers with kinetic truth," says James Othmer, author of The Futurist.
"Intelligent, insightful, poignant, funny, endlessly entertaining and perpetually thought-provoking," says David Liss, author of Whiskey Rebels.
About the Author
Jonathan Evison, recipient of a Richard Buckley Fellowship, won critical acclaim, including the Washington State Book Award, with his debut novel, All About Lulu. Evison's second novel, West of Here, reached number one on the PNBA best-seller list within a month of its release. Born in San Jose, California, Evison now lives on an island in Western Washington. For more information, visit www.westofherethebook.com.