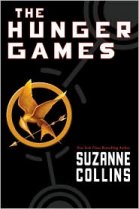 The Hunger Games (Hunger Games Series #1)
by Suzanne Collins
Summary
Winning means fame and fortune. Losing means certain death. The Hunger Games have begun ...
The acclaimed author of the New York Times bestselling Underland Chronicles series delivers equal parts suspense and philosophy, adventure and romance, in a stunning novel set in a future with unsettling parallels to the present. In the ruins of a place once known as North America lies the nation of Panem, a shining Capitol surrounded by twelve outlying districts. The Capitol is harsh and cruel and keeps the districts in line by forcing them all to send one boy and one girl between the ages of twelve and eighteen to participate in the annual Hunger Games, a fight to the death on live TV.
When sixteen-year-old Katniss steps forward to take her sister's place in the Games, she regards it as a death sentence. But Katniss soon discovers that survival is, for her, second nature. And winning? If Katniss is to win, she will have to start weighing survival against humanity, and life against love.
Praise
"[A] violent, jarring speed-rap of a novel that generates nearly constant suspense" — Stephen King
"a superb tale of physical adventure, political suspense, and romance." — Booklist (Starred Review)
"Impressive world-building, breathtaking action and clear philosophical concerns make this volume, the beginning of a planned trilogy, as good as The Giver and more exciting." — Kirkus Reviews
"[A] thrilling adventure that will appeal to science fiction, survival, and adventure readers. The suspense of this powerful novel will keep the reader glued to the page long after bedtime." VOYA
"Collins's characters are completely realistic and sympathetic as they form alliances and friendships in the face of overwhelming odds; the plot is tense, dramatic, and engrossing." School Library Journal
"brilliantly plotted and perfectly paced... an exhilarating narrative and a future we can fear and believe in, ... allows us to see the similarities between Katniss's world and ours." — The New York Times
Honors and Awards
Books from the Hunger Games trilogy have received: New York Times #1 Best-seller, Publishers Weekly Best Book of the Year, School Library Journal Best Book of the Year, Booklist Editor's Choice, New York Times Book Review Editor's Choice, New York Times Notable Book of the Year, Kirkus Best Book of the Year, and Time Magazine Top Ten Fiction Book.
About the Author
Suzanne Collins's debut novel, Gregor the Overlander, the first book in the Underland Chronicles, received wide praise both in the United States and abroad. The series has been a New York Times bestseller and received numerous accolades. Also a writer for children's television, Suzanne lives with her family in Connecticut.