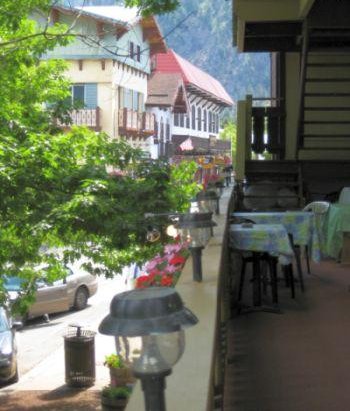 How many bookstores have their own Treehouse? Sheltered beneath the branches of an ancient oak tree, this is the best place in town to watch Christmas Lighting, parades, fireworks displays, or get a great view of the famous Bavarian Cuckoo Clock that fills Front Street with its chimes every hour! During the summer, our Treehouse is home to the wild whimsy and creativity of our Kids Book Camp, as well as a wide variety of author readings and amazing events. Check out our Events Calendar to learn more!
We're right next to Leavenworth's only Starbucks—a perfect place to browse while waiting for your coffee! Discover a discount treasure in our Used section, select that special gift from our signed books, or enjoy a sunlit sit in our Treehouse! Searching for that rare treasure? Maybe a long-forgotten childhood classic? Place your order before noon, and pick it up the next day—at no extra cost! We offer free overnight ordering on most titles!
ABFAS is an essential stop for any art-lover touring Leavenworth! It's the only place in town you can view Waterproof Words, an original painting donated by internationally-renowned artist David Wiesner. David's art has toured the US in the 2000 "Seeing the Story" exhibit, but he is probably better known for his Caldecott-winning children's books, Tuesday, Three Little Pigs, and Flotsam.
We are not a big chain store, we're an independent bookstore. As a matter of fact, ABFAS is IndieBound! Being IndieBound means we recognize our uniqueness and know we play an important role in our community. It also means that all local, independent businesses share that role and by making a conscious decision to "un-chain" and support local Indies, we all help each other. Click here to learn more about IndieBound!
You can find great books at ABFAS that you just can't find anywhere else! It's great fun to explore our shelves. You can get great discounts shopping here with the Frequent Buyer program too! It's a free, easy way to reward our friends for shopping independent in Leavenworth!
Events! Who doesn't love great Events? ABFAS is renowned for offering great events all through the year! Have a chat with a famous author, combine a fine dining experience with a fascinating lecture, learn something new or hone your skills at one of our workshops. Whether you're looking for dinner with an author or one of our many Free Community Events, keep an eye on our Events Calendar and spice things up with our lively literary delights!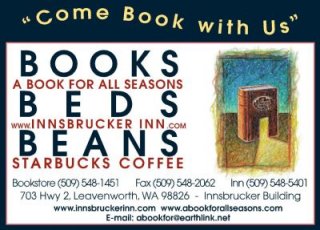 Tour the Innsbrucker Inn situated right above the bookstore! See Sherlock Holmes famous flat on Baker Street, wander into the Secret Garden, discover Charlie's Chocolate Factory or delight in A Midsummer Night's Dream! Tours are free, given on request.
While you're at the bookstore, stay connected even without your laptop! We are one of the few places in Leavenworth to offer cheap, publicly available Internet Access!
ABFAS is affiliated with d'Vinery, the coolest new wine tasting room in town, as well as the Eagle Creek Cottage and Winery! Ask us about free tastings!