Events
|
Top 10
|
What's Hot
|
Community
|
New Reviews
|

Fri, May 11
7:00 - 8:00 PM
Leavenworth Library
Free

TGIF: Breaking the Code: You Can Write Your Family History. A presentation by Karen Fisher-Alaniz (Presentation)

Sat, May 12
1:00 - 3:00 PM
Bookstore
Free

Karen Fisher-Alaniz joins other authors for our Book Buzz: meet authors, win prizes!

Karen says: "Everyone has a story and every story matters. I can't tell you how many times someone has told me a bit about their loved one and then said, 'They're gone now. I wish I'd written those stories down.' We're waiting for the perfect time—when the kids are grown or when life isn't so crazy. But time can run out and for some, their stories will be gone forever. I like to say of family history writing, 'If not you, who? If not now, when?'"

Karen Fisher-Alaniz was propelled into her own project when, on his 81st birthday, without explanation, her father placed two weathered notebooks on her lap. Thus began an amazing, sometimes difficult, yet ultimately healing journey—one taken by a father and daughter who thought they knew each other—as they became newly bound in ways that transcended age and time.

Click here to learn more...
Buy a SIGNED copy of Breaking the Code: A Father's Secret, a Daughter's Journey, and the Question That Changed Everything - $14.99

Sat, May 12
1:00 - 3:00 PM
Bookstore
Free

Book Buzz: Meet authors, win prizes!

Join authors Lanette (Bernice) Taylor, Betty Wilsey, Jerry Smith, and Karen Fisher-Alaniz and illustrator Herb Leonhard. Discover: heart-warming romance; true tales from small-town Stehekin in the 1950's; Washington's ghost towns and historic mines; a father's secret and the question that changed everything; and humorous picture books for young word-lovers.

Glacier Valley, a heartwarming and inspirational romance by Lanette (Bernice) Taylor. Seated across the aisle, Keely tried ignoring the handsome stranger but fought a sense of warmth. Was it possible he was not a stranger? All those years ago, the wounded soldier and the pretty young nurse never saw each others' faces—but he still remembered her voice.

In Boom Towns & Relic Hunters of Washington State: Exploring Washington's Historic Ghost Towns & Mining Camps, Jerry Smith shows you the way to some of Washington's most picturesque abandoned sites whose yesteryears were as colorful as they were lively. Walk in the footsteps of adventurers who sought their fortunes in the dark and explosive atmosphere of black powder and candlelight. Visit northeastern Washington, step into history, and dig into the past.

A Handshake & a Thousand Dollars, Betty Wilsey's memoir of growing up in Stehekin, is packed with stories, photos, and even recipes: from squirrel stew (I hope you have bear grease on hand) to sour cream pie. Enjoy the story of four generations in Stehekin from the fifties through the eighties, as Betty grows up, marries her high school sweetheart, and raises a family.

In Breaking the Code, Karen Fisher-Alaniz shares how she discovered, on her father's 81st birthday, the secret role her father had played in WWII. This story of an adult child learning to understand a parent she thought she knew is simple, unpretentious, and commendable, breaking the silence surrounding PTSD. "Whether the veteran returned from war sixty years ago or six days ago," she writes, "one thing remains constant: it's time for us to talk and to listen." Karen shares tips to help you get your own story on paper. "Everyone has a story and every story matters," she says.

Award-winning children's illustrator Herb Leonhard shares two fabulous children's picture books: A is for Alliguitar, brimming with delightfully zany musical alphabeasts; and I Know A Librarian Who Chewed On A Word, the story of a librarian who just might love words too much—is that possible?

Buy a SIGNED copy of Glacier Valley - $12.00

Buy a SIGNED copy of Boom Towns & Relic Hunters of Washington State: Exploring Washington's Historic Ghost Towns & Mining Camps - $38.95

Buy a SIGNED copy of A Handshake & a Thousand Dollars - $22.95

Buy a SIGNED copy of Breaking the Code: A Father's Secret, a Daughter's Journey, and the Question That Changed Everything - $14.99

Buy a SIGNED copy of A is for Alliguitar - $16.99

Buy a SIGNED copy of I Know A Librarian Who Chewed On A Word - $16.99

Fri, May 18
6:00 - 8:30 PM
Tierra Learning & Retreat Center
Free

Feathers: The Evolution of a Natural Miracle with author Thor Hanson (Presentation; Book-signing Follows)

Feathers are an evolutionary marvel: aerodynamic, insulating, beguiling. What are feathers? How did they evolve? What do they mean to us? In Feathers, biologist Thor Hanson integrates the research of paleontologists, ornithologists, biologists, engineers, and even art historians into a sweeping natural history, showing how feathers have been used to fly, protect, attract, and adorn—across centuries and across the globe.

Click here to learn more...
Buy a SIGNED copy of Feathers: The Evolution of a Natural Miracle - $25.99

Sat, May 19 - 20
in Wenatchee

Write On The River - Twelve workshops, award-winning authors and fuel to keep your writing fire alive. Join us on the banks of the mighty Columbia and keep the words flowing.

Write On The River is North Central Washington's only writing conference. Two days of content-packed workshops with professional editors, successful agents, bestselling authors and nationally-acclaimed speakers, Write On The River is the best way to hone your craft, build your dream and move your writing forward.

Whether your goal is to be a published author, write articles for a local magazine, develop your poetry, or simply write for your own enjoyment, Write On The River has something for you.

Sun, May 20
1:30 - 3:00 PM
Wenatchee Library
Free

Jonathan Evison's historical epic, West of Here (Presentation)

The wilderness, the history, and the people of Washington blaze into life in West of Here, the newest release from Jonathan Evison, winner of the Washington State Book Award for All About Lulu.

From the rugged mudflats of the northwestern frontier, to a rusting strip mall cornucopia, West of Here is a conversation between two epochs, one rushing blindly toward the future, and the other struggling to undo the damage of the past. In the mythic town of Point Bonita, 19th-century settlers set out to build a dam, and one hundred years later their descendants want to demolish it to bring back fish runs. An epic western adventure wrapped in the history of one small town, West of Here is a daring, gorgeously structured and deeply satisfying expedition of a novel.

Click here to learn more...
Buy a SIGNED copy of West of Here - $15.95

Thu, May 31
3:00 - 5:00 PM
Bookstore
Free

Bryan Welch, publisher of Mother Earth News and Utne Reader, signs Beautiful and Abundant (Book-signing)

Thu, May 31
7:00 - 9:00 PM
Barn Beach Reserve
Optional $10 donation supports E. Lorene Young Community Garden

Bryan Welch, publisher of Mother Earth News and Utne Reader, discusses humanity's definitive challenge

Beautiful and Abundant, by the publisher of Mother Earth News and Utne Reader, is that rare book about crisis in the natural world that does not despair—it is instead victoriously hopeful. Both a practical guide to making your lifestyle more sustainable, and a lesson in looking beyond immediate obstacles toward humanity's ultimate destination; envisioning a world that is aesthetically beautiful, economically abundant, ethically fair, and irresistibly contagious.

Click here to learn more...
Buy a SIGNED copy of Beautiful and Abundant - $25.95

Fri, Jun 1
5:00 PM VIP Dinner

An Evening with Dr. Andrew Bacevich: Re-Considering American Global Policy





7:30 PM Lecture followed by Book Signing
Sleeping Lady Retreat Center
Tickets: $15 / $20 (lecture only) or $100 (lecture and dinner)
Call 509-548-6344 or 800-574-2123 for reservations

"Andrew Bacevich speaks truth to power, no matter who's in power, which may be why those of both the left and right listen to him." — Bill Moyers

West Point graduate, retired Colonel, and international relations professor Andrew Bacevich challenges conventional wisdom on national security. With vivid, incisive analysis, Bacevich assails and exposes the biases and habits fueling America's notion that overwhelming superiority will oblige others to accommodate America's needs and desires—whether for cheap oil, cheap credit, or cheap consumer goods. As we enter a period when our militarism has become both unaffordable and increasingly dangerous, replacing the current Washington consensus is crucial to America's future and may yet offer the key to the country's salvation.

To take stock of The Short American Century and place it in historical perspective, Bacevich has assembled a richly provocative range of perspectives from numerous distinguished historians from Jeffry Frieden to Emily Rosenberg. What did this age of reputed American preeminence signify? What caused its premature demise? What legacy remains in its wake?

"Tough-minded, bracing, and intelligent . . . the country is lucky to have a fierce, smart peacemonger like Bacevich." — The New York Times Book Review

Proceeds from this event will benefit the Leavenworth Rotary Scholarship Fund.

Click here to learn more...
Buy a SIGNED copy of The Short American Century: A Postmortem - $25.95
Buy a SIGNED copy of Washington Rules: America's Path to Permanent War - $15.00
Buy a SIGNED copy of The Limits of Power: The End of American Exceptionalism - $14.00

Fri, June 1
7:00 - 8:00 PM
Leavenworth Library
Free

TGIF: Jane Kirkpatrick, inspirational speaker and award-winner author, shares heartwarming stories (Presentation)





Sat, Jun 2
1:00 - 3:00 PM
Bookstore
Free

Award-winning inspirational Christian, western, and women's author Jane Kirkpatrick shares new releases and heartwarming classics (Book-signing)

A lively and humorous speaker, Kirkpatrick is a frequent keynote presenter for conferences, women's retreats, and workshops. Jane believes that our lives are the stories that others read first and she encourages groups to discover the power of their own stories to divinely heal and transform. Jane speaks to the privilege of following one's passion wherever the dreams may lead.

Jane Kirkpatrick's 19th historical novel, Where Lilacs Still Bloom, is based on the life of Hulda Klager, a German immigrant with an eighth-grade education and a burning desire to create something beautiful in the world. Where Lilacs Still Bloom is a story of triumph over impossible odds and of the power of a generous heart.

Click here to learn more...
Buy a SIGNED copy of Where Lilacs Still Bloom - $14.99
Buy a SIGNED copy of The Daughter's Walk - $14.99
Buy a SIGNED copy of Barcelona Calling: A Novel - $14.99

Fri, Jun 15
7:00 - 8:00 PM
Leavenworth Library
Free

TGIF: Best-selling true-crime author Gregg Olsen shares his new YA novel: Envy (Presentation)

Sat, Jun 16
1:00 - 3:00 PM
Bookstore
Free

Gregg Olsen joins our June book buzz

In Port Gamble (aka "Empty Coffin"), Washington, truth is about as hard to come by as a sunny day. One minute Katelyn is a depressed teen with a loser life. The next, she's lying on a stainless steel slab, eyes glassy, skin frosted over, and very, very dead. New York Times bestselling Gregg Olsen's YA debut Envy exposes cyber-bullying in this ripped-from-the-headlines story—with a paranormal touch.

Click here to learn more...
Buy a SIGNED copy of Envy - $9.95

Sat, Jun 16
1:00 - 3:00 PM
Bookstore
Free

Book Buzz: Authors Gregg Olsen, Bernadette Pajer, Kathleen O'Brien, and Billy Mays dazzle with electric mysteries, paranormal young adult, a journey through loss into love, and the true recollections of a cold war spy.

Best-selling Gregg Olsen kicks off his eerily paranormal young adult Empty Coffin series with Envy, a hard-hitting look at cyber-bullying. Bernadette Pajer takes us back to the early days of electricity with another electrifying whodunit featuring savvy professor Bradshaw, as Fatal Induction follows A Spark of Death. Kathleen M. O'Brien debuts A Light in the Heart, an inspirational story of a shattered woman rebuilding her life, struggling through pain and loss to find purpose and love. And Billy Mays shares the true story of his decades in the eastern European underworld in a sometimes irreverent and shocking look into the dark and dangerous Soviet Bloc before and after the fall of the Berlin Wall in On the Job Training: Berlin to Vladivostok.

Buy a SIGNED copy of Envy - $9.95

Buy a SIGNED copy of Fatal Induction - $24.95

Buy a SIGNED copy of A Light in the Heart - $15.00

Buy a SIGNED copy of On the Job Training: Berlin to Vladivostok - $16.95

Thu, Jun 28
7:00 - 9:00 PM
Wenatchee Library
Free

Heather Barbieri presents a potent, unforgettable love story: The Cottage at Glass Beach (Presentation)

Fri, Jun 29
7:00 - 8:00 PM
Leavenworth Library
Free

TGIF: The Cottage at Glass Beach: an unforgettable love story from Heather Barbieri

Sat, Jun 30
1:00 - 3:00 PM
Bookstore
Free

Heather Barbieri book-signing

Heather Barbieri follows The Lace Makers of Glenmara, her acclaimed Gaelic-tinged drama, with The Cottage at Glass Beach, the resonant tale of a woman who, in the wake of scandal, flees to a remote Maine island to reconnect with her past—and to come to terms with the childhood tragedy that has haunted her for a lifetime. Set on the rugged New England coast, Barbieri's The Cottage at Glass Beach infuses a potent and unforgettable love story with characters that will remain with you long after the final chapter.

Click here to learn more...
Buy a SIGNED copy of The Cottage at Glass Beach - $24.99
Buy a SIGNED copy of The Lace Makers of Glenmara - $14.99

ABFAS April Top 10 Best-Sellers...

| | | | | |
| --- | --- | --- | --- | --- |
| | | | | |
| #1 - The Hunger Games (Hunger Games Series #1) by Suzanne Collins | #2 - Catching Fire (Hunger Games Series #2) by Suzanne Collins | #3 - Among Penguins: A Bird Man in Antarctica by Noah Strycker | | |
| | | | | |
| #6 - Fifty Shades of Grey (Fifty Shades Trilogy #1) by E. L. James | #7 - F in Exams: The Very Best Totally Wrong Test Answers by Richard Benson | | | #10 - The Girl Who Kicked the Hornet's Nest by Stieg Larsson |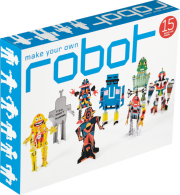 Make Your Own Robot!
For robot obsessives of all ages! A box-set of fabulously illustrated colorful poster-board robots.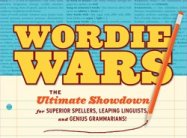 Wordie Wars!
For all those who love the New York Times crosswords and beat their families at Scrabble™, this is a word game to stump even the brainiest of word nerds. Five different categories.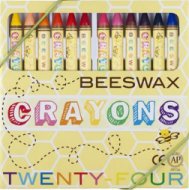 Brilliant Bee Beeswax Crayons
Big, Bright, Bold, and Healthy! Good for your child and the environment. Brilliant Bee Beeswax Crayons are a fun, safe, all-natural way for kids to create with vivid color.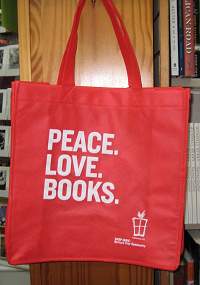 Eco-Gift! Peace, Love, Books!
Enjoy your FREE tote, a gift from A Book For All Seasons.
Now free with a purchase over $99, this bold, fashionable, reusable proclaims your commitment to the environment along with your love of books. Made from 80% post-consumer recycled fibers!
"Peace, Love, Books." says your new tote. As well as: "Shop Indie," and "Nurture Your Community."
Side bars carry fun reminders of why LOCAL MATTERS: from energy conservation to boosting your own local economy: your own neighbors, schools, fire-fighters, and more.
These lovely totes are also for sale for $5.99. The perfect UN-wrapping paper for a mother's day gift!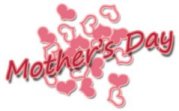 Looking For Ideas For

Mothers Day

?
Besides a lovely get-away between the pages of a book...
...we have

Gorgeous beaded bracelets, belts, and clutch-purses.

Stone-washed, hand-embroidered one-hundred-percent cotton bags.

Fun "fit in clouds" comfort shoes for when Mom's ready to slip out of her heels.

Ultimate dark chocolate, chile chocolate, gingerbread, and peppermint chocolate.

Svelte Pride and Prejudice tees.

Cards by local artists.

Mystical metallic exquisite journals.
And there are more penguins where that iceberg came from! So come on in to A Book For All Seasons to browse for Mom today.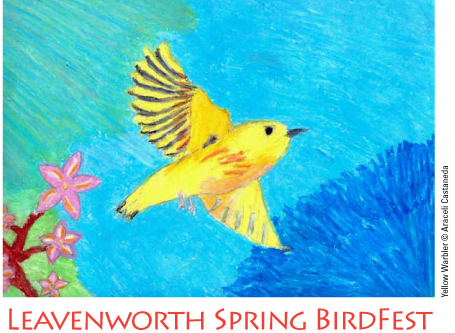 Spring Bird Fest!
A Book For All Seasons is a great stop during Leavenworth's annual spring Bird Fest. Whether you'd like an autographed copy of Thor Hanson's Feathers, wish to browse a range of detailed and portable fieldguides, enjoy the finest bird photographic essays, or want a hands-on book on building birdhouses or planting to entice flocks to your own back yard—just ask one of our friendly staff to direct you to the bird and nature section.

What's New? What's Hot Off The Press? What's Just Been Released?
Fiction | Non-Fiction | Young Adult | Early Grades & Picture Books |
Fiction

In One Person by John Irving $28.00
A compelling novel of desire, secrecy, and sexual identity, In One Person is a story of unfulfilled love—tormented, funny, and affecting—and an impassioned embrace of our sexual differences. Billy, the bisexual narrator and main character of In One Person, tells the tragicomic story of the twists and turns of more than fifty years of life as a "sexual suspect."
His most political novel since The Cider House Rules and A Prayer for Owen Meany, John Irving's In One Person is a poignant tribute to a theatrical cast of characters who defy category and convention. It is also the intimate, unforgettable portrait of the solitariness of a bisexual man who is dedicated to making himself "worthwhile."
"This tender exploration of nascent desire, of love and loss, manages to be sweeping, brilliant, political, provocative, tragic, and funny—it is precisely the kind of astonishing alchemy we associate with a John Irving novel... A profound truth is arrived at in these pages. It is Irving at his most daring, at his most ambitious. It is America and American writing, both at their very best." — Abraham Verghese, author of Cutting for Stone
"In One Person is a novel that makes you proud to be human. It is a book that not only accepts but also loves our differences. From the beginning of his career, Irving has always cherished our peculiarities—in a fierce, not a saccharine, way...John Irving in this magnificent novel—his best and most passionate since The World According to Garp—has sacralized what lies between polarizing genders and orientations. And have I mentioned it is also a gripping page-turner and a beautifully constructed work of art?" — Edmund White, author of City Boy
"Prep school. Wrestling. Unconventional sexual practices. Viennese interlude. This bill of particulars could only fit one American author: John Irving. His 13th novel (after Last Night in Twisted River) tells the oftentimes outrageous story of bisexual novelist Billy Abbott, who comes of age in the uptight 1950s and explores his sexuality through two decadent decades into the plague-ridden 1980s and finally to a more positive present day...sexual secrets abound in this novel, which...touches the heart as it fitfully illuminates the mutability of human desire.." — Publishers Weekly
About the Author
The World According to Garp, which won the National Book Award in 1980, was John Irving's fourth novel and his first international bestseller. Irving's novels are now translated into thirty-five languages, and he has had nine international bestsellers. In One Person is John Irving's thirteenth novel.

Buy In One Person by John Irving - $28.00
Fiction

Truth Like the Sun By Jim Lynch $25.95
A classic and hugely entertaining political novel, the cat-and-mouse story of urban intrigue in Seattle both in 1962, when Seattle hosted the World's Fair, and in 2001, after its transformation in the Microsoft gold rush.
Larger than life, Roger Morgan was the mastermind behind the fair that made the city famous and is still a backstage power forty years later, when at the age of seventy he runs for mayor in hopes of restoring all of Seattle's former glory. Helen Gulanos, a reporter every bit as eager to make her mark, sees her assignment to investigate the events of 1962 become front-page news with Morgan's candidacy, and resolves to find out who he really is and where his power comes from: in 1962, a brash and excitable young promoter, greeting everyone from Elvis Presley to Lyndon Johnson, smooth-talking himself out of difficult situations, dipping in and out of secret card games; now, a beloved public figure with, it turns out, still-plentiful secrets.
Wonderfully interwoven into this tale of the city of dreams are backroom deals, idealism and pragmatism, the best and worst ambitions, and all the aspirations that shape our communities and our lives.
"A briskly paced novel that gives us an insider's view into both the politics of culture and the culture of politics." — Kirkus
"Truth Like the Sun, read after Jim Lynch's celebrated Highest Tide, confirms the tidal wave of his talent. Set again in the Pacific Northwest he has explored in such depth and variety, this is a city story all the way. His detailing of the moment-to-moment stratagems of a reporter stalking a political big-foot, and of the big-foot's bravura evasions [of] the hunt proceeding throughout the storied and exotic environment of any right-minded person's favorite city is thrilling." — Geoffrey Wolff
"Often funny and sometimes devastating but always to the point, Truth Like the Sun reflects back on the 1962 World's Fair that put Seattle on the map. With the keen eye of the journalist he was and the nimbleness of the novelist he has become, Jim Lynch provides a thought-provoking fictional portrait of a city on the make and its somewhat tarnished tribe of civic strivers." — Ivan Doig
About the Author
Jim Lynch has received the H. L. Mencken Award and a Livingston Award for Young Journalists, among other national honors. His most recent novel, Border Songs, won the Washington State Book Award and is currently being adapted for television.
Non-fiction

Wild: From Lost to Found on the Pacific Crest Trail by Cheryl Strayed $25.95
A powerful, blazingly honest memoir: the story of an eleven-hundred-mile solo hike that broke down a young woman reeling from catastrophe—and built her back up again.
At twenty-two, Cheryl Strayed thought she had lost everything. In the wake of her mother's death, her family scattered and her own marriage was soon destroyed. Four years later, with nothing more to lose, she made the most impulsive decision of her life: to hike the Pacific Crest Trail from the Mojave Desert through California and Oregon to Washington State—and to do it alone. She had no experience as a long-distance hiker, and the trail was little more than "an idea, vague and outlandish and full of promise." But it was a promise of piecing back together a life that had come undone.
Strayed faces down rattlesnakes and black bears, intense heat and record snowfalls, and both the beauty and loneliness of the trail. Told with great suspense and style, sparkling with warmth and humor, Wild vividly captures the terrors and pleasures of one young woman forging ahead against all odds on a journey that maddened, strengthened, and ultimately healed her.
"In the summer of 1995, at age 26 and feeling at the end of her rope emotionally, Strayed resolved to hike solo the Pacific Crest Trail, a 2,663-mile wilderness route stretching from the Mexican border to the Canadian and traversing nine mountain ranges and three states. In this detailed, in-the-moment re-enactment, she delineates the travails and triumphs of those three grueling months. Living in Minneapolis, on the verge of divorcing her husband, Strayed was still reeling from the sudden death four years before of her mother from cancer; the ensuing years formed an erratic, confused time 'like a crackling Fourth of July sparkler.' Hiking the trail helped decide what direction her life would take, even though she had never seriously hiked or carried a pack before. Starting from Mojave, Calif., hauling a pack she called the Monster because it was so huge and heavy, she had to perform a dead lift to stand, and then could barely make a mile an hour. Eventually she began to experience 'a kind of strange, abstract, retrospective fun,' meeting the few other hikers along the way, all male; jettisoning some of the weight from her pack and burning books she had read; and encountering all manner of creature and acts of nature from rock slides to snow. Her account forms a charming, intrepid trial by fire, as she emerges from the ordeal bruised but not beaten, changed, a lone survivor. " — Publishers Weekly (Starred Review)
"Stunning...An incredible journey, both inward and outward." — Garth Stein, author of The Art of Racing in the Rain
"A rich, riveting true story... During her grueling three-month journey, Strayed circled around black bears and rattlesnakes, fought extreme dehydration by drinking oily gray pond water, and hiked in boots made entirely of duct tape... With its vivid descriptions of beautiful but unforgiving terrain, Wild is a cinematic story, but Strayed's book isn't really about big, cathartic moments. The author never 'finds herself' or gets healed. When she reaches the trail's end, she buys a cheap ice cream cone and continues down the road...It's hard to imagine anything more important than taking one step at a time. That's endurance, and that's what Strayed understands, almost 20 years later. As she writes, 'There was only one [option], I knew. To keep walking.' Our verdict: A." — Entertainment Weekly
"Strayed's journey was as transcendent as it was turbulent. She faced down hunger, thirst, injury, fatigue, boredom, loss, bad weather, and wild animals. Yet she also reached new levels of joy, accomplishment, courage, peace, and found extraordinary companionship." — Christian Science Monitor
About the Author
Cheryl Strayed is the author of three books: Wild, Tiny Beautiful Things (forthcoming), and Torch, a novel. Strayed has written the "Dear Sugar" column on TheRumpus.net since March 2010. Her writing has appeared in the New York Times Magazine, the Washington Post Magazine, Vogue, Allure, Self, the Missouri Review, Brain, Child, Creative Nonfiction, Water~Stone Review, the Sun and elsewhere. She lives in Portland, Oregon with her husband, the filmmaker Brian Lindstrom, and their two children.

Buy Wild: From Lost to Found on the Pacific Crest Trail by Cheryl Strayed - $25.95
Non-fiction

When Women Were Birds: Fifty-Four Variations on Voice By Terry Tempest Williams $23.00
The beloved author of Refuge returns with a work that explodes and startles, illuminates and celebrates.
Terry Tempest Williams' mother told her: "I am leaving you all my journals, but you must promise me you won't look at them until after I'm gone."
Readers of Williams' iconic and unconventional memoir, Refuge, well remember that mother. She was one of a large Mormon clan in northern Utah who developed cancer as a result of the nuclear testing in nearby Nevada. It was a shock to Williams to discover tha her mother had kept journals. But not as much of a shock as what she found when the time came to read them.
"They were exactly where she said they would be: three shelves of beautiful cloth-bound books...I opened the first journal. It was empty. I opened the second journal. It was empty. I opened the third. It too was empty...Shelf after shelf after shelf, all of my mothers journals were blank." What did Williams' mother mean by that? In fifty-four chapters that unfold like a series of yoga poses, each with its own logic and beauty, Williams creates a lyrical and caring meditation of the mystery of her mother's journals. When Women Were Birds is a kaleidoscope that keeps turning around the question "What does it mean to have a voice?"
"Williams, the sensitive author of Refuge, is shocked to discover her deceased mother's unwritten memoirs—shelves worth of blank pages. Under such unpromising circumstances commences a kaleidoscopic celebration and palimpsest—all metaphorical clichés but apt—on finding a voice and woman's identity beyond the silenced, selfless existence informed by children and a husband—even a family brimming with love. The empty pages of a journal manifest a hermeneutics of suspicion: the white upon which to project a lifelong journey of self-discovery. In 54 meditations (one for each year of her mother's life, and of Williams's life to date), we learn about an unusual (patriarchal) Mormon background and an upbringing that included a season of homeschooling in Hawaii, encounters with a husband-and-wife team of John Birchers while teaching high school biology, a job at the Museum of Natural History in New York City, and the meeting of her future mate over a discussion of books and birds... 'If a man knew what a woman never forgets, he would love her differently,' Williams declares in her bighearted, deliberative hymn" — Publishers Weekly (Starred Review)
About the Author
Terry Tempest Williams is the award-winning author of fourteen books, including Leap, An Unspoken Hunger, Refuge, and, most recently, Finding Beauty in a Broken World. She divides her time between Castle Valley, Utah, and Moose, Wyoming.

Buy When Women Were Birds: Fifty-Four Variations on Voice By Terry Tempest Williams - $23.00
Young Adult

Same Sun Here By Silas House and Neela Vaswani $15.99
Recommended for ages 9 and up
Meena and River have a lot in common: fathers forced to work away from home to make ends meet, grandmothers who mean the world to them, and faithful dogs. But Meena is an Indian immigrant girl living in New York City's Chinatown, while River is a Kentucky coal miner's son. When this unlikely pair become pen pals, they discover common ground in their disparate experiences, along with the great value of being and having a friend—and the joy of opening our lives to others who live beneath the same sun.
"Even better than reading a refreshingly honest story by one talented writer is reading one by two such writers. House (Eli the Good) and adult author Vaswani (Where the Long Grass Bends) alternate between the voices of Meena—a 12-year-old girl who lives with her recently immigrated Indian family in New York City—and River, who lives with his environmental activist grandmother in rural Kentucky. The two connect as pen pals, and their letters reveal the unusual intersections (like okra) and the stark contrasts in their lives. The preteens reflect on everything from prejudice and religion to politics and music, but their voices are so open, true, and even humorous that the story never feels heavy or preachy...by book's end,...readers...feel confident that their friendship will get them through whatever lies ahead." — Publishers Weekly (Starred Review)
About the Authors
Silas House is the nationally best-selling author of Eli the Good as well as the award-winning novels Clay's Quilt, A Parchment of Leaves, and The Coal Tattoo. He is the director of the Appalachian Center at Berea College, and the father of two daughters, and lives in eastern Kentucky.
Neela Vaswani is the author of You Have Given Me a Country, winner of an American Book Award, as well as of Where the Long Grass Bends. She is also the recipient of an O. Henry Prize. She teaches at Spalding University and lives in New York City.

Buy Same Sun Here By Silas House and Neela Vaswani - $15.99
Young Adult

The Extraordinary Education of Nicholas Benedict (Mysterious Benedict Society) By Trenton Lee Stewart $17.99
Recommended for ages 9 and up
Before there was a Mysterious Benedict Society, there was simply a boy named Nicholas Benedict. Meet the boy who started it all...
Nine-year-old Nicholas Benedict has more problems than most children his age. Not only is he an orphan with an unfortunate nose, but he also has narcolepsy, a condition that gives him terrible nightmares and makes him fall asleep at the worst possible moments. Now he's being sent to a new orphanage, where he will encounter vicious bullies, selfish adults, strange circumstances—and a mystery that could change his life forever. Luckily, he has one important thing in his favor: he's a genius.
On his quest to solve the mystery, Nicholas finds enemies around every corner, but also friends in unexpected places—and discovers along the way that the greatest puzzle of all is himself.
About the Author
Trenton Lee Stewart is the author of the award-winning and New York Times bestselling Mysterious Benedict Society series. He lives in Arkansas with his wife and two sons.

Buy The Extraordinary Education of Nicholas Benedict (Mysterious Benedict Society) By Trenton Lee Stewart - $17.99
Early Grades and Picture Books

M.O.M. (Mom Operating Manual) By Doreen Cronin $16.99
Congratulations! You are the proud owner of a Mom. This means you have someone to make you sandwiches, someone to drive you to soccer practice, and someone who—for reasons unknown to man—is able to hold your snotty, used tissues in her own pocket without gagging.
A well-functioning mom is essential to domestic harmony and general wellbeing. Yet despite their status as the most advanced humans on the planet, moms do need some daily care and maintenance to keep them running smoothly.
This book explains everything. Mom requirements include, but are not limited to: light watering, the crust of peanut butter sandwiches, and some peace and quiet every now and then, for crying out loud. And there's added bonus information. Learn to spot early warning signs of mom-pattern-crankiness and to recognize when mom might need another cup of coffee. A mom's make and model will vary by family, but the simple fact remains: Take care of Mom...and she'll take care of you.
Based on "years of research, observation, and time-outs," this indispensible and hilarious guide arms kids (and dads) with the knowledge they need to avoid the most precarious mother-related situations as: how she should be fed, why she needs more than three inches of space on a bed, and what to do if her face ranks a "10" on the Mad Face Scale. Wickedly funny and acutely perceptive, this is a book that, basically, no one on the planet should be without.
"With tongue firmly planted in cheek, Cronin (Rescue Bunnies) offers children detailed advice on how to better understand and deal with one's mother. This troubleshooting guide provides step-by-step instructions for addressing moms who don't get enough of the daily basics, 'Sleep, Nutrition, Exercise, and Water, or SNEW for short.' Amazing factoids ('Remarkably, despite their size, moms can sleep on as little as three inches of bed') and warnings ('Do not bother your mom when she is eating in the garage') pack the pages. Cornell (My Mommy Hung the Moon) channels some serious Roz Chast in spreads that demonstrate a gleeful, knowing abandon...the message is writ large (and sometimes covered with baby food, coffee, or grass stains): moms are pretty indispensable." — Publishers Weekly
Doreen Cronin is the author of many bestselling picture books, including Thump, Quack, Moo: A Whacky Adventure; Bounce; Wiggle; Duck for President; Giggle, Giggle, Quack; Dooby Dooby Moo; and the Caldecott Honor Book Click, Clack, Moo: Cows That Type. She lives in Brooklyn, New York. Visit Doreen online at doreencronin.com Laura Cornell is the illustrator of several #1 New York Times bestsellers by Jamie Lee Curtis, including My Mommy Hung the Moon, Big Words for Little People, Today I Feel Silly & Other Moods That Make My Day, and Is There Really a Human Race? Laura left stunning and sunny southern California to reside in soaring and spectacular New York City.

Buy M.O.M. (Mom Operating Manual) By Doreen Cronin - $16.99
Early Grades and Picture Books

Step Gently Out By Helen Frost photography by Rick Lieder $15.99
Stunning close-up photography and a lyrical text implore children to look more closely at the world around them.
Be still, and watch a single blade of grass.
An ant climbs up to look around.
A honeybee flies past.
What would happen if you walked very, very quietly and looked ever so carefully at the natural world outside? You might see a cricket leap, a moth spread her wings, or a spider step across a silken web. In simple, evocative language, Helen Frost offers a hint at the many tiny creatures around us. And in astonishing close-up photographs, Rick Lieder captures the glint of a katydid's eye, the glow of a firefly, and many more living wonders just awaiting discovery. Fascinating facts about all the creatures pictured may be found at the end.
"Captivating photography gives readers a closeup view of the world of insects, as described by a gently contemplative poem. Lieder captures the small miracles of a bumblebee in mid-flight, a spider dangling from a dewy branch, and a firefly's flash, while Frost urges readers to be mindful of events that seem insignificant: 'A spider spins a silken thread/ to step across the air./ A praying mantis looks at you — / do you know she's there?' Working in concert, the words and images achieve a Zenlike calm that also hints at the complicated web of life unfolding all around. Endnotes discuss the 11 featured insects in greater detail.." — Publishers Weekly (Starred Review)
Helen Frost is the author of Monarch and Milkweed as well as six novels-in-poems for children and young adults. She lives in Fort Wayne, Indiana. Rick Lieder is a nature photographer, artist, and book-jacket designer. He lives in Michigan.

Buy Step Gently Out By Helen Frost photography by Rick Lieder - $15.99