Events
|
Top 10
|
What's Hot
|
Community
|
New Reviews
|

Fri, Jul 8
7:00 - 8:00 PM
Leavenworth Library
Free

TGIF: Author Evelyn Searle Hess shares "To The Woods" (Presentation)

Sat, Jul 9
1:00 - 3:00 PM
Bookstore
Free

Evelyn Searle Hess signs her book: To the Woods: Sinking Roots, Living Lightly, and Finding True Home (Book-signing)

To the Woods is a tale of adventure, inspiration, and living life in concert with nature. It is the true story of Evelyn Searle Hess, who, in her late fifties, walks away from the world of modern conveniences to build a new life with her husband on twenty acres of wild land in the foothills of Oregon's Coast Range. Hess's careful attention to detail, her extensive knowledge of local flora and fauna, and her thoughtful philosophical meditations add richness to her engaging prose. Hess explores the joys of living simply and awakening to the interconnectedness of all life.

Click here to learn more...
Buy a SIGNED copy of To the Woods: Sinking Roots, Living Lightly, and Finding True Home - $18.95

Fri, Jul 15
7:00 - 9:00 PM
Barn Beach Reserve
Free

Discover Washington's Rare Plants with botanists Pam Camp and Joseph Arnett

Sat, Jul 16
1:00 - 3:00 PM
Bookstore
Free

Field Guide Authors Pam Camp and Joseph Arnett (Book-signing)

Friday's slides present a virtual tour of the natural areas of Washington, highlighting the most uncommon and rarely seen plants in the state. Field Guide to the Rare Plants of Washington offers a window into the beauty and diversity of the rarest plants in the state, fully characterizing each rare plant through photographs, line drawings, descriptions, ecology, habitat, maps, and more.

Click here to learn more...
Buy a SIGNED copy of Field Guide to the Rare Plants of Washington - $39.95

Fri, Jul 22
7:00 - 9:00 PM
Barn Beach Reserve
Free

Artist Marcia Shaver shares her journey on the Camino de Santiago (Presentation)

Sat, Jul 23
1:00 - 3:00 PM
Bookstore
Free

The Artist's Journey: The Perfumed Pilgrim Tackles the Camino de Santiago: a book-signing by Marcia Shaver (Book-signing)

Trials, tribulations, and testy travelers only spurred artist Marcia Shaver on in her 1,299,851 steps across Spain, from St. Jean Pied de Port, France, to Finisterre. Choosing well her walking companion, setting a practical pace with time to draw, and drinking in the revitalizing countryside, Marcia rediscovered her physical strength—and more. From the depths of her soul rose her true nature as the Pilgrim's Way nurtured it and let it shine forth. Marcia's can-do, let's-have-fun spirit transports the easy-chair traveler—and will send many a reader on the same journey of the body and soul.

Click here to learn more...
Buy a SIGNED copy of The Artist's Journey: The Perfumed Pilgrim Tackles the Camino de Santiago - $16.95

Fri, Aug 5
7:00 - 9:00 PM
Barn Beach Reserve
Free

Ultimate Journeys with Author Bruce Taylor and Graphic Artist Roberta Gregory (Presentation)

Sat, Aug 6
1:00 - 3:00 PM
Bookstore
Free

Multi-author Book Buzz

Everyone has a journey they must take which ultimately defines their lives. Using the metaphor of hiking, author Bruce Taylor explores our "Mountains of the Night." Only through embracing our arduous and daunting journey can we discover what it means to be vitally and truly alive.

Roberta Gregory shares "Follow Your Art," a rich depiction of her journeys through Europe, Asia, America, feminism, and more. Her medium is humorous graphic art (yes, when she started, we all called them comic books). "Follow Your Art" is a huge "thank you," Gregory says, to everyone who made her interesting life possible, as well as an invitation to everyone else to "come along for the ride!"

Click here to learn more...
Buy a SIGNED copy of Mountains of the Night - $13.95
Buy a SIGNED copy of Follow Your Art - $14.00

Sat, Aug 6
1:00 - 3:00PM
Bookstore
Free

Feasts and Journeys With Five Fabulous Authors (Book Buzz)

In Mary's Place, Mary Pelzel shares laughs, adventures, and recipes, describing how she transformed from a scared-of-snakes city-girl to a resourceful, make-it-myself high-tea mountain-woman. Joe Fitzpatrick has been working wonders in the kitchen and on the grill for decades — and with Joe's Strictly Sundays cookbook, now you can too. Best-selling author Sandra Byrd presents her delicious French Twist Christian romance series. Bruce Taylor explores soul journeys through the Mountains of the Night. Roberta Gregory's Follow Your Art is a graphic artist's way of saying "thank you" to everyone who helped her on her journey, and "come along for the ride!" to the rest.

Click here to learn more...
Buy a SIGNED copy of To die For: A Novel of Anne Boleyn - $14.99
Buy a SIGNED copy of Pièce de Résistance (French Twist Series Book 3) - $13.99
Buy a SIGNED copy of Bon Appétit (French Twist Series Book 2) - $16.99
Buy a SIGNED copy of Let Them Eat Cake (French Twist Series Book 1) - $13.99
Buy a SIGNED copy of Mary's Place: Where High Tea Meets the Mountains - $12.95
Buy a SIGNED copy of Strictly Sundays - $19.95
Buy a SIGNED copy of Mountains of the Night - $13.95
Buy a SIGNED copy of Follow Your Art - $14.00

Sun, Aug 14
1:00 - 3:00 PM
Bookstore
Free

Book-release Shindig with Leavenworth Author Alex Taub! (Book-signing)

In Working with High Risk Youth: The Case of Curtis Jones, a composite high risk youth character speaks and reacts to social programs, allowing us to see the process from the youth's point of view. Working With High Risk Youth demonstrates that there is not one correct method to apply to all situations, encouraging each youth-worker to develop his/her own set of approaches.

Click here to learn more...
Buy a SIGNED copy of Working with High Risk Youth: The Case of Curtis Jones - $26.95

Fri, Aug 19
7:00 - 9:00 PM
Barn Beach Reserve
Free

The Conscientious Gardener: Cultivating a Garden Ethic; by Sarah Hayden Reichard (Presentation)

Sat, Aug 20
1:00 - 3:00 PM
Bookstore
Free

Sarah Hayden Reichard signs The Conscientious Gardener (Book-signing)

Surprisingly, common gardening practices too often damage the environment. In her inspiring Conscientious Gardener, Sarah Hayden Reichard explains how to ensure our gardens are sustainable, lively, and healthy places. "Now is the time for a book like Reichard's." says the Seattle Times.

Click here to learn more...
Buy a SIGNED copy of The Conscientious Gardener: Cultivating a Garden Ethic - $27.50

ABFAS June Top 10 Best-Sellers...

| | | | | |
| --- | --- | --- | --- | --- |
| | | | | |
| | #2 - Potluck: Community on the Edge of Wilderness by Ana Maria Spagna | #3 - F in Exams: The Very Best Totally Wrong Test Answers by Richard Benson | #4 - Heaven Is for Real: A Little Boy's Astounding Story of His Trip to Heaven and Back by Todd Burpo | #5 - The Wimpy Kid Do-It-Yourself Book (Diary of a Wimpy Kid) by Jeff Kinney |
| | | | | |
| | | | #9 - Inside of a Dog: What Dogs See, Smell, and Know by Alexandra Horowitz | #10 - The Hunger Games (Hunger Games Series #1) by Suzanne Collins |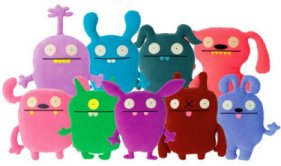 Plush, cuddly, kid-friendly UGLYDOLLS.
What's with the "ugly?" Think playful, free-form—a blended, multi-cultural aesthetic that balances traditional cuteness with bold individualism. Decide for yourself whether they're ugly or adorable. What's certain is that they've won the prestigious "toy of the year" award.
Fit In Clouds Foldable Shoes!

Now here's a great idea: portable shoes that fold and fit into a small matching pouch. Carry this pouch in your purse, and have access to a fashionable solution when your feet start hurting in those heels.
From being a must have item for Selena Gomez's night out, to being the official 7up after party shoe at the Latin Grammy awards, to the Martha Stewart wedding gift guide, right down to being handed out to VIP guests at the Dubai World Cup, Fit in Clouds folding shoes have made their mark as the perfect portable shoe for any occasion!

A Few Openings Remain in Fun and Fabulous Avra Kedavra Kamp
What has two legs, two arms, a brain, rolls around in verbs, pounces on poetry, and explodes with giggles? A language loony; a human child experiencing Avra Kedavra Kamp, a literary arts camp for 8-16 year old persons.
Yes, there is still just time to register for Dr. Foo's week-long day camp of Word wackiness. Language loonies will explore the literary arts and the power of Words by rummaging about in 'Yessence' poetry, literary hopscotch, storytelling, Osprey Diving, Metaphor Minding, Nerbing, Syntax crashing, and just plain scrutinizing, chewing, mulling, and immersing ourselves deeply in language play. As we do so, we touch the creative spark that stretches the mind and spirit.
"This camp is superlative and supreme Fun because Dr. Foo chooses superb books and it's really, really fun." — Josie Brennan, age 9
Learn more about Avra Kedavra camp at http://bearrunantics.com.
Kamp starts soon! Register today by clicking here.

What's New? What's Hot Off The Press? What's Just Been Released?
Fiction | Non-Fiction | Young Adult | Early Grades & Picture Books |
Fiction

Dreams of Joy by Lisa See $26.00
One of Pat's favorite reads of the month! Bestselling Lisa See returns to the timeless themes of mother love, romantic love, and love of country in her most powerful novel yet, which picks up where Shanghai Girls left off, continuing the story of sisters Pearl and May, and Pearl's strong-willed daughter, Joy.
Reeling from newly uncovered family secrets, and anger at her mother and aunt for keeping them from her, nineteen-year-old Joy runs away to Shanghai in early 1957 to find her birth father — the artist Z.G. Li, with whom both May and Pearl were once in love. Blinded by idealism and defiance, Joy throws herself into the New Society of Red China, heedless of the dangers in the communist regime.
Terrified for Joy's safety, Pearl is determined to save her daughter. From the crowded city to remote villages, Pearl confronts old demons and almost insurmountable challenges as she follows Joy, hoping for reconciliation. Yet even as Joy's and Pearl's separate journeys converge, one of the most tragic episodes in China's history threatens their very lives.
Acclaimed for her richly drawn characters and vivid storytelling, Lisa See's previous New York Times bestsellers include Snow Flower and the Secret Fan, Peony in Love, and Shanghai Girls. In Dreams of Joy, Lisa See once again renders a family challenged by tragedy and time, yet ultimately united by the resilience of love.
"surefire story of life in Communist China...Joy, full of political vigor, is slow to pick up on the harsh realities of communal life in late 1950s China, but the truth sinks in. ...As always, See creates an immersive atmosphere ... stellar ... another hit," says Publishers Weekly (Starred Review)

Buy Dreams of Joy by Lisa See - $26.00
Fiction

State of Wonder By Ann Patchett $26.99
Ann Patchett has dazzled readers with her award-winning books, including The Magician's Assistant and the New York Times bestselling Bel Canto. Now she raises the bar with State of Wonder, set deep in the Amazon jungle. State of Wonder is a provocative and assured novel of morality and miracles, science and sacrifice—and a gripping adventure story and a profound look at the difficult choices we make in the name of discovery and love.
Pharmaceutical research scientist Dr. Marina Singh is sent to Brazil to track down her former mentor, Dr. Swenson, who seems to have all but disappeared in the Amazon while working on a potentially extremely valuable new drug. Nothing about Marina's assignment is easy: not only does no one know where Dr. Swenson is, but the last person who was sent to find her died. Plagued by trepidation, Marina embarks on an odyssey into the insect-infested jungle.
Once found, Dr. Swenson, now in her seventies, is ruthless and uncompromising, dominating her research team and the natives with the force of an imperial ruler. But while she is as threatening as anything the jungle has to offer, the greatest sacrifices to be made are the ones Dr. Swenson asks of herself, and will ultimately ask of Marina.
In a narrative replete with poison arrows, devouring snakes, and a neighboring tribe of cannibals, State of Wonder is a world unto itself, where unlikely beauty stands beside unimaginable loss. It is a tale that leads the reader into the very heart of darkness, and then shows us what lies on the other side.
"Patchett (Bel Canto) is a master storyteller who has an entertaining habit of dropping ordinary people into extraordinary and exotic circumstances to see what they're made of. In this expansive page-turner, Marina Singh, a big pharma researcher, is sent ...to the deepest, darkest corner of the Amazon ... arriving ... among the Lakashi, a gentle but enigmatic tribe... As Marina settles in, she goes native, losing everything she had held on to so dearly in her prescribed Midwestern life, shedding clothing, technology, old loves, and modern medicine in order to find herself. Patchett's fluid prose dissolves in the suspense of this out-there adventure, a juggernaut of a trip to the crossroads of science, ethics, and commerce that readers will hate to see end," says Publishers Weekly (Starred Review)
"[A] superbly rendered novel...Patchett's portrayal is as wonderful as it is frightening and foreign. Patchett exhibits an extraordinary ability to bring the horrors and the wonders of the Amazon jungle to life, and her singular characters are wonderfully drawn...powerful and captivating," says Library Journal (Starred review)
"[A] spellbinder...Thrilling, disturbing and moving in equal measures — even better than Patchett's breakthrough Bel Canto," says Kirkus Reviews (Starred review)
"Expect miracles when you read Ann Patchett's fiction." New York Times Book Review

Buy State of Wonder by Ann Patchett - $26.99
Non-fiction

The Greater Journey: Americans in Paris by David McCullough $37.50
Not all pioneers went west. David McCullough shares the less told story of Americans who went east in the 1800s, profoundly altering American history through science, art, and leadership. The Greater Journey is the enthralling, inspiring—and until now, untold—story of the adventurous American artists, writers, doctors, politicians, architects, and others of high aspiration who set off for Paris in the years between 1830 and 1900, ambitious to excel in their work.
Elizabeth Blackwell, the first female doctor in America, was one of this intrepid band. Another was Charles Sumner, who after working with black students at the Sorbonne became the most powerful, unyielding voice for abolition in the U.S. Senate, almost at the cost of his life. Staunch friends James Fenimore Cooper and Samuel F. B. Morse wrote and painted every day in Paris. From something he saw in France, Morse would also bring home his momentous idea for the telegraph.
Pianist Louis Moreau Gottschalk from New Orleans launched his spectacular career performing in Paris at age 15. George P. A. Healy took the gamble of a lifetime and with no prospects whatsoever in Paris became one of the most celebrated portrait painters of the day. Medical student Oliver Wendell Holmes wrote home of his toil and the exhilaration in "being at the center of things" in what was then the medical capital of the world. Writers Ralph Waldo Emerson, Nathaniel Hawthorne, Mark Twain, and Henry James were all "discovering" Paris. "At last I have come into a dreamland," wrote Harriet Beecher Stowe, seeking escape from the notoriety Uncle Tom's Cabin had brought her. Elihu Washburne, Mary Cassatt, John Singer Sargent, and more were among the Americans touched indelibly by Paris.
After risking the hazardous journey across the Atlantic, despite homesickness and suffering in the raw cold winters, struggling with unfamiliar language and culture, these remarkable men and women who longed "to soar into the blue," through their personal journeys, profoundly altered America's history. McCullough tells this sweeping story with power and intimacy; The Greater Journey is itself a masterpiece.
"One of America's most popular historians and a two-time Pulitzer Prize winner, McCullough (1776) has hit the historical jackpot. Travelers before the telephone era loved to write letters and journals, and McCullough has turned this avalanche of material into an entertaining chronicle.
...a colorful parade of educated, Victorian-era American travelers and their life-changing experiences in Paris," says Publishers Weekly (Starred Review)
David McCullough has twice received the Pulitzer Prize, for Truman and John Adams, and twice received the National Book Award, for The Path Between the Seas and Mornings on Horseback. His other widely praised books are 1776, Brave Companions, The Great Bridge, and The Johnstown Flood. He has been honored with the National Book Foundation Distinguished Contribution to American Letters Award, the National Humanities Medal, and the Presidential Medal of Freedom.

Buy The Greater Journey: Americans in Paris by David Mccullough - $37.50
Non-fiction

The Beekeeper's Lament: How One Man and Half a Billion Honey Bees Help Feed America By Hannah Nordhaus $14.99
"Consider the bee, which produces 1/12th of a teaspoon of honey over a lifetime of hundreds of trips to flowers," says Powells.com. "This intrepid insect is not just industrious, it's a touchstone for ecology today. Subject to threats ranging from monoculture to pesticides to climate change, bees — and the dedicated people who shepherd them — persevere. Hannah Nordhaus has written an insightful and entertaining account of the tenuous relationship between bees, beekeepers, and modernity."
One in three mouthfuls of U.S. food is dependent on bee pollination contracts. The honey bee is a willing conscript, a working wonder, an unseen and crucial link in America's agricultural industry. But never before has its survival been so unclear — and the future of our food supply so acutely challenged.
Enter beekeeper John Miller, who trucks his hives around the country, bringing millions of bees to farmers otherwise bereft of natural pollinators. Even as the mysterious and deadly epidemic known as Colony Collapse Disorder devastates bee populations across the globe, Miller forges ahead with the determination and wry humor of a true homespun hero.
The Beekeeper's Lament tells his story and that of his bees, making for a complex, moving, and unforgettable portrait of man in the new natural world.
"this revelatory, bittersweet investigation into the state of commercial beekeeping ... follows the migratory life of a commercial beekeeper, John Miller, as he trucks his bees between California and North Dakota... It turns out that colony collapse disorder... is only the most recent of numerous threats ... obliterating the wild bees that once did much of the work pollinating the nations crops and flowers ... hives survive now only with drugs administered by their keepers, who, in a profession where disaster is commonplace and profit elusive, are becoming nearly as exotic and endangered as their bees. Miller, smart, antisocial with humans, but tender toward bees and prone to writing ironic free-verse e-mails, keeps the narrative lively," says Publishers Weekly (Starred Review)
"I loved The Beekeeper's Lament. With great reporting and great writing, Hannah Nordhaus gives a new angle on an ever-evolving topic. You'll learn a lot," says Bernd Heinrich, author of Winter World and Mind of the Raven
"A crackerjack story...the author struck gold....Nordhaus is a lively writer who...ably conveys the economics of the trade...and is just as able to describe the romance and miracle of honey....A smooth-as-honey tour d'horizon of the raggedy world of beekeeping." Kirkus Reviews (Starred review)

Buy The Beekeeper's Lament: How One Man and Half a Billion Honey Bees Help Feed America By Hannah Nordhaus - $14.99
Young Adult

Beauty Queens By Libba Bray $18.99
Recommended for ages 13 and up
Satire, spunk, and sizzle, and a survivor-type plot from the comic master: bestselling, Printz Award-winning Libba Bray. A plane of beauty pageant contestants crashes on an island. The survivors are beset by mysteries and dangers. No access to email. And the spirit of fierce, feral competition that lives underground in girls.
A journey into the heart of non-exfoliated darkness. Oh, the horror, the horror. Like Lord of the Flies with evening gowns. And a body count. Only funnier. Pure hilarity from page one.
"Bray follows her Printz Award-winner, Going Bovine, with an only slightly less absurd premise in this out-there satire about a planeload of teen beauty queens who crash onto a (not so) deserted island... the 14 surviving contestants must rely on competitive moxie... Halfway through the ordeal, a boat full of shirtless, reality TV pirates runs aground, allowing for some smoking hot scenes...There's a lot of message, but every time the story veers toward sermonizing, Bray corrects with another crack about our media-saturated, appearance-obsessed, consumer-driven society," says Publishers Weekly

Buy Beauty Queens By Libba Bray - $18.99
Young Adult

Chronicles of the Red King #01: The Secret Kingdom By Jenny Nimmo $16.99
Recommended for ages 8-12
Bestselling author Jenny Nimmo is back with a brand-new series chronicling the origin and the adventures of Charlie Bone's magical ancestor, the Red King.
Prince Timoken receives magical gifts on the day of his birth: a cloak made by the last moon spider and a potion called Alixir. When their peaceful homeland is attacked, Timoken and his sister must flee, with Timoken's gifts offering some protection, yet drawing the evil eternally after them.
In this brand-new series, bestselling author Jenny Nimmo takes readers on an extraordinary quest with one of her most powerful and mysterious characters, the one who started it all for Charlie Bone and the children of the Red King.
"Nimmo expands her popular Charlie Bone universe with this first book in the Chronicles of the Red King series about Charlie's ancestor, the Red King of Africa. His name is Timoken, and he is blessed and cursed at birth with jinni gifts — flight, the ability to speak with animals — that give him 'one foot in the world of men and the other in the realm of enchantments.' ... Timoken is a highly appealing young hero, and his panoply of human and magical friends provide just the right amount of help without stealing the show," says Publishers Weekly

Buy Chronicles of the Red King #01: The Secret Kingdom By Jenny Nimmo - $16.99
Early Grades and Picture Books

Ladybug Girl and the Bug Squad (Ladybug Girl)
By David Soman, Jacky Davis $16.99
Lulu is so excited to have a Bug Squad playdate. She knows just how she wants everything to go. Great fun is had, until tension arises when things don't go quite the way Lulu planned—and her exuberance comes across as bossiness. Feelings are hurt and someone needs to step up and apologize. Sounds like a job for Ladybug Girl, who knows how to be brave and say she's sorry, even when it isn't easy.
"It's the 'first official Bug Squad playdate,' and Lulu wants everything to go as planned. At the appointed Bug Squad base, the squad members (with basset hound Bingo in tow) demonstrate their powers: Dragonfly Girl can breathe fire (twirling a boa), Bumblebee Boy is as 'fast as lightning,' Butterfly Girl has smarts, and Ladybug Girl can fly, is super-strong, saves ants, and does cartwheels... Soman and Davis sensitively convey the joys of creative play and the delicacies of children's social dynamics," says Publishers Weekly

Buy Ladybug Girl and the Bug Squad (Ladybug Girl) By David Soman, Jacky Davis - $16.99
Early Grades and Picture Books

The Umbrella By Ingrid and Dieter Schubert $16.95
In this beautifully illustrated, completely wordless picture book, a little dog finds an umbrella in the garden on a windy day. The moment the dog picks up the umbrella, it catches the wind and pulls the dog skywards, launching him on a fantastic journey around the world. The wind carries the umbrella and the dog from the desert to the sea, from the jungle to the north pole.
Ingrid and Dieter Schubert, a husband and wife team, are the creators of many award-winning picture books for children including Amazing Animals, recipient of a National Parenting Publications Gold Award and Where is My Monkey?, recipient of a Golden Brush award. The Schuberts many books for children are available in 21 languages.
"The Schuberts' wordless fantasy unfolds like a long-forgotten childhood favorite. A dapper black terrier out with a cat friend on a gusty autumn evening finds a red umbrella. He puts it up, is instantly borne aloft in a shower of golden and scarlet leaves, and, in the next spread, he's above the clouds and off around the world. He fends off a crowd of hungry alligators with his umbrella (a kindly elephant launches him back into the air), descends into the depths of the ocean, flies over a rain forest... dallies in the Arctic, then lands right back where he started — same wind, same leaves, same cat — as if the whole trip has taken no more than a couple of minutes...a marvelous treat for the senses; masterful drafting and splendid color make every spread worth lingering over," says Publishers Weekly

Buy The Umbrella By Ingrid and Dieter Schubert - $16.95