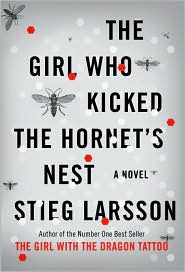 The Girl Who Kicked the Hornet's Nest
by Stieg Larsson
Summary
Stieg Larsson died of a heart attack in November 2004, shortly after giving his publisher this posthumously-published detective trilogy. The Girl With The Dragon Tattoo is first in the trilogy, followed by The Girl Who Played With Fire. The Girl Who Kicked the Hornet Nest is the final book in the series. Stieg's trilogy sold more than 20 million copies in 41 countries by spring 2010. Stieg was the second bestselling author in the world in 2008.
A spellbinding amalgam of murder mystery, family saga, love story, and financial intrigue, The Girl with the Dragon Tattoo crackles with the energy of Lisbeth Salander, a goth wild child, a twenty-four-year-old pierced and tattooed genius hacker possessed of the hard-earned wisdom of someone twice her age- as well as a terrifying capacity for ruthlessness. Lisbeth is the unlikely sidekick to investigator Blomkvist, an older, crusading investigative reporter, suffering from his own demons.
The duo's intellectual ingenuity and courage are increasingly tested as they expose hidden cultures of right-wing fanaticism, misogyny and moral bankruptcy. As the reporter and the girl with the dragon tattoo race across Europe and Australia to trap their prey before another woman is tortured and killed, the reader is held in breathless anticipation until the novel's unforeseen conclusion.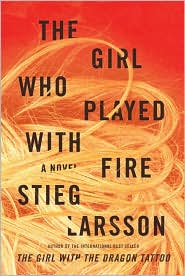 The second novel in the trilogy, The Girl Who Played With Fire, continues the story of Lisbeth and Blomkvist. But this time Lisbeth is a wanted woman. Two journalists about to expose the sex trade in Sweden have been brutally murdered, and Lisbeth's prints are on the weapon. Lisbeth will be arrested - the moment anyone can find her. Meanwhile, Blomkvist will not believe what he hears on the news, but knowing Lisbeth's dangerous moods, he is desperate to get to her before she is cornered and alone. As he fits the pieces of the puzzle together, Blomkvist unearths some heart-wrenching facts about Lisbeth's past. Yet Lisbeth is more avenging angel than victim, descending on those who would hurt her with a righteous anger terrifying in its intensity yet unexpected in its outcome.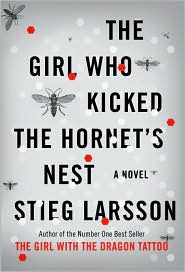 In the third and final novel, The Girl Who Kicked the Hornet's Nest, Lisbeth lies in critical condition, a bullet wound to her head, in the intensive care unit. She's fighting for her life in more ways than one: if and when she recovers, she'll stand trial for three murders. Her friend Mikael Blomkvist works desperately not only to prove Lisbeth's innocence, but to identify and denounce those truly responsible. Meanwhile Lisbeth is plotting revenge -- against a man -- and against a corrupt government institution. Once, Lisbeth was a victim. Now she is fighting back.
Praise for Stieg Larsson's trilogy:
"Larsson has bottled lightning." — Los Angeles Times
"Lisbeth Salander is one of the most original and memorable heroines to surface in a recent thriller ... Salander and Blomkvist transcend their genre." — The New York Times
"The completion of the trilogy confirms Stieg Larsson as one of the great talents of contemporary crime fiction." — London Sunday Times
"As vivid as bloodstains on snow ... perfect." — Lee Child, best-selling suspense author
About the Author
Stieg Larrson, 1954 - 2004, was a graphic designer, and one of the founders of a group dedicated to exposing right-wing and neo-Nazi violence in Europe. Stieg gave many lectures on racism and right-wing extremism to Scotland Yard, and was chief editor of a magazine on this subject, Expo-foundation. During the last 15 years of his life, Stieg and his life companion Eva Gabrielsson lived under constant threat from right-wing violence.
Visit Stieg Larsson's Web Site here.