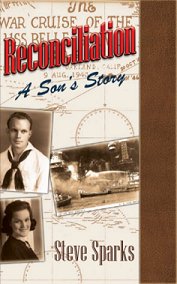 Reconciliation: A Son's Story
by Steve Sparks
Summary
Begun as a gift to the author's own family, this heartfelt exploration of growing up in a family coping with a father's PTSD will be a profound gift to many American families today.
In his ground-breaking memoir, "Reconciliation: A Son's Story", Sparks reflects back on his father's war time experiences as the context underlying the family's difficult dynamics. Advances in the understanding of post-traumatic stress disorder (PTSD) allow Sparks to reconcile with his father in a new way—as a mentally wounded returned soldier. And with this new understanding comes healing.
Says Sparks: "I owe my success in part to my Dad, but not without a high price. I call this 'collateral damage' from living in a family culture affected by Post Traumatic Stress Disorder... My Dad was no different than thousands of veterans with similar symptoms... The children and wives and others close to these men would have to experiment and learn how to navigate our way through a terrible circumstance... the effects of PTSD carry forward..."
This timely story of understanding, healing and reconciliation may help the thousands of families of veterans of our current generation come to terms with PTSD and its effect on entire families.
Learn more at: http://livingwithptsd-sparkles.blogspot.com