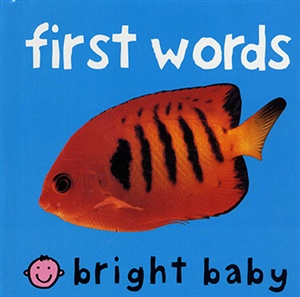 Bright Baby First Words
by Roger Priddy
Summary
Ideal for babies and toddlers, this board book features a combination of colorful pictures and simple to words help build a child's vocabulary. The padded covers are great for little hands to hold. These bright, photographic board books with images of familiar objects and animals are a fun way for babies and toddlers to learn first words.
There is only one image per page, making it easy for your child to focus and understand...
Adults will also love to look at these books!
Customers say: "The simple structure and beautiful modern photography makes this baby book stand out from the others."
26 pages
About the Author
Roger Priddy studied at Berkshire College of Art and Design and trained as an illustrator. He worked in children's publishing for many years, and became Creative Director of DKs Childrens Division. He created Priddy Books in 2000 as a venue for innovative and imaginative titles for children, from first books for babies through early reference titles for older children. Since then, over 30 million copies of Roger's 200 plus books have sold worldwide, with five of his books—My Big Animal, My Big Truck, Happy Baby Words, Happy Baby Colors and Puppy and Friends—each selling over one million copies. He is also the author of Big Board First 100 Words; Big Board Books Colors, ABC, Numbers; and Bright Baby Noisy Monsters. His creativity has been recognized with numerous industry awards. Priddy lives in London with his wife Zena and their four children.