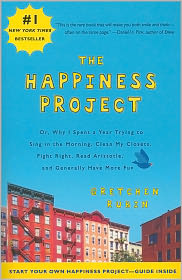 The Happiness Project: Or, Why I Spent a Year Trying to Sing in the Morning, Clean My Closets, Fight Right, Read Aristotle, and Generally Have More Fun
by Gretchen Rubin
Summary
Gretchen Rubin had an epiphany one rainy afternoon in the unlikeliest of places: a city bus. "The days are long, but the years are short," she realized. "Time is passing, and I'm not focusing enough on the things that really matter." In that moment, she decided to dedicate a year to her happiness project.
In this lively and compelling account, Rubin chronicles her adventures during the twelve months she spent test-driving the wisdom of the ages, current scientific research, and lessons from popular culture about how to be happier. Among other things, she found that novelty and challenge are powerful sources of happiness; that money can help buy happiness, when spent wisely; that outer order contributes to inner calm; and that the very smallest of changes can make the biggest difference.
Praise
"Rubin's funny, perceptive account is both inspirational and forgiving, and sprinkled with just enough wise tips, concrete advice and timely research (including all those other recent books on happiness) to qualify as self-help. Defying self-help expectations, however, Rubin writes with keen senses of self and narrative, balancing the personal and the universal with a light touch. Rubin's project makes curiously compulsive reading, which is enough to make any reader happy." — Publishers Weekly, Starred Review
"Practical and never preachy . . . the rare self-help tome that doesn't feel shameful to read." — Daily Beast
"A cross between the Dalai Lama's The Art of Happiness and Elizabeth Gilbert's Eat, Pray, Love, and seamlessly buttressed by insights from sources as diverse as psychological scientists, novelists, poets, and philosophers, Gretchen Rubin has written a book that readers will revisit again and again as they seek to fulfill their own dreams for happiness." — Sonja Lyubomirsky, Ph.D., author of The How of Happiness: A Scientific Approach to Getting the Life You Want
"This book made me happy in the first five pages. And the more I read it, the happier I got. It's filled with great insights that have changed every part of my life, from love to money, from work to play, from writing to Diet Coke." — A.J. Jacobs, author of The Year of Living Biblically
"Happiness is contagious. And so is The Happiness Project. Once you've read Gretchen Rubin's tale of a year searching for satisfaction, you'll want to start your own happiness project and get your friends and family to join you. This is the rare book that will make you both smile and think—often on the same page." — Daniel H. Pink, author of A Whole New Mind
"The Happiness Project is a wonderful book. Gretchen shows how you can be happier, starting right now, with small, actionable steps accessible to everyone.  Among her many attainable strategies, her discovery of the connection between inner happiness and outer order is spot on!" — Julie Morgenstern, author of Organizing from the Inside Out
About the Author
Bestselling The Happiness Project is Gretchen Rubin's fourth non-fiction book. Raised in Kansas City, Rubin started out in law—she editor-in-chief of the Yale Law Journal and clerked for Justice Sandra Day O'Connor—before turning to writing. Rubin reports that she is tone-deaf, left-handed, hopeless at sports, a constant hair-twister, and afraid to drive. Rubin lives in New York City with her husband, two young daughters, and daily-increasing happiness.
Buy Now - $14.99