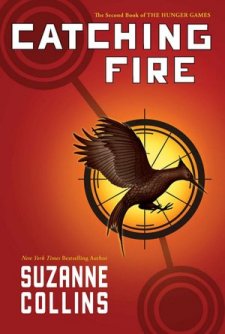 Catching Fire (Hunger Games Series #2)
by Suzanne Collins
Summary
Against all odds, Katniss Everdeen has won the annual Hunger Games with fellow district tribute Peeta Mellark. But it was a victory won by defiance of the Capitol and their harsh rules. Katniss and Peeta should be happy. After all, they have just won for themselves and their families a life of safety and plenty. But there are rumors of rebellion among the subjects, and Katniss and Peeta, to their horror, are the faces of that rebellion. The Capitol is angry. The Capitol wants revenge.
Praise
"Collins has done that rare thing. She has written a sequel that improves upon the first book...Katniss is more sophisticated in this book, and her observations are more acute. We see this ... with her gradual realization that she may just stand for something greater than herself. All this is accomplished with the light touch of a writer who truly understands writing for young people: the pacing is brisk and the message tucked below the surface." — The New York Times
"Characters from the previous volume reappear to good effect: Katniss's stylist, Cinna, proves he's about more than fashion; Haymitch becomes more dimensional. But the star remains Katniss, whose bravery, honesty and wry cynicism carry the narrative... Collins has also created an exquisitely tense romantic triangle for her heroine. ...by book's end (and it's a cliffhanger), readers will be picking sides—Peeta or Gale?" — Publishers Weekly
"Once again, Katniss must make choices that will greatly impact those she loves. In Book 2, Suzanne Collins is able to recapture the brilliant and edgy style that captivated readers of the Hunger Games. Each page seems to bring a new surprising twist and, with the investment that loyal readers already have in Katniss, Catching Fire will tear at the heartstrings of every reader and leave them thirsting for the Book 3." — Children's Literature
About the Author
Suzanne Collins's debut novel, Gregor the Overlander, the first book in the Underland Chronicles, received wide praise both in the United States and abroad. The series has been a New York Times bestseller and received numerous accolades. Also a writer for children's television, Suzanne lives with her family in Connecticut.