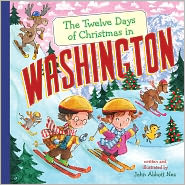 The Twelve Days of Christmas in Washington
by John Abbott Nez
Summary
Twelve boats a-blinking, Eleven skiers swooshing, Ten apples gleaming, Nine cowboys crooning, ... and much more from the Evergreen State.
Molly is so excited about her cousin Max's visit to Washington that she gives him one of these VERY unusual gifts on each of the twelve days of Christmas, and Max writes lively letters home to tell his Mom and Dad all about his trip. Lucky readers are in for a wild Christmas countdown!
Vivacious illustrations bring to life the region's diversity and character. A fact-filled compendium of fascinating state lore.
"The traditional song retold with some local flair… "five golden trout" [are] tossed by the vendors at the Pike Place Market… the authors have provided a lot of additional bits of information …can be read or sung to the traditional tune." — School Library Journal
"Lots of interesting sights, sounds and events ... Brief biographies of famous Washington residents and a note about Mt. St. Helens ... Cheery illustrations ... Younger children ...will enjoy just singing along with the clever parody, while older kids will appreciate Max's witty writing style." — Kirkus Reviews