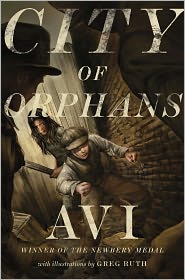 City of Orphans
by Avi
Summary
The streets of 1893 New York are full of life: crowded, filthy, dangerous. If you are a newsboy like thirteen-year-old Maks Geless, you need to watch out for Bruno, leader of the Plug Ugly Gang. With Bruno's boys in fierce pursuit, Maks discovers Willa, a strange girl who lives alone in an alley. It is she, stick in hand, who fights off the Plug Uglies—but further dangers await.
Maks must find a way to free his sister Emma from The Tombs, the city jail where she has been imprisoned, accused of stealing a watch at the glamorous new Waldorf Hotel. Maks, believing her innocent, has only four days to prove it. Fortunately, there is Bartleby Donck, the eccentric lawyer (among other employments) to guide Maks and Willa in the art of detection.
Against a backdrop alive with the sights and sounds of tenement New York, Maks, as boy detective, must confront a teeming world of wealth and crime, while struggling against powerful forces threatening new immigrants and the fabric of family love.
Praise
"Avi's vivid recreation of the sights and sounds of that time and place is spot on... Heroic deeds, narrow escapes, dastardly villains...and a family rich in love and hope are all part of an intricate and endlessly entertaining adventure. Terrific!" — Kirkus Reviews (starred review)
"vibrant... a terrifically exciting read." — Publishers Weekly (starred review)
"Dickensian street action...gripping ...Just as compelling as the fast-moving plot's twists and turns is the story's social realism, brought home by the contrasts between the overcrowded, unsanitary slums...and the luxurious Waldorf.... A riveting historical novel." — Booklist (starred review)
About the Author
Winner of the Newberry Medal as well as the Newberry Honor, the Boston Globe-Horn Book Award, the Scott O'Dell Historical Fiction Award, and many other awards, Avi is a masterful storyteller in a wide variety of young adult genres, from whimsical animal tales, to gripping historical fiction.