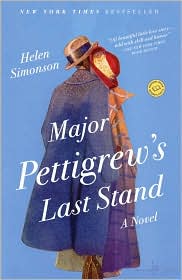 Major Pettigrew's Last Stand
by Helen Simonson
Summary
You are about to travel to Edgecombe St. Mary, a small village in the English countryside filled with rolling hills, thatched cottages, and a cast of characters both hilariously original and as familiar as the members of your own family. Among them is Major Ernest Pettigrew (retired), the unlikely hero of Helen Simonson's wondrous debut. Wry, courtly, opinionated, and completely endearing, Major Pettigrew is one of the most indelible characters in contemporary fiction, and from the very first page of this remarkable novel he will steal your heart.
The Major leads a quiet life valuing the proper things that Englishmen have lived by for generations: honor, duty, decorum, and a properly brewed cup of tea. But then his brother's death sparks an unexpected friendship with Mrs. Jasmina Ali, the Pakistani shopkeeper from the village. Drawn together by their shared love of literature and the loss of their respective spouses, the Major and Mrs. Ali soon find their friendship blossoming into something more. But village society insists on embracing him as the quintessential local and her as the permanent foreigner. Can their relationship survive the risks one takes when pursuing happiness in the face of culture and tradition?
Praise
"[A] beautiful little love story, which is told with skill and humor...Major Pettigrew's Last Stand is refreshing in its optimism and its faith in the transformative possibilities of courtesy and kindness. Although pitched toward those wanting a gentle read, it also slides a powerful moral message into the interstices of village politics. And as for happy endings, it deserves all available prizes." — The New York Times Book Review
"This thoroughly charming novel wraps Old World sensibility around a story of multicultural conflict involving two widowed people who assume they're done with love. The result is a smart romantic comedy about decency and good manners in a world threatened by men's hair gel, herbal tea and latent racism" — The Washington Post
"...funny, barbed, delightfully winsome storytelling... It's about intelligence, heart, dignity and backbone. Major Pettigrew's Last Stand has them all." -- The New York Times
About the Author
Helen Simonson was born in England and spent her teenage years in a small village in East Sussex. A graduate of the London School of Economics and former travel advertising executive, she has lived in America for the last two decades. A longtime resident of Brooklyn, she now lives with her husband and two sons in the Washington, D.C., area. This is her first novel.