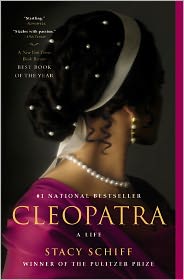 Cleopatra: A Life
by Stacy Schiff
Summary
It is a beautiful pairing—the most alluring and elusive woman in recorded history, and one of the most gifted biographers of our time.
Cleopatra's palace shimmered with onyx and gold but was richer still in political and sexual intrigue. Above all else, Cleopatra was a shrewd strategist and an ingenious negotiator. She was married twice, each time to a brother. She waged a brutal civil war against the first and poisoned the second; incest and assassination were family specialties. She had children by Julius Caesar and Mark Antony, two of the most prominent Romans of the day. With Antony she would attempt to forge a new empire, in an alliance that spelled both their ends. Famous long before she was notorious, Cleopatra has gone down in history for all the wrong reasons. Her supple personality and the drama of her circumstances have been lost. In a masterly return to the classical sources, Stacy Schiff boldly separates fact from fiction to rescue the magnetic queen whose death ushered in a new world order.
Winner of the 2011 PEN/Jacqueline Bograd Weld Award for Biography; One of the New York Times Book Review's Top 10 Books of 2010; Chosen as One of the Best Books of the Year: Time Magazine, The New Yorker, Los Angeles Times; one of NPR's Alan Cheuse Best Books of Winter, and more.
Praise
"[An] excellent, myth-busting biography...Schiff enters so completely into the time and place, especially the beauty and luxury of the 'great metropolis' of Alexandria, Cleopatra's capital, describing it in almost cinematic detail…No one will think of Cleopatra in quite the same way after reading this vivid, provocative book." — Publishers Weekly (starred review)
"captivating...a cinematic portrait of a historical figure far more complex and compelling than any fictional creation, and a wide, panning, panoramic picture of her world" — The New York Times
"a great, glorious spree of a story" — The Washington Post
About the Author
Stacy Schiff is the author of Vera (Mrs. Vladimir Nabokov), which won the Pulitzer Prize for biography in 2000, and Saint-Exupery. which was a finalist for the 1995 Pulitzer Prize. Schiff's work has appeared in The New Yorker, The New York Times Book Review, The Washington Post, and The Times Literary Supplement. She has received fellowships from the Guggenheim Foundation, the National Endowment for the Humanities, and the Center for Scholars and Writers at the New York Public Library. She lives in New York City.