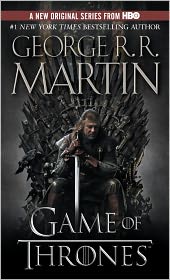 A Game of Thrones (A Song of Ice and Fire #1)
by George R. R. Martin
Summary
A NEW ORIGINAL SERIES, NOW ON HBO.
Here is the first volume in George R. R. Martin's magnificent cycle of novels that includes A Clash of Kings, A Storm of Swords, A Feast of Crows and his newest release A Dance with Dragons. As a whole, this series comprises a genuine masterpiece of modern fantasy, bringing together the best the genre has to offer. Magic, mystery, intrigue, romance, and adventure fill these pages and transport us to a world unlike any we have ever experienced. Already hailed as a classic, George R. R. Martin's stunning series is destined to stand as one of the great achievements of imaginative fiction.
Long ago, in a time forgotten, a preternatural event threw the seasons out of balance. In a land where summers can last decades and winters a lifetime, trouble is brewing. The cold is returning, and in the frozen wastes to the north of Winterfell, sinister and supernatural forces are massing beyond the kingdom's protective Wall. At the center of the conflict lie the Starks of Winterfell, a family as harsh and unyielding as the land they were born to. Sweeping from a land of brutal cold to a distant summertime kingdom of epicurean plenty, here is a tale of lords and ladies, soldiers and sorcerers, assassins and bastards, who come together in a time of grim omens.
Here an enigmatic band of warriors bear swords of no human metal; a tribe of fierce wildlings carry men off into madness; a cruel young dragon prince barters his sister to win back his throne; and a determined woman undertakes the most treacherous of journeys. Amid plots and counterplots, tragedy and betrayal, victory and terror, the fate of the Starks, their allies, and their enemies hangs perilously in the balance, as each endeavors to win that deadliest of conflicts: the game of thrones.
Praise
"superb world-building" — Booklist
"The major fantasy of the decade...compulsively readable." — The Denver Post
"Such a splendid tale and such a fantasticorical! I read my eyes out and couldn't stop 'til I finished and it was dawn." — Anne McCaffrey
"We have been invited to a grand feast and pageant: George R.R. Martin has unveiled for us an intensely realized, romantic but realistic world." — Chicago Sun-Times
About the Author
George R. R. Martin grew up in New Jersey, received his bachelor's and master's degrees in journalism from Northwestern University, served two years in VISTA, and worked as a teacher and chess tournament director before moving to television, where he wrote for The Twilight Zone and other science-fantasy shows. His first full-length novel, Dying of the Light, was nominated for a Hugo Award. In 1996, Martin published A Game of Thrones, launching his acclaimed Song of Fire and Ice epic fantasy series.
During the course of his prolific career, Martin has accrued numerous awards including the Hugo, Nebula, World Fantasy, Bram Stoker, Daedelus, and Locus awards. He maintains a cordial relationship with his fans through his website and blog and is a member of the Science Fiction & Fantasy Writers of America.