Magnetic Poetry
We carry poetry boxes for every personality and mood. Each kit contains over 200 magnetized words. Create on your fridge, file cabinet, locker door or any other steel surface. Watch the poetry emerge as you arrange. Explore Nature or Yoga, express your inner Zombie, your inner Geek and more!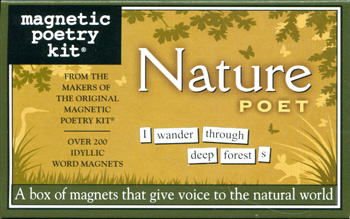 Nature Poet
The Nature Poet is the perfect inspiration for anyone who has ever enjoyed the peace and beauty of nature. Comes with over 200 magnetic word tiles featuring words like murmur, harmony and daffodil.
Zombie

A crowd of flesh-eating zombies is stumbling through the streets and you need to write a poem about them before it's too late! Fortunately, you'll find the words you're looking for in the Magnetic Poetry Zombie Kit. Compose a haiku to the half-dead or just a few lines about these slow-footed monsters. Open up a box and release an army of zombies on your fridge.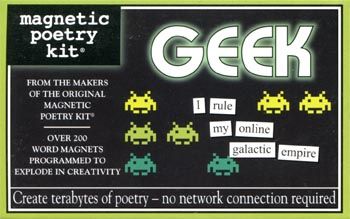 Geek
Do the letters USB, DSL, and IEEE mean anything to you? If so, then the Magnetic Poetry Geek Kit might be for you. There are no Ethernet cables or networks to set up; just take the word magnets out of the box and start moving them around. Before you know it, you will have created terabytes of geek-inspired poetry without so much as a keystroke. Open up a box and let the old-fashioned, new-fangled fun begin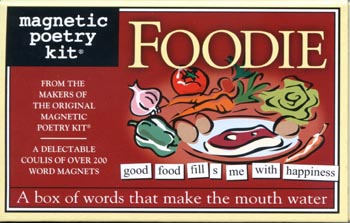 Foodie
The Foodie Kit will satisfy the appetite of gourmands everywhere with over 200 magnetic word tiles featuring words like carpaccio and tapenade.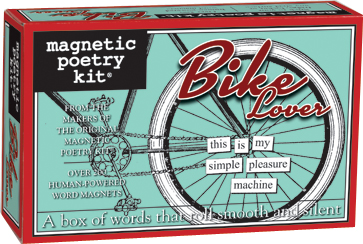 Bike Lover
Saddle up and take the language of your favorite sport for a spin! Whether you want to explore the poetic neighborhood with the kids or hammer the verbal hills with the team, these words will always be ready for you, just like your trusty steel steed. Pump up the tires of your mind, lube up the chain of your creativity and go for a nice, long ride through your imagination!