Sat, Sep 15
1:00 - 3:00 PM
Free

The Afterlife Via Computer Science...a Misplaced Genius...Evolving Love...the Zodiac (Book Buzz)
The Afterlife Via Computer Science, a Misplaced Genius, Evolving Love and the Zodiac
Join us for this month's lineup of fabulous authors: The afterlife via computer science in Goodbye for Now by Laurie Frankel; a misplaced genius and a daughter's love for her imperfect mother in Where'd You Go, Bernadette by Maria Semple; John Wulf's ever-evolving take on love in Lady Who Loves the Whisper; and Mary Valby's The Quotable Zodiac.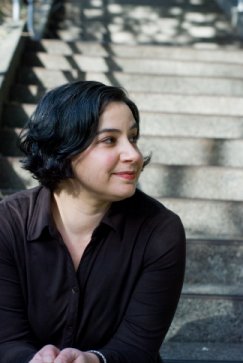 Goodbye for Now by Laurie Frankel $25.95
Sam Elling is taking the social network to the next level: the afterlife.
Sam Elling works for an internet dating company, but he still can't get a date. So he creates an algorithm to match people with their soul mates. The technology fixes Sam up with Meredith, the love of his life, but it also gets him fired when the company starts losing all their customers to Mr. and Ms. Right.
When Meredith's grandmother Livvie dies suddenly, Sam reconfigures the algorithm so that Meredith can keep in touch with her. Mining from all her correspondence—email, Facebook, video chat, texts—Sam constructs a computer simulation of Livvie, who responds to email or video chat just as if she were still alive. It's not magic or the supernatural; it's computer science.
Meredith loves her virtual Livvie, so the couple launches a business to help others through their grief. But as the company takes off, it proves more complicated than any of them imagined. For every person who just wants to say goodbye, there is someone who can't let go. Meanwhile, Sam and Meredith's affection for one another deepens into the kind of love that comes once in a lifetime, a love that neither of them could live without. But what if they suddenly had to?
In the spirit of One Day, this high concept and emotionally hard-hitting novel delivers a charming and bittersweet love story for the 21st century and a heartrending exploration of the nature of love, loss, and life—both real and computer simulated. Maybe nothing was meant to last forever, but then again, sometimes love takes on a life of its own.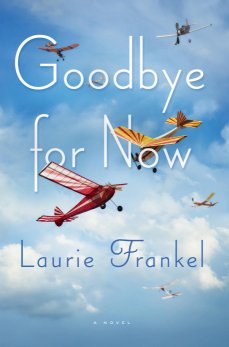 Praise
"Frankel tells a touching story of how this young couple deals with a new love in a world full of loss and sadness. Frankel is an author to watch and definitely to keep in stock." — Library Journal Starred Review
"One of Ten Women to Watch in 2012" — BookPage
"Clever, funny, moving, intelligent, Goodbye For Now is about love and loss, real live emotions and human relationships in a cyber world taken to its extreme." — Garth Stein, author of The Art of Racing in the Rain
"An ingenious emotional riptide of a story that leaves your heart drifting in the gulf between losing a loved one and actually letting them go." — Jamie Ford, author of Hotel on the Corner of Bitter and Sweet
"Somewhere in the middle of Goodbye For Now, I found myself getting angry at Laurie Frankel for moving so seamlessly between hilarious and devastating, and for making me feel so deeply for her characters. I offer this as both recommendation and warning: this book will engross you and affect you, and you should know that you won't be putting it down unchanged." -- Carolyn Parkhurst, author of The Dogs of Babel and The Nobodies Album
About the Author
Laurie Frankel lives in Seattle with her husband, her three-year-old son, her border collie, and many, many books. She's an East coaster originally, a fact people often guess before she's even opened her mouth. Her second novel, Goodbye For Now has been optioned for film and translation rights have sold in 25 countries. Laurie was just named one of ten women to watch in 2012. She is a proud core member of the Seattle7Writers. Her first novel, The Atlas of Love, came out in August 2010, so August seems to be her month. Until last June, she was teaching writing, literature, and gender studies at the college level. Now she is thrilled, honored, grateful, and occasionally terrified to be writing full-time. It's quite something.

Buy a SIGNED copy of Goodbye For Now by Laurie Frankel - $25.95
---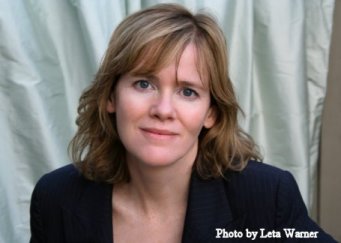 Where'd You Go, Bernadette, by Maria Semple - $25.99
Bernadette Fox is notorious. To her Microsoft-guru husband, she's a fearlessly opinionated partner; to fellow private-school mothers in Seattle, she's a disgrace; to design mavens, she's a revolutionary architect, and to 15-year-old Bee, she is a best friend and, simply, Mom.
Then Bernadette disappears. It began when Bee aced her report card and claimed her promised reward: a family trip to Antarctica. But Bernadette's intensifying allergy to Seattle—and people in general—has made her so agoraphobic that a virtual assistant in India now runs her most basic errands. A trip to the end of the earth is problematic.
To find her mother, Bee compiles email messages, official documents, secret correspondence—creating a compulsively readable and touching novel about misplaced genius and a daughter's unflinching love for her imperfect mother.
Praise
"Semple pieces together a modern-day comic caper full of heart and ingenuity. As expected from a writer who has written episodes of Arrested Development, the nuances of mundane interactions are brilliantly captured, and the overarching mystery deepens with each page, until the thoroughly satisfying dénouement." — Publishers Weekly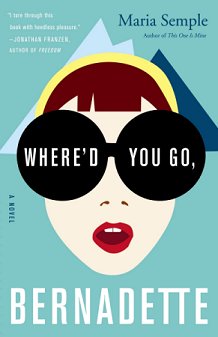 "It was only a matter of time before Maria Semple turned her hilariously wicked, razor-sharp, acid-etched humor loose on Seattle, and set her impeccable laser sights on the heart of Microsoft. At times a tears-to-your-eyes laugher that skewers my own home town (and quite possibly my own mother), Where'd You Go, Bernadette is also a compassionate look at family dysfunction, the paralysis of genius, and good old-fashioned parental love. Cleverly constructed and brilliantly executed, Semple has driven this one home with great authority, and has proven, once again, that she ranks among contemporary literature's finest satirists." — Garth Stein, author of The Art of Racing in the Rain
"Brilliant, hilarious, endlessly inventive, and compulsively readable, Where'd You Go, Bernadette grabs you by the collar and never lets go. Semple is not only a masterful juggler, and an astute social critic, she is a magician!" — Jonathan Evison, author of West of Here
"I tore through this book with heedless pleasure." — Jonathan Frazen, author of Freedom
"A delightfully funny book, that constantly catches one by surprise, Where'd You Go, Bernadette combines a shrewdly observed portrait of Seattle-life with, of all things, a mysterious disappearance in Antarctica. A pleasure." — Matthew Kneale, author of When We Were Romans
"...a triumph of social observation and black comedy by a skillful chronicler of moneyed malaise." — Patrick deWitt, author of The Sisters Brothers
"With a sure feel for the screwball and the slapstick, Maria Semple deliciously sends up the privileged, overachieving, PC world of Emerald City. Where'd You Go, Bernadette is a crazy quilt of an epistolary novel, utterly contemporary yet pleasingly old-fashioned, and always light and witty." — Stewart O'Nan, author of The Odds

Buy a SIGNED copy of Where'd You Go, Bernadette by Maria Semple - $25.99
---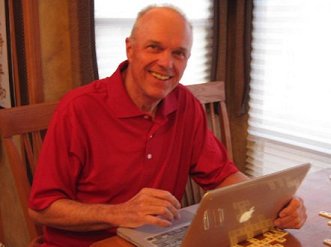 Lady Who Loves the Whisper: a heart's unsimple truth by John Wulf - $10.95
A self-proclaimed romantic, Wulf admits he has "spent a lifetime loving wrong." The poems collected in Lady Who Loves the Whisper, however, reflect his lifelong quest to love well. His pieces journey from innocence through adolescent angst. He explores yearnings for completeness, and a more recent vision of self-love and acceptance as a pre-cursor to true intimacy. In reading his ever-evolving take on love, the reader is cautioned, "fall not in love with the poet who is not the words you hear in your heart, but is the slayer of your soul." Readers will find it hard to heed the warning, and will fall in love with his heartfelt words.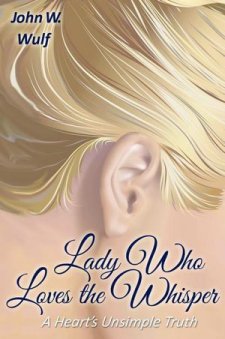 Quick to admit that he is no expert, Wulf suggests that everyone is adrift on the sea of love - some riding the waves high and dry and some, well, sinking to the watery depths. "Despair not," he says, "love will find a way, though not necessarily as expected. Complicated and mysterious, it remains part of who we are and haunts, harries, or heals, depending how we perceive it."
About the Author
John W. Wulf, born in Williston, ND, spent most of his life in northwestern Montana. He studied social work after serving in Vietnam but, worked mostly in the timber and automotive industries. Words, music and wilderness have shaped his life. He now lives near Boise, Idaho.
Wulf refers to himself as a "jackpine savage" one who comes out of the wilderness unprepared for civilization. Alter-ego Jack P. Savage, who has "survived childhood, one war, and three wives" admits, "I still have this boy in me that likes idealistic musings and thoughts that challenge the imagination or run counter to the norm."

Buy a SIGNED copy of Lady Who Loves the Whisper: a hearts unsimple truth by John Wulf - $10.95
---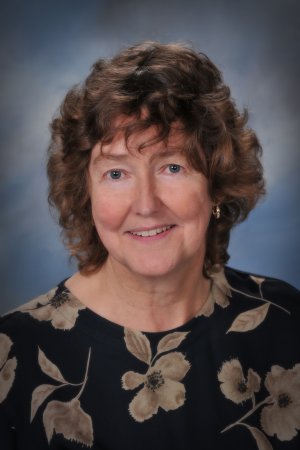 The Quotable Zodiac, by Mary Valby - $12.95
Finally, books dedicated 100% to your astrological personality. Pick your sign. The Quotable Libra, The Quotable Scorpio, The Quotable Sagittarius, The Quotable Capricorn, The Quotable Aquarius and The Quotable Aries explore one zodiac sign's characteristics with words and examples from people sharing that astrological sign. The Quotable Libra provides more than 600 quotes from Librans and more than 500 Libra birthdays. The Quotable Scorpio has 500 birthdays and 600 quotes from Scorpions. The Aries, Sagittarius, Capricorn and Aquarius books offer the same extensive information. Choose role models and judge for yourself how to best manage your natural tendencies to reach your goals.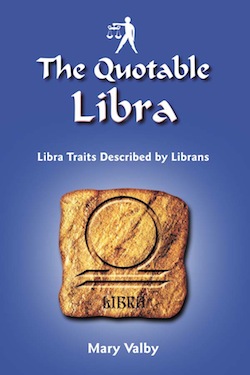 The Quotable Libra
More than 600 quotes about Libran characteristics like Partner Orientation, Charm and Indecisiveness—all from famous Librans like Eleanor Roosevelt, F. Scott Fitzgerald and John Lennon. More than 500 Libra birthdays and 25 Libran celebrity lists.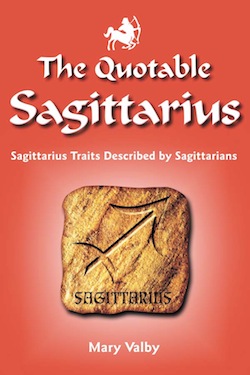 The Quotable Sagittarius
More than 600 quotes about Sagittarian characteristics like Cheerfulness, Luck and Foot-in-Mouth Disease—all from famous Sagittarians like Winston Churchill, Emily Dickinson and Mark Twain. More than 500 Sagittarian birthdays and 25 Sagittarian celebrity lists.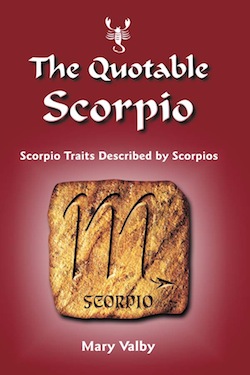 The Quotable Scorpio
More than 600 quotes about Scorpio characteristics like Commitment, Sexuality and Superiority—all from famous Scorpions like Pablo Picasso, Fyodor Dostoyevsky and Condoleezza Rice. More than 500 Scorpio birthdays and 25 Scorpio celebrity lists.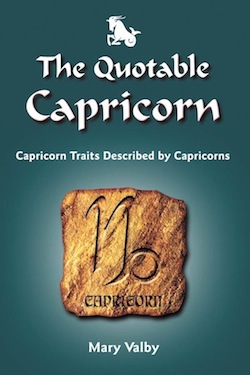 The Quotable Capricorn
More than 600 quotes about Capricorn characteristics like Ambition, Guilt and Surefootedness—all from famous Capricorns like Rudyard Kipling, Muhammed Ali and Diane Sawyer. More than 500 Capricorn birthdays and 25 Capricorn celebrity lists.
About the Author
Mary Valby's fascination with astrology began as she wrote her Princeton thesis on medieval zodiac signs. Mary has since filtered thousands of books, birthdates and celebrity comments according to Sun sign. Her astrological pursuits include personalized birth-chart readings, ten years maintaining an astrological website, and membership in the American Federation of Astrologers. Raised in upstate New York, Mary now enjoys the Pacific Northwest.