Fri, Nov 23
1:00 - 3:00 PM
Bookstore
Free

Two Sweet Treats from Sheila Roberts: Better Than Chocolate and Merry Ex-Mas (Book-signing)

Sat, Nov 24
1:00 - 3:00 PM
Bookstore
Free

Two Sweet Treats from Sheila Roberts: Better Than Chocolate and Merry Ex-Mas (Book-signing)
Better Than Chocolate
How Sweet It Isn't!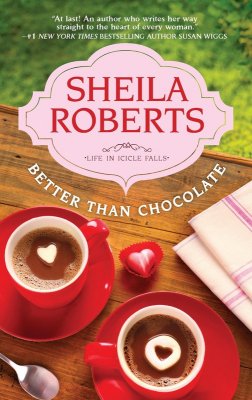 Sweet Dreams Chocolate Company has been in the Sterling family for generations, ever since Great-Grandma Rose literally dreamed up her first fabulous recipe. But now it looks like they're about to lose Sweet Dreams to the bank—and that would be a disaster, not only for the family but for the town of Icicle Falls, Washington. Can Samantha, the oldest daughter and new head of the company, come up with a way to save it?
After some brainstorming with her mother and sisters, inspiration strikes. They'll have a chocolate festival! Time's running out, but the Sterling women are determined and the town's behind them, so everything's bound to go smoothly...
Or not. Events seem to be conspiring against Samantha, and her mother's attempts to help aren't helping. To make matters worse, the fate of her company is in the hands of her arch-enemy Blake Preston, the bank manager with the football-hero good looks. It's enough to drive her to chocolate. But Blake's also enough to convince her that (believe it or not) there's something even better than chocolate.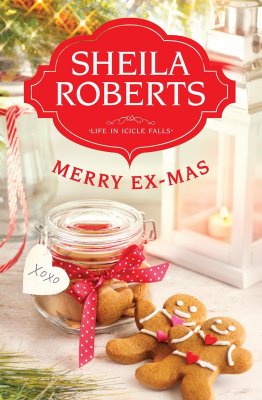 Merry Ex-Mas
Between Yuletide traditions, winter sports and mistletoe everywhere, Christmas is the best time of year in Icicle Falls, Washington. But this year it's not so merry for three of its residents.
Cass Wilkes, owner of the Gingerbread Haus bakery, was looking forward to her daughter Danielle's wedding...until Dani announced that she wants her father, Cass's ex, to walk her down the aisle. With every B & B full, it looks like he and his trophy wife will be staying with Cass.
Her friend Charlene Albach has just seen the ghost of Christmas past: her ex-husband, who left her a year ago, running off with the hostess from her restaurant. Zelda's, to start a new life in Seattle. Now the hostess is history and he wants to kiss and make up. Hide the mistletoe!
And bring out the hot buttered rum, because the holidays aren't so easy for Ella O'Brien, either. Newly divorced, she's still sharing the house with her ex while they wait for the place to sell, and still fighting over all the things they fought over when they were married.
But Christmas has a way of working its magic and anything can happen. Merry Ex-mas, ladies!
Praise
"Sheila Roberts makes me laugh. I read her books and come away inspired, hopeful and happy." — Debbie Macomber
"The warm, glowing feeling it gave me lasted for days." — First for Women on The Snow Globe
"At last! An author who writes her way straight to the heart of every woman." — Susan Wigg
About the Author
Sheila Roberts is the author of On Strike for Christmas, Small Change, The Snow Globe, Bikini Season, and other bestselling books. Before settling into her writing life, Roberts did lots of other things, including owning a singing telegram company and playing in a band. Now, when she's not speaking to women's groups or at conferences, she can be found writing about the things near and dear to women's hearts: family, friends, and chocolate. She lives on a lake in Washington. Read more on Sheila's ABFAS page or website.