Sat, Nov 17
1:00 - 3:00 PM
Bookstore
Free

Messengers in Stone...River City Crime...Coug Hawkins (Book Buzz)
A little stone reading, story-telling, oragnized crime and murder in our November Book Buzz. In Cairns: Messengers in Stone, David B. Williams explores the history of cairns from the moors of Scotland to the peaks of the Himalaya. In And Every Man Has to Die, Frank Zafiro explores what honor and courage mean on both sides of the law and, in Murder at Foxbluff, Jesse E. Freels has fifteen-year-old Coug Hawkins in a scrimmage with the wrong kind of team...the murdering kind.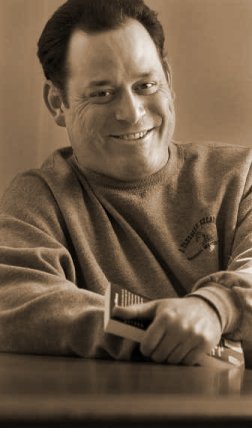 And Every Man Has to Die by Frank Zafiro
Every city has organized crime but, only River City has a Russian gangster like Valeriy. He's meticulous, cunning, and willing to sacrifice anything—and anyone—to see his conquest through.
In Val's way are the men and women of the River City Police Department, including rookie B.J. Carson. She's trying to fill the shoes of a legend while the pressures of patrol and her own past catch up to her. She and her colleagues must unite and work together with a former River City cop turned FBI agent to face down the single biggest organized crime threat River City has ever seen.
In this novel, the fourth in the River City crime series, Frank Zafiro explores what honor and courage mean on both sides of the law, weaving a complex and engrossing story of crime, justice, and relationships. There are plotters and detectives, usurpers and leaders. Plans within plans. And in the end the price of victory and justice can both be high...and every man has to die.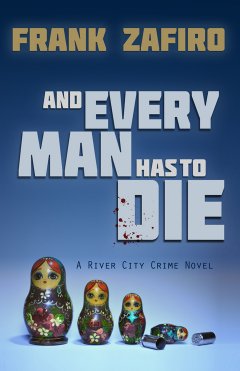 Praise
"This book should put Frank Zafiro on the fast track," — Wil A. Emerson of BookFetish
"Frank Zafiro has created another gem," — Kevin Tipple
O'Neil De Noux, Shamus and Derringer Award winner, calls the River City stories "Hyper-realistic fiction at its best," and Todd Robinson, editor of Thuglit, says, "Mr. Zafiro's writing deserves more than comparison with the greats of the police procedural sect, it holds its own amongst them."
About the Author
Frank became a police officer in 1993. During his career, he has served as a patrol officer, corporal, detective (his favorite job), sergeant, lieutenant, and captain. He has written and taught courses in Report Writing and Sexual Assault Investigation at the Basic Law Enforcement Academy. He has also written several college courses in police subject matter. Many of Frank's stories take place in the fictional setting of River City, a mid-sized city in Eastern Washington, with recurring characters. His first River City novel, Under A Raging Moon, was originally published in 2006. The second, Heroes Often Fail, was originally published in 2007.
Over fifty of his short stories have been published in ten different anthologies, as well as print and online magazines. His story "Good Shepherd" was a finalist for the 2006 Derringer Award. In 2007, his story "The Worst Door" was a finalist for this same award. Most recently, his story "Dead Even" was a finalist for the 2009 Derringer Award.
---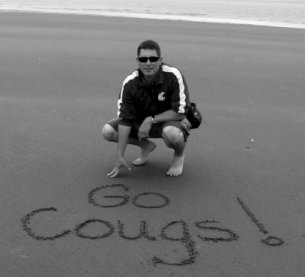 Murder at Foxbluff Lake by Jesse E. Freels
A Coug Hawkins Mystery
The residents of the tiny town of Foxbluff Lake live a quiet existence. For fifteen-year-old Coug Hawkins, the son of a former football legend at Washington State University, summer break has just started. He is looking forward to another summer of fishing excursions and camping trips with his two closest friends. Little does he know that the shocking discovery of a disfigured body found in the lake; coupled with the mysterious disappearance of a local bartender, might just put a halt to any summer adventures they have already planned.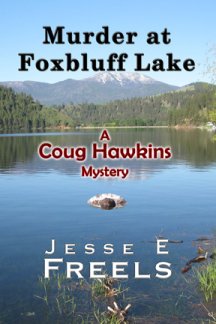 Just over the border, the people responsible for the grisly murder and the disappearance are planning their next move. A multi-million dollar enterprise is all the motivation the men need to keep not only their business a secret; but their brutal acts, as well. However, Coug Hawkins and his friends get in their way.
Praise
"A great read from start to finish. While many adventures start slow, this one is at full speed from the beginning. Coug Hawkins does his name proud by his actions and the sacrifices he makes. Not just a great name, but Coug Hawkins is a great lead character. I enjoyed this book and look forward to future Coug adventures!" — Rob Ellsworth '97, Past President — Washington State University Alumni Association
"Coug Hawkins is a great way to get any youngster engaged in reading, but an especially great way to get a young Coug fan into the wonderful world of books." — Paul D. Mencke, PhD — Professor of Education, Washington State University
"Coug Hawkins has a great name and a great sense of right and wrong. The first Coug Hawkins Mystery will keep you intrigued all the way to the final chapter just like an overtime Apple Cup!" — Bud Nameck — Cougar Sports Radio Network
"An exciting adventure most any teenage boy is sure to enjoy. The references to WSU and North Central Washington really paint the picture and help the reader relate to Coug Hawkins." — Derek Deis, KXLY Sports Director
"Coug Hawkins is the man! This murder mystery keeps you into the book and wanting more. Sometimes plans change and Coug Hawkins stirs things up! Great book! I can't wait for the next one! Go Cougs . . . Go Coug Hawkins!" — Rob Rainville — #79, Left Tackle 1998 WSU Rose Bowl team/Asst. Coach on 2003 Rose Bowl team
About the Author
Jesse E. Freels has been teaching 6th grade Language Arts/Social Studies at Greenacres Middle School for the Central Valley School District in Spokane Valley, WA for the last seven years. He also coaches several sports there. Before moving to Spokane, he taught middle school in Las Vegas, Nevada for two years. He grew up in the small community of Brewster in North Central Washington. Jesse graduated from both Washington State University and Central Washington University where he received his teaching credentials.
His short story The Social History of Bourbon was published in SpokeWrite: The Spokane/Coeur d' Alene Journal of Art and Writing in 2009. He is currently working on the next Coug Hawkins book.
In addition to writing, Jesse loves partaking in anything that has to do with the outdoors, especially camping, hiking, and fishing. He also loves reading and hanging out with his family and friends. Jesse lives in Spokane with his wife, Tammy, and their two cats.

Buy a SIGNED copy of Murder at Foxbluff by Jesse E. Freels - $15.95
---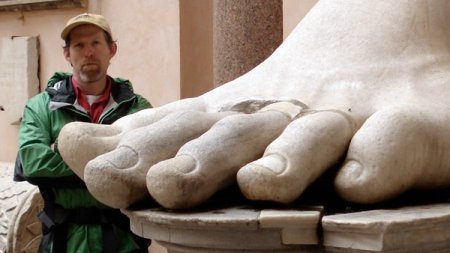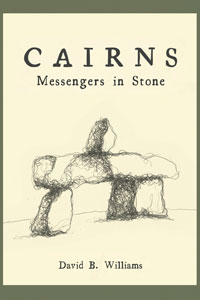 Cairns: Messengers in Stone by David B. Williams
Part history, part folklore, part geology
Features charming black-and-white illustrations
From meadow trails to airy mountaintops and wide open desert, cairns—those seemingly random stacks of rocks—are surprisingly rich in stories and meaning. For thousands of years cairns have been used by people to connect to the landscape and communicate with others, and are often an essential guide to travelers. Cairns, man-made rock piles can indicate a trail, mark a grave, serve as an altar or shrine, reveal property boundaries or sacred hunting grounds, and even predict astronomical activity. The Inuit have more than two dozen terms to describe cairns and their uses!
In Cairns: Messengers in Stone, geologist and acclaimed nature writer David B. Williams (Stories in Stone: Travels through Urban Geology) explores the history of cairns from the moors of Scotland to the peaks of the Himalaya—where they come from, what they mean, why they're used, how to make cairns, and more. Cairns are so much more than a random pile of rocks, knowing how to make cairns can drastically alter the meaning of the formation. Hikers, climbers, travelers, gardeners, and nature buffs alike will delight in this quirky, captivating collection of stories about cairns.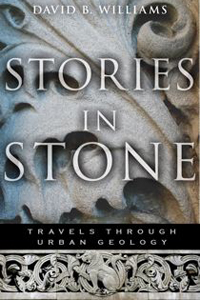 Stories in Stone: Travels Through Urban Geology
Within the fabric of every stone building is a wondrous story of geological origins, architectural aesthetics, and cultural history.
You probably don't expect to make geological finds along the sidewalks of a major city, but when natural history writer David B. Williams looks at the stone masonry, façades, and ornamentations of buildings, he sees a range of rocks equal to any assembled by plate tectonics. In Stories in Stone, he introduces us to a three-and-a-half-billion-year-old rock called Morton gneiss that is the color of swirled pink-and-black taffy; a 1935 gas station made of petrified wood; and a fort in St. Augustine, Florida, that has withstood three hundred years of attacks and hurricanes, despite being made of a stone (coquina) that has the consistency of a granola bar.
Williams shows us why a white, fossil-rich limestone from Indiana became the only building stone to be used in all fifty states; how the construction of the granite Bunker Hill Monument in 1825 led to America's first commercial railroad; and why Carrara marble—the favorite sculpting material of Michelangelo—warped so much after only nineteen years on a Chicago skyscraper that all forty-four thousand panels of the stone had to be replaced. From Brooklyn to Philadephia, from limestone to travertine, Stories in Stone will inspire readers to realize that, even in the most modern metropolis, evidence of our planet's natural wonders can be found all around us in building stones that are far less ordinary than we might think at first glance.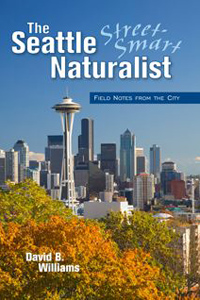 The Street Smart Naturalist: Field Notes from Seattle
Back to the city, or back to nature? Seattle author David Williams shows us how we can get the best of both. Botany and bugs, geology and geese, and creeks and crows; living in a major city doesn't have to separate us from the natural world. Stepping away from a guidebook format, Williams presents the reader with a series of essays and maps that weave personal musings, bits of humor, natural history observations, and scientific data into a multi-textured perspective of life in the city—descriptions of his journeys as a naturalist in an urban landscape. Williams addresses questions that an observant person asks in an urban environment. What did Seattle look like before Europeans got here? How does the area's geologic past affect us? Why have some animals thrived and other languished? How are we affected by the species with whom we share the urban environment and how do we affect them? This book captures all of the distinctive flavors of the Emerald City, urban and natural.
Praise for author David B. Williams
"Makes stones sing" — Kirkus Reviews
"Williams's lively mixture of hard science and piquant lore is sure to fire the readers' curiosity" — Publisher's Weekly
About the Author
David B. Williams is a freelance natural history writer and author of Cairns: Messengers in Stone, Stories in Stone: Travels Through Urban Geology, The Street-Smart Naturalist: Field Notes from Seattle, and A Naturalist's Guide to Canyon Country.
Williams is a Seattle native and has a Bachelor's degree in geology from Colorado College. He has worked as a Park Ranger at Arches National Park, in Moab, Utah, and the Frederick Law Olmsted National Historic Site, in Brookline, Massachusetts. For five years he was a program coordinator and field instructor for Canyonlands Field Institute, a non-profit educational organization based in Moab. At present he teaches educational programs part time at the Burke Museum of Natural History and Culture and periodically leads tours of building stones for groups such as North Cascades Institute and Seattle Architectural Foundation. He lives with his wife in Seattle's Wallingford neighborhood and blogs at Stories In Stone.
Visit his web site at http://geologywriter.com/.