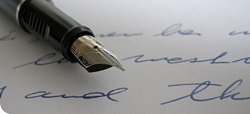 Mark Saturday, May 17, 2008, as the day you will attend the 3rd annual Write On The River Conference!
This year Elizabeth George will kick off the day as the keynote speaker. She is a New York Times best-selling author of thirteen novels of psychological suspense, one book of non-fiction, and two-short story collections. What a privilege to have someone of this caliber coming to WOTR! She is sure to be an inspiration to everyone attending.
The day will continue with twelve workshops taught by established writers. If you are interested in finding out about the publishing world, learning what readers are interested in, writing convincing dialogue, recording memoirs, addressing the young readers' market, or the hearing about the writer's life, you won't want to miss this conference.
Kate Rogers, Editor in Chief of Mountaineer Books in Seattle, will be available for a lunch roundtable discussion to provide feedback on works of non-fiction.
The day will end with a reception, which will provide the opportunity to mingle with a host of writers, both presenters and attendees, who represent wide-ranging interests.
Registration information and more detailed information on the workshops can be found at http://www.writeontheriver.org. Past participants have found this day particularly helpful in gaining the knowledge and inspiration they need either to begin or to continue writing. Those who write know it can be a lonely experience, and this is an opportunity to share experiences with others who will understand your predicaments and as well as your passions. You will come away from the day with valuable new ideas and energy!
Wherever your interests lie, this will be a day for you.