Sat, Sep 17
10:00 - 2:30 PM
Kristall's Restaurant

Writer's Workshop: "Self-publishing Without Tears," with Ron Lovell (Workshop)

$28.00 includes full lunch and a copy of Ron's newest release: Murder in E-Flat Major

Sat, Sep 17
3:00 - 5:00 PM
Bookstore
Free

Ron Lovell signs Murder in E-Flat Major (Book-signing)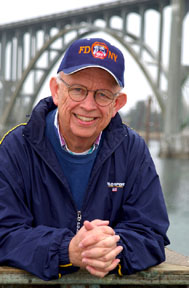 Writer's Workshop: Self-publishing Without Tears
Author Ron Lovell presents a guide to publishing and marketing your book, from manuscript to finished product. Topics include editing, page design, cover design, ISBN registration, copyright registration, dealing with distributors and bookstores, and setting up signings and other promotional events.
Journalist and mystery author Ron Lovell has a long and prolific career writing and teaching others to write. A BA in political science and an MS in journalism helped launch him into a long and varied journalism career which included a stint as Denver bureau chief for Business Week, and staff for Medical World News, where Ron says he enjoyed uncovering the socio-economic aspects of medicine—politics, poverty, and pollution. Ron has been a journalism professor at Oregon State University for over twenty-four years, produced five books on writing and launched a successful mystery series.
Click Here to reserve your seat NOW: $28.00 includes full lunch and a copy of Ron's newest release: Murder in E-Flat Major
Workshop registrants -- enjoy a special room rate at our book-themed Innsbrucker Inn above the bookstore. Workshop attendees can stay with us the night before the workshop for the special rate of $79.00 for a standard room or $95.00 for a suite. (Prices are for single or double occupancy, and do not include tax.) Call (509) 548-5401 or email info@innsbruckerinn.com to reserve a room at your special price, or click here to preview our delightfully bookish rooms.
---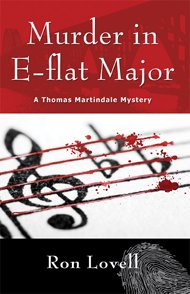 Murder in E-flat Major
The world of classical music, incriminating fingerprints, and a federal justice system gone wrong ensnare Thomas Martindale in one of the most difficult situations of his professional life. Murder in E-Flat Major takes the Martindale from the scene of a terror attack on the Yaquina Bay Bridge to a secret terrorist camp near Oregon's Drift Creek Falls. As usual, the amateur sleuth is just trying to help a friend: this time a cellist in the local symphony orchestra. "I have heard that death can come in many different ways," she tells him, "but never by cello."
Murder in E-Flat Major is the latest of Ron Lovell's Thomas Martindale mysteries. Martindale, like Lovell, knows the Oregon Coast well; its nooks and crannies, its lighthouses, secluded coves, crumbling cliffs above the rough sea, bridges, and boat docks—and its possibilities for murder and mayhem. Other titles in the series include Descent Into Madness, where deadly virus research mixes explosively with a spooky, abandoned sanitarium. Yaquina White takes Martindale to Yaquina Head lighthouse where he becomes entangled with cocaine gangs, an arctic expedition to study global warming, and a renegade ship carrying a mysterious cargo. In Dead Whales Tell No Tales, Martindale must learn his whales, racing against time to save a friend accused of murdering a whale biologist.
Click here to see Ron's ABFAS page with a list of his books.