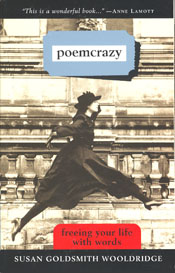 poemcrazy
poemcrazy is becoming increasingly well-known on campuses and to teachers as well as to students of writing and creativity. It's been used as part of the core curriculum in places ranging from the Denver and Rhode Island Public Schools to Brown and Evergreen Universities, the Virginia Writing Project and the Guggenheim Museum Curriculum online. poemcrazy is on numerous lists of "bestselling" or "favorite" books about poetry on the internet.
Price: $13.95
Toss lovingly into cart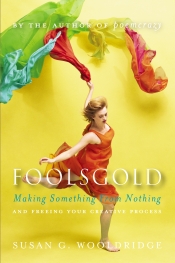 Foolsgold
In this personal, inspiring guide to a creative life, Wooldridge shares her own journey of the heart—from loss and grief to a return to wholeness and joy. Offering poetry exercises, journal writing, and other practices to encourage creative play—including foraging and assembling collages with found objects—Foolsgold: Making Something from Nothing and Freeing Your Creative Process will motivate you to reevaluate what's most important in your world.
Through intimate stories about transforming what life brings your way, the book will help open your heart to more creativity—DELIGHT AND VITALITY—whether it's through photography, dance, gardening, cooking, songwriting, or poetry. Foolsgold includes dozens of suggestions to help you free the artist within by cultivating a creative lifestyle that will not only expand and inspire you but may also ground and heal you.
Price: $22.00
Toss lovingly into cart