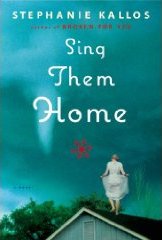 Sing Them Home
Sing Them Home Release Date: December 2008
Sing Them Home is a moving portrait of three siblings who have lived in the shadow of unresolved grief since their mother's disappearance when they were children. Everyone in Emlyn Springs knows the story of Hope Jones, the physician's wife whose big dreams for their tiny town were lost along with her in the tornado of 1978. For Hope's three young children, the stability of life with their preoccupied father, and with Viney, their mother's spitfire best friend, is no match for Hope's absence. Larken, the eldest, is now an art history professor who seeks in food an answer to a less tangible hunger; Gaelan, the son, is a telegenic weatherman who devotes his life to predicting the unpredictable; and the youngest, Bonnie, is a self-proclaimed archivist who combs roadsides for clues to her mother's legacy, and permission to move on. When they're summoned home after their father's death, each sibling is forced to revisit the childhood tragedy that has defined their lives. With breathtaking lyricism, wisdom, and humor, Kallos explores the consequences of protecting those we love. Sing Them Home is a magnificent tapestry of lives connected and undone by tragedy, lives poised—unbeknownst to the characters—for redemption.
Sing Them Home (Hardcover) price: $25.00
Toss lovingly into cart
Sing Them Home (Softcover) price: $14.95
Toss lovingly into cart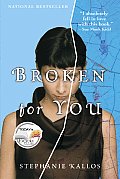 Broken For You
National best seller and Today show Book Club selection, Broken for You is the story of two women in self-imposed exile whose lives are transformed when their paths intersect. Stephanie Kallos's debut novel is a work of infinite charm, wit and heart. It is also a glorious homage to the beauty of broken things. When we meet septuagenarian Margaret Hughes, she is living alone in a mansion in Seattle with only a massive collection of valuable antiques for company. Enter Wanda Schultz, a young woman with a broken heart who has come west to search for her wayward boyfriend. Both women are guarding dark secrets and have spent many years building up protective armor against the outside world. Both funny and heartbreaking, Broken for You is a testament to the saving graces of surrogate families and shows how far the tiniest repair jobs can go in righting the world's wrongs.
Hardcover price: $13.00
Toss lovingly into cart