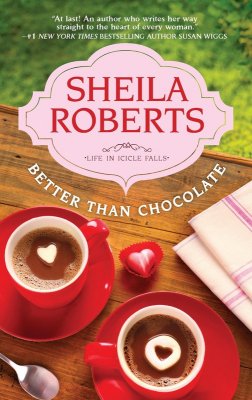 Better Than Chocolate
How Sweet It Isn't!
Sweet Dreams Chocolate Company has been in the Sterling family for generations, ever since Great-Grandma Rose literally dreamed up her first fabulous recipe. But now it looks like they're about to lose Sweet Dreams to the bank—and that would be a disaster, not only for the family but for the town of Icicle Falls, Washington. Can Samantha, the oldest daughter and new head of the company, come up with a way to save it?
After some brainstorming with her mother and sisters, inspiration strikes. They'll have a chocolate festival! Time's running out, but the Sterling women are determined and the town's behind them, so everything's bound to go smoothly...
Or not. Events seem to be conspiring against Samantha, and her mother's attempts to help aren't helping. To make matters worse, the fate of her company is in the hands of her arch-enemy Blake Preston, the bank manager with the football-hero good looks. It's enough to drive her to chocolate. But Blake's also enough to convince her that (believe it or not) there's something even better than chocolate.
Price: $7.99
Toss a SIGNED Copy of Better Than Chocolate into your cart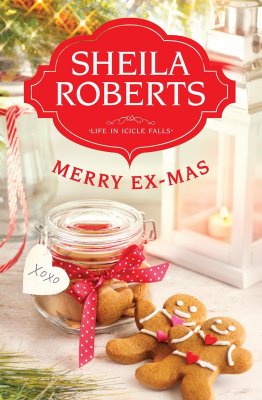 Merry Ex-Mas
Between Yuletide traditions, winter sports and mistletoe everywhere, Christmas is the best time of year in Icicle Falls, Washington. But this year it's not so merry for three of its residents.
Cass Wilkes, owner of the Gingerbread Haus bakery, was looking forward to her daughter Danielle's wedding...until Dani announced that she wants her father, Cass's ex, to walk her down the aisle. With every B & B full, it looks like he and his trophy wife will be staying with Cass.
Her friend Charlene Albach has just seen the ghost of Christmas past: her ex-husband, who left her a year ago, running off with the hostess from her restaurant. Zelda's, to start a new life in Seattle. Now the hostess is history and he wants to kiss and make up. Hide the mistletoe!
And bring out the hot buttered rum, because the holidays aren't so easy for Ella O'Brien, either. Newly divorced, she's still sharing the house with her ex while they wait for the place to sell, and still fighting over all the things they fought over when they were married.
But Christmas has a way of working its magic and anything can happen. Merry Ex-mas, ladies!
Price: $15.99
Toss a SIGNED Copy of Merry Ex-Mas into your cart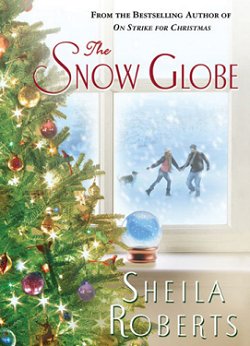 The Snow Globe
On a blustery afternoon, Kylie Gray wanders into an antique shop and buys an enchanting snow globe. "There's a story behind that snow globe," the antique dealer tells her. The original owner, he explains, was a German toymaker who lost his wife and son right before Christmas. When the grieving widower received the handcrafted snow globe as a Christmas gift, he saw the image of a beautiful woman beneath the glass-a woman who would come into his life, mend his broken heart and bring him back to the world of the living. For years, the snow globe has passed from generation to generation, somehow always landing in the hands of a person in special need of a Christmas miracle.
Kiley could use a miracle herself. This year, all she wants for Christmas is someone to love. A hopeful shake leads her on an adventure that makes a believer out of her. When Kylie shares the story of the snow globe with her best friends-two women with problems of their own-they don't believe it. But they're about to discover that at Christmastime, sometimes the impossible becomes possible and miracles really do come true.
"The Snow Globe is an absolutely wonderful holiday treat, full of warmth and charm and second chances. It's the perfect stocking stuffer." — Kristin Hannah, NYT best-selling author
"[A] pleasant reminder of the importance of balancing family, friends, love, and career." — Publishers Weekly
"lighthearted and charming" — Library Journal
"heartwarming and touched with humor." 4 stars — Romantic Times Magazine
Price: $14.99
Toss a SIGNED Copy of The Snow Globe into your cart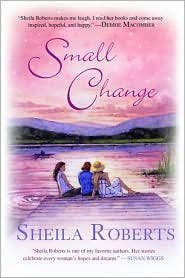 Small Change
In Small Change, three Heart Lake friends with money challenges vow to get financially fit - together! Along the way they learn that small changes can make a world of difference . . . and that some things in life, like good friends, are truly priceless. With money tips, recipes, and a great story, Sheila Roberts walks the average woman through today's rocky financial landscape.
"Homing in on issues many readers can identify with, Roberts's women search for practical solutions to a common challenge with humor and froth." - Publisher's Weekly
"Roberts' fans will enjoy returning to Heart Lake and its enthusiastic residents, and most fiction lovers will enjoy this feel–good approach to today's uncertainties." — Booklist
"Sheila Roberts will make you laugh and cry with her latest novel about three women facing life's trials and tribulations." — The National Examiner
Price: $13.99
Toss lovingly into cart
Angel Lane

Sheila's heartwarming new novel, Angel Lane, is the story of three small-town shop owners who, aspiring to "keep the heart in Heart Lake," ask their neighbors to commit one random act of kindness every day. These random kindnesses lead to wildly unexpected situations and show that love can grow from the most unexpected places. Full of humor, friendship, and fun recipes, Angel Lane teaches the importance of kindness, friendship, and of taking a chance on love.

Price: $13.99
Toss lovingly into cart
Love in Bloom

Hope Walker survived early breast cancer at just thirty-years-old, but a mastectomy left her with a lot of scarring—and some serious fears about dating. Hope owns Changing Seasons, Heart Lake's most popular flower shop. When it comes to love and relationships, she's able to work magic through her expert flower arranging...for everyone but herself. Then one day a handsome contractor starts coming into her shop, but Hope knows he'd rather have a whole woman than someone like her.

When Hope stakes a plot of ground at Heart Lake's community garden, she finds that a woman can grow all sorts of things there: flowers, herbs, vegetables and even friendship. As she gets to know the two women who share neighboring plots, they discover that they can learn a lot from each other—not just about gardening, but about life. And Hope realizes that in order to live life to the fullest, sometimes you have to take a chance on love.

Price: $13.95
Toss lovingly into cart
Bikini Season

Meet the Bikinis, a group of friends whose cooking club has turned into a diet support group. Erin needs to lose weight to fit into her wedding gown , not an easy feat with an old childhood crush distracting her. Angela has let herself go and now she's got to shed those extra pounds before she loses her husband to the office hottie. Megan wants to lose weight but she needs to find her self-esteem. Then there's Kizzy, who has to lose her bad eating habits if she's going to keep her health, and whose misguided husband is sabotaging her diet efforts at every turn. Each woman's diet journey may be different, but one thing they all know: whether you are facing scary numbers on the scale or problems in your life, you need your girlfriends.

Price: $13.95
Toss lovingly into cart
On Strike for Christmas

Christmas is fast approaching and many of the women in the town of Holly are bracing themselves for stress, overwork, and very little understanding or appreciation from the men in their lives. But then inspiration hits. Joy Robertson, Laura Fredericks, and their knitting buddies decide to "go on strike" and give the men an opportunity to see firsthand what it takes to make the holidays merry and bright. Soon other women are joining in and husbands all over town are getting a crash course in decorating, shopping, and what to wear to see Santa, and are searching frantically for an interpreter to translate the mysteries of holiday recipes. The men may just come to appreciate the holidays after walking a mall in their wives' high heels. But maybe the women will learn something, too.

Price: $13.95
Toss lovingly into cart