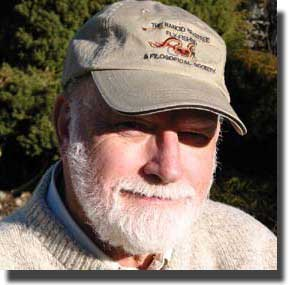 I was born in our old farmhouse three miles north of Sandpoint, Idaho, August 25, 1933. Our little farm raised mostly stumps and a few weeds but otherwise didn't amount to much, except it was a wonderful place for a boy to grow up. The farm was located in a valley between two ranges of the Rocky Mountains, the Selkirks and the Cabinets. Sandpoint was located on the shores of spectacular Lake Pend Oreille, at that time one of the great fishing lakes in the country.
By the time I was ten, my friends and I were already backpacking, usually up Schweitzer Creek, which tumbled down out of the mountains a couple of miles from our homes. The creek was tiny but the adventures large, with every dark night filled with imagined terrors. Never have I been so glad to be greeted by first light of morning than on those first trips up Schweitzer. I know now that those early outings were not only wonderful adventures but great training for life ahead, particularly in learning to control fear of the unknown. They have also provided me with a great deal of material for my writing.
My mother was a country schoolteacher, usually teaching all eight grades in little one-room schools tucked away in remote mountain valleys. These were primitive places. The school at Squaw Valley was a one-room log cabin heated by an old barrel stove and lit by kerosene lanterns. Not only did Mom teach all eight grades there, she chopped the firewood, hauled the drinking water from the creek, shoveled the snow out of the path to the privy, handled all the janitorial duties, cooked and served hot lunches, put on school plays and assorted parties for the pupils, and, on weekends, arranged card parties and dances for the adults of the community. Oh, and to some extent, looked after my sister, Patricia, and to an even lesser extent, me. Even though I was supposed to be one of Mom's pupils in first and then second grade, I was pretty much allowed to come and go as I pleased. Indeed, I spent much more time messing about in the creek and in the surrounding woods than I ever did in school. I thought my mother and I were in perfect agreement on this arrangement, until I received my final report card at the end of second grade. My own mother had flunked me! The reason given: Too many absences! Mom explained later that her actual reason for flunking me was that she thought I was too immature for second grade. A likely story.
After my father died, when I was six, we moved back to our farm and Mom taught math at the junior high school in Sandpoint. My sister was very smart even skipped entire grades. I, on the other hand, distinguished myself as a student of unwavering mediocrity. Looking back, I don't know why I didn't apply myself in school, since I had to be there anyway. Although I put forth an absolute minimum of effort in school, I was not without ambition. From the age of six, I intended to be an artist, and I drew and painted constantly, turning out hundreds and probably thousands of drawings and paintings over my school years. Although I never became an artist, I think all the effort I poured into drawing and painting helped me a greatly as a writer. There isn't too much difference between painting with paints and painting with words, except the latter is a lot less messy.
While still in high school, I started working summers on the dams that were being built on the Clark Fork River. I drove trucks, serviced heavy equipment, assisted drillers, ran a jack hammer, and one year worked as a highscaler, a job which consisted of dangling from a rope over a steep cliff and clearing away loose rock. I loved it. Then one of the other highscalers got killed when rock fell on him, and I decided I didn't love highscaling anymore. I started thinking very seriously about going to college.
I saved enough money from construction work to get me through my freshman years at Washington State College (now Washington State University). Because my academic career so far had been distinguished only by its unrelenting mediocrity, I feared I might not be smart enough to survive in college. My Freshman English Comp teacher, I'm sure, shared my view. Every week we had to write a little essay for his class. My first half dozen essays came back with F's. Bit by bit, however, I became fascinated with writing and began to spend as much time on writing essays as I had once spent on drawing pictures. This diligence paid off with a major breakthrough: I received a D! Then came a C, a B, an A, several A's and finally, on my last essay, an A-plus! There was also a note from the professor that he had recommended me for honors English the next semester. I was on my way to becoming a writer.
Hunting for some hilarious reading? Look no further!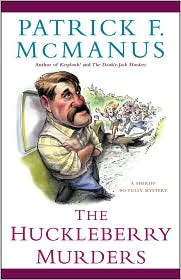 The Huckleberry Murders
A Sheriff Bo Tully Mystery

Sherriff Tully's got a bucket-full of mysteries to solve in his latest escapade — he's 'bout certain that a local retiree has been done in by his sociopath caretaker — only thing he's missing is a body, or any other shred of evidence. Then, picking huckleberries for his mother, he finds himself up to his elbows in bodies — with no identification or explanation. Ruminating over the puzzle of the big, white dual-tire pickup, before he knows it Tully finds himself in a haunted swamp with a beautiful FBI agent, his Pap, an expert tracker, and mountain man Poke. It's going to take Tully's famous hunches and more to untangle the twists and turns of what's been called McManus' most entertaining mystery yet.
Hardcover Price: $25.00
Toss lovingly into cart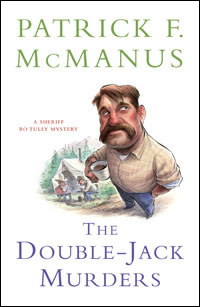 The Double-Jack Murders
A Sheriff Bo Tully Mystery

The Double-Jack Murders, the eagerly awaited third novel in Patrick F. McManus's bestselling mystery series finds Sheriff Bo Tully with his hands full of elusive killers, eccentric backwoods characters, and irresistible women in this latest romp through the wilds of Blight County, Idaho.
Sheriff Bo Tully is the kind of western lawman who's as good with the ladies as he is with his guns, and he never lets a death threat get in the way of a good barbecue. He's a man with a sense of humor, which comes in handy when trying to establish order in Blight County.
In this latest tale, Tully pursues a seventy-five-year-old missing persons case in which a pair of gold miners (a two-man drilling team known as a double-jack) mysteriously disappeared just as they hit the mother lode in a remote part of Blight County. Meanwhile, a second, more threatening case looms large. After serving only two months of a life sentence, a mentally unstable murderer named Kincaid - a nasty piece of work if there ever was one - manages to escape prison, setting his sights on killing the man who put him behind bars: one Sheriff Bo Tully. In an effort to lead his would-be killer into the open, and also to do a little gold prospecting and fishing while he's at it, Tully heads north with his ex-sheriff father, Pap, and his friend and expert tracker, Dave.
As the two cases play themselves out, Sheriff Tully finds himself hunting down one murderer who's probably long dead, and being hunted by another who's very much alive. A fast-moving tale of murder, mayhem, and mining, The Double-Jack Murders is Patrick F. McManus's darkest, most entertaining mystery yet.
Paperback Price: $14.00
Toss lovingly into cart
Hardcover Price: $24.00
Toss lovingly into cart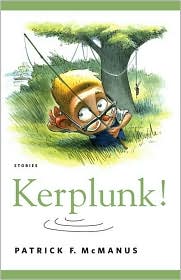 Kerplunk!
Patrick F. McManus's gently comic stories about outdoor life have earned him millions of fans worldwide. With Kerplunk!, McManus delivers a collection of folksy, wonderfully wise depictions of country life worthy of Mark Twain.
In these tall tales, McManus and his buddies learn how not to net a fish, why you should never get your hair cut by someone who's mad at you, what to do when a deer wanders into camp but your sleeping bag has frozen shut, and how to avoid bird-dog flatulence.
Traveling the highways and byways of the Pacific Northwest, the delightful backcountry characters of Kerplunk! understand how a life of hunting and fishing -- and its inherent potential for misadventure -- can resonate with larger meaning. McManus's characters know exactly why it costs $500 to make a fly lure that retails for $2; why installing a boat trailer hookup can lead to divorce; and, most important, why you should always listen for the sound of your fishing line hitting the water -- because in life as it is in fishing, you don't know you're in the water until you hear the kerplunk!
These wry, curmudgeonly tales appeal to real outdoorsmen and the armchair variety alike. Often nostalgic, occasionally philosophical, and always funny, the stories in Kerplunk! reaffirm Patrick F. McManus's reputation as an American classic.
Paperback Price $13.00
Toss lovingly into cart
Hardcover Price: $24.00
Toss lovingly into cart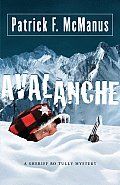 AVALANCHE
A Sheriff Bo Tully Mystery
The Blight Way took off and hit a few bestseller lists along the way. Beloved by an Avalanche of readers, Sheriff Bo Tully is back — and up to his eyeballs in trouble! Sheriff Bo Tully is on his way up to West Branch Lodge, a fancy resort, to investigate a missing persons case. When an avalanche thunders down the mountain, Tully resigns himself to spending some extra time at the lodge. However, nothing can ever be relaxing for Tully, and he soon finds himself in the middle of a murder investigation, not just a missing persons report. Throw in Tully's old flame who's staying at the lodge (but without her husband), and Avalanche falls into place as the perfect second book to this witty series. A page-turning mystery filled with mirth and misadventure sure to delight long-time fans and new readers alike.
Paperback Price: $14.00
Toss lovingly into cart
Hardcover Price: $24.00
Toss lovingly into cart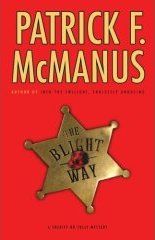 The Blight Way
A Sheriff Bo Tully Mystery
The New York Times best selling author kicks off a rousing new mystery series set in the rarefied air of the Rockies-where maverick local sheriff Bo Tully has his hands full trying to ferret out a murderer among the colorful denizens of Blight County. Review the first chapter of Patrick F. McManus' new mystery novel as the sheriff of Blight County works his way through the twisted train of evidence to solve his first murder case.
Price: $14.00
Toss lovingly into cart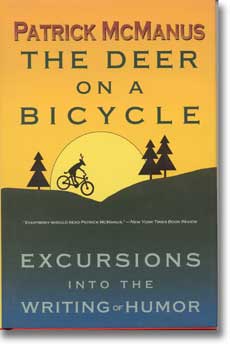 The Deer on a Bicycle: Excursions Into the Writing of Humor
For his fourteenth book, Patrick McManus lets us inside the laughs. This guide, by one of the world's best-known and respected humorists, is an insightful and entertaining book for anyone who writes humor or has ever wanted to.
Price: $15.95
Toss lovingly into cart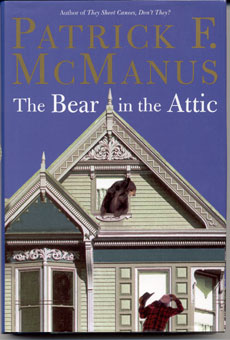 The Bear In The Attic
Patrick McManus' wry wit has made him an American classic, his trademark outdoorsman's humor endearing him not only to fellow wilderness enthusiasts, but to anyone who enjoys humor and can bear witness to the antics and anecdotes McManus recounts. In his newest collection of hilarious essays, he ponders the strange allure of the RV, a thirtieth-century hunting trip, the art of wrestling toads, the existential implications of being lost, the baffling tendency of animals to outsmart those who wish to hunt them, the singular pleasure of doubling the size of every fish one doesn't catch, and what happens when a bear named Pooky decides to hibernate in the attic.
Price: $12.00
Toss lovingly into cart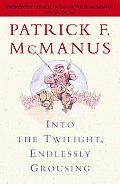 Into the Twilight, Endlessly Grousing
Like Twain—or more contemporary humorists Dave Barry and Garrison Keillor—Patrick McManus shares the belief that life's eternal verities exist primarily to be overturned. In McManus' world, all steaks should be chicken-fried, strong coffee is drunk by the light of a campfire, and fishing trips consist of men acting like boys and boys behaving like the small animals we've always assumed they were. In this, the tenth hilarious collection of his adventures, wry observations, and curmudgeonly calls for bigger and bigger fish stories, McManus takes on everything from an Idaho crime wave to his friend Dolph's atomic-powered huckleberry picker to the uncertain joys of standing waist-deep in icy water, watching the fish go by.
Price $14.00
Toss lovingly into cart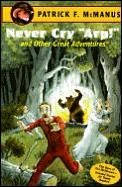 Never Cry "Arp!"
Never Cry "Arp!" is a lively collection of twelve stories about young Pat's misadventures in the Great American Wilderness. All the McManus regulars are here: Crazy Eddie Muldoon, the best friend everybody wishes they had (and everybody's mother wishes they didn't); Rancid Crabtree, the good-hearted, if gamey, woodsman; Pat's skunk dog, Strange, who lives up to his name; and Pat's pal, Retch Sweeney, who does, too. This is a book for kids who love to start fishing at 4 A.M. (at least they say they do) or for those who prefer to experience the mighty outdoors in the safety of their homes.
Price $17.95
Toss lovingly into cart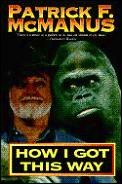 How I Got This Way
Any alert reader will remember the stir Patrick McManus created with his close examination of metaphysics a few years back. Always the deep thinker, Pat concerns himself this time with situational ethics. Here's an example: While mountain climbing, your partner falls and is left hanging by a rope-the one you control. You can either save him or save yourself. Now here's the tricky part: How do you distract your partner as you prepare to cut the rope? On the way through the woods, Pat pauses to explain several everyday facts of life. One is called the theory of convergence, and it explains, with a minimum of mathematics, why when a hunter goes one way, the elk always goes the other. Pat offers solid thoughts on the qualities that define leadership, beginning with the need to be tall. (A good head of hair won't hurt either.)
Price $14.00
Toss lovingly into cart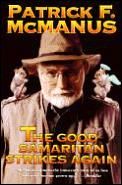 The Good Samaritan Strikes Again
In this, his eighth and funniest collection, we meet many of Pat McManus' personalities, most unknown to man or beast. The first is Pat the PR executive (his firm specializes in stretching a truth or two), whose chief responsibility is "to make two half-truths out of a whole truth." Pat gets so stressed out at work that his therapist persuades him to invent a fantasy farm to relieve the pressure. All is well until farming begins to take its toll-the dream-time chores are just too hard for Pat. Besides, PR pays well and there's no heavy lifting. Another Pat is a Good Samaritan who knows enough about emergencies to take his time getting to them ("who knows, this could allow some take-charge guy time to show up"). The legendary McManus voice is vigorous, providing laughter in the most unlikely places. Irresistible.
Price $14.00
Toss lovingly into cart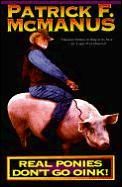 Real Ponies Don't Go Oink!
Even when we were small boys, Crazy Eddie Muldoon and I were gnawed by that terrible hunger known to nearly every boy in that distant time, the hunger for our very own pony to ride. We dreamed the impossible dream: on our next birthday, or surely the one after, we would awaken to hear our beaming parents gush, "Guess what's tied up out behind the woodshed, Son. But before you rush off to see what it is, you'd better open this present that's in the shape of a saddle." Occasionally, I would ride one of our pigs by the kitchen window, hoping to shame Mom into buying me a pony, "There goes old short-in-the-saddle," my sister, the Troll, would shout. "Hopalong Hog and Gene Oink, the smelly cowboy!" Then she and Mom would have a good laugh.
Price $13.00
Toss lovingly into cart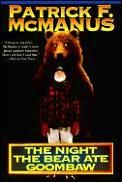 The Night The Bear Ate Goombaw
"What?" Eddie said. "Uh, you don't suppose your pa, uh, would let me go on the camping trip too, do you?" When Eddie put the question to his father, Mr. Muldoon tried to conceal his affection for me beneath a malevolent frown. "Oh, all right," he growled at me. "But no mischief. That means no knives, no hatchets, no matches, no slingshots, and no shovels! Understood?" I rushed home and asked my mother if I could go camping with the Muldoons. "You'd be away from home a whole week?" she said. "I'll have to think about that. Okay, you can go." I quickly packed my hatchet, knife, and slingshot, along with edibles Mom gave me to contribute to the Muldoon grub box.
Price $14.00
Toss lovingly into cart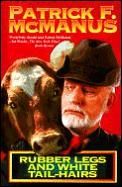 Rubber Legs and White Tail-Hairs
Caught up in the media craze of placing one-hundred-dollar bills end-to-end to see if they reach to the moon and back, as a way of making the national debt more understandable and poignant to the tax-payer, I recently laid all my fly-tying books end-to-end to see how far they reached. They reached from my writing desk to the cat box in the utility room. How far is that? Not nearly far enough, believe me.
Price $14.00
Toss lovingly into cart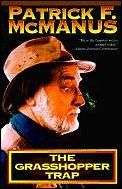 The Grasshopper Trap
"You'd think there'd be an easier way to catch hoppers," I said. Crazy Eddie looked at me. "Say, I've got an idea!" "Forget it," I said. Already that summer I'd had too many narrow escapes as the result of Eddie's ideas. "But this is a great idea," he cried. "We can build a grasshopper trap!" Rancid dismissed the idea with a wave of his hand. "Wouldn't work. Ain't no way you could make a trap small enough to clamp on to a hopper's foot." "Not that kind of trap," Eddie said. He then went on to explain his idea to Rancid and me. It was dumb, probably the dumbest idea Eddie had ever had, and maybe even dangerous, if the completed contraption bore any resemblance to Crazy Eddie's other inventions. I was thankful that for once a mature adult was on hand to point out the risk and stupidity of such an idea. "Sounds good to me," Rancid said. "Let's go over to maw place and build it."
Price $14.00
Toss lovingly into cart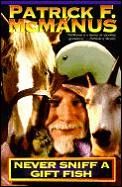 Never Sniff A Gift Fish
Scholars have long known that fishing eventually turns men into philosophers. Unfortunately, it is almost impossible to buy decent tackle on a philosopher's salary. I have always thought it would be better if fishing turned men into Wall Street bankers, but that is not the case. It's philosophers or nothing.
Price $14.00
Toss lovingly into cart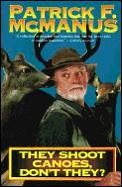 They Shoot Canoes, Don't They?
A while back my friend Retch Sweeney and I were hiking through a wilderness area and happened to come across these three guys who were pretending to cling to the side of a mountain as if their lives depended on it. They were dressed in funny little costumes and all tied together on a long rope. Their leader was pounding what looked like a big spike into a crack in the rock. We guessed right off what they were up to. They were obviously being initiated into a college fraternity, and this was part of the hazing. Not wishing to embarrass them any more than was absolutely necessary, Retch and I just let on as if everything was normal and if that scarcely a day went by that we didn't see people in funny costumes hammering nails into rock. "We seem to have taken a wrong turn back there a ways," I said to them. "Could you give us some idea where we are ?" The three pledgies seemed both angered and astonished at seeing us. "Why, this is the North Face of Mount Terrible," the leader said. "We're making an assault on it. You shouldn't be up here!" "You're telling me!" I said. "We're supposed to be on our way to Wild Rose Lake."
Price $13.00
Toss lovingly into cart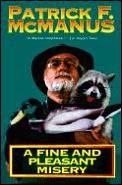 A Fine And Pleasant Misery
MODERN TECHNOLOGY has taken most of the misery out of the outdoors. Camping is now aluminum-covered, propane-heated, foam-padded, air-conditioned, bug-proofed, flip-topped, disposable, and transistorized. Hardship on a modern camping trip is blowing a fuse on your electric underwear, or having the battery peter out on your Porta-Shaver. A major catastrophe is spending your last coin on a recorded Nature Talk and then discovering the camp Comfort & Sanitation Center (featuring forest green tile floors and hot showers) has pay toilets.
There are many people around nowadays who seem to appreciate the fact that a family can go on an outing without being out. But I am not one of them. Personally, I miss the old-fashioned misery of old fashioned camping.
Price $14.00
Toss lovingly into cart