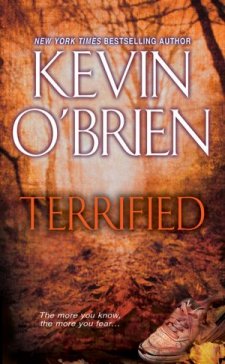 TERRIFIED
THE MORE YOU KNOW, THE MORE YOU FEAR
Megan Keeslar died years ago—or so everyone believes. In fact, she disappeared to escape her sadistic husband, Glenn. When dismembered body parts were found near their home, Glenn was convicted of his wife's murder. And Megan, terrified for her unborn child's safety, never came forward with the truth...
Since then, Megan has built a new life in Seattle for herself and her son, Josh. She's never forgotten that she's a fugitive, and Josh knows nothing about her past. But someone does. First, there are anonymous emails and threats—just as she learns Glenn has been released from prison. Then the unthinkable happens: a masked man breaks into their home and abducts Josh.
To save her son, Megan must put herself at the mercy of a maniac. Is Glenn a cold-blooded killer determined to destroy her world piece by piece, or is the truth even more twisted? Megan thought she knew fear, but her nightmare is only beginning...
Price: $9.99
Toss SIGNED copy lovingly into cart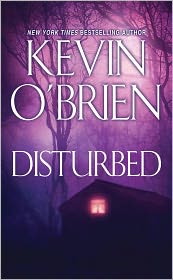 Disturbed
Deceptive
The houses in Willow Tree Court are sleek and modern—the kind designed to harbor happy families and laughing children. No one would guess the secrets that lurk beyond the neat lawns and beautiful facades.
Depraved
Molly Dennehy is trying to fit in to her new surroundings, though her neighbors are clearly loyal to her husband's ex-wife. But that's the least of Molly's worries. Her stepson's school has been rocked by a brutal slaying, and a psychopath known as the Cul-de-Sac Killer is murdering families in Seattle homes. Homes just like Molly's.
Disturbed
With each passing day, Molly grows more convinced that someone is watching her family, someone consumed with rage and vengeance. On this quiet road, a nightmare has been unleashed, and the trail of terror will lead right to her door...
Price: $7.99
Toss SIGNED copy lovingly into cart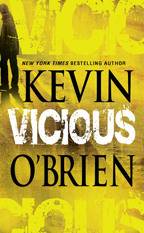 Vicious
He lives to hear them scream...
For more than two years, he held Seattle in a terror grip. A cold-blooded killer who abducted young mothers right in front of their sons and murdered them execution style. Then, as suddenly as the killings began, they seemed to stop.
Susan Blanchette is looking forward to a relaxing weekend getaway with her fiancé, Allen, and young son, Matthew. But something about the remote lake house doesn't feel right. A woman vanished from the area a year ago, and now Susan thinks she's spotted someone lurking around the property. And when Allen disappears, her fear grows...
A psychopath has returned, ready to strike again, drawing nearer to Susan as each minute of the weekend ticks by. But she's just one pawn at the heart of a killer's deadly game. A killer who is unrelenting, unstoppable, and absolutely vicious...
Price: $7.99
Toss lovingly into cart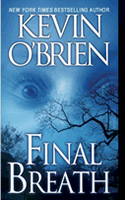 Final Breath
ONCE A KILLER HAS CHOSEN YOU, THE ONLY THING YOU CAN DO IS DIE...
At first, the deaths seemed random. A young Portland couple brutally murdered in a robbery...a Chicago woman who plummeted to her death from an office building...an aspiring screenwriter asphyxiated in his New York apartment. But the macabre souvenirs TV reporter Sydney Jordan receives hint at a connection that is both personal and terrifying.
After events in her own life went wrong, Sydney fled to Seattle with her teenage son. But instead of getting a fresh start, Sydney is plagued by strange occurrences. Someone is watching, someone who knows her intimately...someone who is just waiting to play the next move in a twisted game...
Price: $6.99
Toss lovingly into cart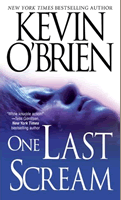 One Last Scream
WHEN YOU'RE CAUGHT IN A KILLERS WEB, THE ONLY THING THAT CAN SAVE YOU IS...ONE LAST SCREAM...
Twelve women have vanished, leaving behind no trace or clue—their whereabouts still a mystery after eleven years.
Amelia Faraday is beautiful, smart, and a walking disaster. Suffering from blackouts, she also suffers from something worse—the feeling that she is personally involved in a series of deaths.
Now as a new string of murders begins, and she continues to experience blackouts, Amelia wonders if she is a cold-blooded killer—or a pawn in a deadly game that's only just beginning.
Price $6.99
Toss lovingly into cart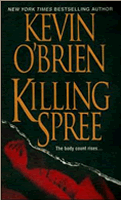 Killing Spree
WHEN A SERIAL KILLER GETS A TASTE FOR BLOOD...HE ONLY WANTS TO DO ONE THING...KILL AND KILL AGAIN...
Years ago, the Seattle police were baffled by the Schoolgirl Murders. The killer staged the scenes, dressing his female victims in school girl uniforms and saddle shoes. No woman in Seattle felt safe, until they caught the man responsible, and the case was forgotten...
Across the country, a killing spree is taking place. The first victim is attacked in a taxi by a mysterious stranger. The next is found strangled in a changing room. A hitchhiker is left by the side of the road, his identity brutally stolen. The murders are so bizarre, so random, no one would think to connect them...
Only Seattle writer Gillian McBride sees the disturbing coincidences between all the murders—and it's hitting too close to home. Somehow, she is the link between the past and the present—and to a twisted serial killer who shows no signs of stopping...
Price: $6.99
Toss lovingly into cart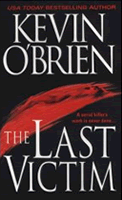 The Last Victim
Winner of the Friends of Mystery 2006 Spotted Owl Award for Best Pacific Northwest Mystery
A KILLER'S MASTERPIECE WILL BE PAINTED...IN COLD BLOOD...
At first, Bridget Corrigan's work with her twin brother's senatorial campaign is an exciting distraction from the trauma of her messy divorce. But everything changes when Bridget is reminded of the secret she and Brad have kept since high school, a secret that could destroy the campaign—and their lives. Someone else knows what they did. Someone who's been picking off the members of their little group one by one...
His job keeps him busy. He follows them, photographs them, and immortalizes them on canvas. He knows exactly how they'll look when the last breath is drawn, because he has planned out their deaths with perfect precision. And the best is yet to come: Bridget Corrigan. He has very special plans for her portrait—she just doesn't know it yet...
With every "accident" that befalls the members of her old clique, Bridget feels danger edging closer to home. Yet uncovering the truth about the killer would mean revealing what happened that horrible night years ago. She'll have to find someone to trust—the question is, who? Because turning to the wrong person could be the last mistake she ever makes...
Price $6.99
Toss lovingly into cart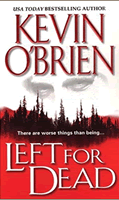 Left for Dead
Runner up for Friends of Mystery Spotted Owl Award 2005
SOMETHING SHE CAN'T REMEMBER...
When Claire Shaw wakes in a Seattle hospital, she remembers nothing of what has happened to her. She doesn't recognize the concerned faces of her husband and friends. She knows only that she is lucky to be alive, the single surviving victim of a viscous serial killer.
She was a mistake—not like the others. But next time, there would be no escape—and her eyes would fill with that perfect, beautiful terror...
On an isolated, quaint island resort, Claire has returned to a life she barely knows anymore. A town that feels as if it, too, is hiding something in its dark woods, remote cabins, and chilly smiles. Bit by bit, Claire's memory is taking terrifying shape in a place where fear is very much at home...
Price: $4.99
Toss lovingly into cart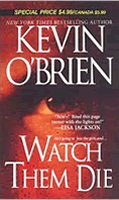 Watch Them Die
DIFFERENT VICTIMS...DIFFERENT METHODS...THE SAME MADMAN...
Runner up for Friends of Mystery Spotted Owl Award 2004
The blonde film student. The brunette paralegal. The red-headed artist.
The first victim is strangled. The second is stabbed repeatedly. And the third is pushed out an open window.
In the city of Seattle, no single woman is safe. From afar he watches the ones he so desperately wants. But should his latest obsession betray him, he will have no choice but to punish her—by finding new and brutal ways to teach her a lesson. And by finally loving her—to death...
Price $4.99
Toss lovingly into cart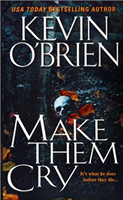 Make Them Cry
EVERYONE HAS SECRETS...SOME ARE MEANT TO BE KEPT...BUT OTHERS CAN KILL...
The beautiful young judge. The hardworking waitress. The handsome college student.
The victims are all different...but they all have one gruesome detail in common.
A clever serial killer is stalking the streets of Seattle. Searching for his next victim. Creating a monument of madness that will be built victim by victim...piece by piece...bone by bone...
Price $6.99
Toss lovingly into cart