About the Author:
Kay Kenyon - has published ten novels from major publishers. Her current series, beginning with Bright of the Sky, is the story of a man's journey in search of his family through the Entire, a tunnel universe with a river of fire for a sky. Publishers Weekly listed this novel among the top 150 books of 2007. The series has twice been shortlisted for the American Library Association Reading List awards. The Washington Post called it "A splendid fantasy quest as compelling as anything by Stephen R. Donaldson, Philip Jose Farmer, or yes, J. R. R. Tolkien." The final volume in the quartet, Prince of Storms, will appear in January 2010. Her work has been nominated for major awards in the field and is available in audio versions. Follow Kay on Facebook and Twitter, or visit her web site at www.kaykenyon.com for her posts on writing and the writing life. She is chair of a writing conference, Write on the River in Wenatchee. (www.writeontheriver.org)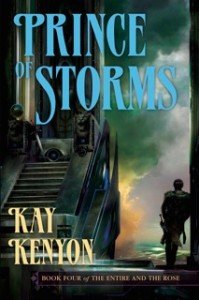 Prince of Storms
In this rousing finale to Kenyon's celebrated quartet, Titus Quinn meets his inevitable destiny, forced at last to make the unthinkable choice for or against the dictates of his heart, for or against the beloved land. Look to Prince of Storms for:
Titus and the dilemma of power
the burning lords
The navitar and the Drowning Time
Sydney and the orphan child
Anzi's strange sojourn among Paion
secrets buried in the depths of the storm walls
the fate of the Rose
final confrontation between father and daughter
SIGNED Trade Paper price: $16.00
Toss lovingly into cart
SIGNED Hardcover price: $26.00
Toss lovingly into cart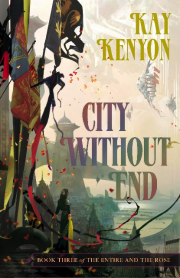 City Without End
In The Entire and the Rose series, Kay Kenyon has created her most vivid and compelling society yet—the universe Entire. Reviewers have called this "a grand world," "an enormous stage," and "a bravura concept."
On this stage unfolds a mighty struggle for dominance between two universes. Titus Quinn has forged an unstable peace with the Tarig lords. The ruinous capability of the nanotech surge weapon he possesses ensures d'tente. But it is a sham. In what the godwoman Zhiya calls a fit of moral goodness, he's thrown the weapon into the space-folding waters of the Nigh. This clears the way for an enemy he could have never foreseen: the people of the Rose. A small cadre led by Helice Maki is determined to take the Entire for itself and leave the earth in ruins. The transform of earth will begin deep in a western desert and will sweep over the lives of ordinary people, entangling Quinn's sister-in-law, Caitlin, in a deepening and ultimate conspiracy.
In the Entire, Quinn stalks Helice to the fabled Rim City, encircling the heart of the Entire. Here he at last finds his daughter, now called Sen Ni, in the Chalin style. Outside of earth-based time, she has grown to adulthood. He hardly knows her, and finds her the mistress of a remarkable dream-time insurgency against the Tarig lords and more, a woman risen high in the Entire's meritocracy. Quinn needs his daughter's help against the woman who would destroy the earth. But Sen Ni has her own plans and allies, among them a boy-navitar unlike any other pilot of the River Nigh, a navitar willing and supremely able to break his vows and bend the world.
Quinn casts his fate with the beautiful and resourceful Ji Anzi who went on a journey to other realms and holds the key to Quinn's heart and his overarching mission. But as he approaches the innermost sanctuary of the Tarig, he is alone. Waiting for him are powerful adversaries, including a lady who both hates and loves him, the high prefect of the dragon court, and Quinn's most implacable enemy, a warrior whose chaotic mind will soon be roused from an eternal slumber...
NOTE: City Without End is the third book in Kay Kenyon's The Entire and the Rose series after Bright of the Sky and A World Too Near.
SIGNED Paperback price: $16.00
Toss lovingly into cart
SIGNED Hardcover price: $25.00
Toss lovingly into cart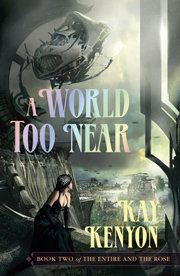 A World Too Near
Titus Quinn returns to the Entire with a new task: to enter and destroy the impregnable fortress of Ahnenhoon. The fortress, called the Repel, is replete with eons-long Tarig secrets and a most disturbing personal one for Quinn: a special prisoner resides there and will perish with the Repel.
As Quinn journeys across the Entire and down the River Nigh, he is pursued by an assassin sent by his own daughter, Sydney, who now counts the Entire as her home. Formerly a slave, she now has at her command a transforming and revolutionary power. Not only that, but Sydney has a strange ally, a human enabled by a powerful machine sapient, who has her own plans for the Entire.
Praise
"Will keep readers on the edges of their seats." — STARRED Review, Publishers Weekly
"A brilliant SF setting." — Omnivoracious
Chosen as one of five top science fiction books of 2008 by the American Library Association
SIGNED paperback price: $15.00
Toss lovingly into cart
SIGNED Hardcover price: $25.00
Toss lovingly into cart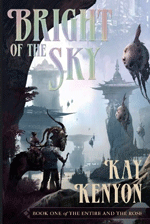 Bright of the Sky
Bright of the Sky is a richly mythic, highly original novel that will delight new readers and long time fans alike. If you crave complex, insightful storytelling with something new to offer, then you will certainly enjoy this effortless blend of future, fantasy and character-driven fiction.
SIGNED Hardcover price: $25.00
Toss lovingly into cart
SIGNED Paperback price: $15.98
Toss lovingly into cart
The Braided World
The most disturbing aliens are in humanity's image.
SIGNED Paperback price: $6.99
Toss lovingly into cart
Tropic of Creation
Just beneath the surface lies a monstrous and exquisite world.
SIGNED Paperback price: $5.99
Toss lovingly into cart
Leap Point
The end of the world begins in a small town...
SIGNED Paperback price: $5.99
Toss lovingly into cart

Rift
There is a fine line between transformation and ruin.
SIGNED Paperback price: $5.99
Toss lovingly into cart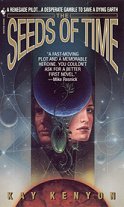 Seeds of Time
Clio Finn is a Dive pilot, one of the very few capable of guiding a ship into the time stream. But she's walking the razor's edge of burnout—which no Dive pilot has ever escaped—relying on drugs to buy her more missions. The future of Earth may depend on those missions into the distant past, in search of viable plant species to revitalize a graying planet. For Clio knows just how high the stakes are: she and two colleagues have made a forbidden Dive to the future—and the news isn't good.
Then a time Dive brings her team to a lush paradise that may contain the seeds that could halt earth's death spiral. Unfortunately, it looks like more change than we bargained for—or could possibly imagine.
SIGNED Paperback price: $5.99
Toss lovingly into cart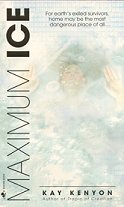 Maximum Ice
Zoya Kundara is Ship Mother to the generation ship Star Road. Awakened from cold sleep in time of need, she has counseled its crew for centuries. But now, the giant starship has returned to earth, only to discover a world blanketed in a crystalline substance that resembles ice. As emissary to this new earth, Zoya must approach its denizens and bargain for a share of the shrinking lands.
What she finds are groups of humans huddled in underground techno–warrens and an order known as the Ice Nuns, seeking control of the physics–defying crystal mantle. Allies are few and far between, but somehow Zoya must uncover the secrets of Ice and halt its expansion. That is, if the snow witches don't get her first....
SIGNED Paperback price: $6.50
Toss lovingly into cart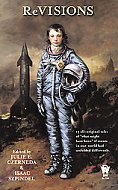 Revisions - Short Stories
"The Executioner's Apprentice"
In an alternate future, the Maya have high technology, and scrupulously record each citizen's genome. On the summits of their pyramids, some individuals pay a high price for what their genes harbor. And one apprentice learns what the Mayan priests are really selecting for.
SIGNED Paperback price: $6.99
Toss lovingly into cart