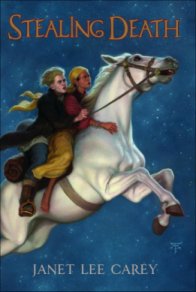 Stealing Death
Kipp steals the Soul Sack from Death to save the life of the girl he loves. Follow Kipp's adventure as he's on the run from Death.
"This is quite simply fantasy at its best–original, beautiful, amazing, and deeply moving." School Library Journal starred review
Price: $16.99
Toss lovingly into cart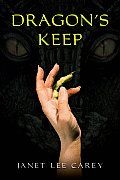 Dragon's Keep
Far away on Wilde Island, Princess Rosalind is born with a dragon claw where her ring finger should be. To hide the secret, the Queen forces her to wear gloves at all times until a cure can be found, so Rosalind can fulfill the prophecy to restore the family to their rightful throne. But Rosalind's flaw cannot be separated from her fate. When she is carried off by the dragon, everything she thought she knew falls apart. The dragon sees beauty in her talon where her mother saw only shame, and Rosalind finally understands what her mother has truly denied her. Carey has written a stunning portrayal of the complex relationship between a mother and daughter in a lyrical novel sure to thrill.
Paperback price: $7.95
Toss lovingly into cart
Hardcover Price: $17.00
Toss lovingly into cart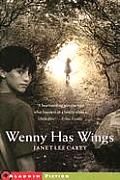 Wendy Has Wings
In the fight with the truck barreling toward them, Wenny and Will lost big. Wenny lost her life. Will lost a sister—and lost faith in himself. But then Will starts writing letters to Wenny. He tells her all about the secret of his near-death experience, and the troubles he's having at home. Some letters are funny. Some letters are harsh. And when read together, they tell the story of a boy who finds a way to move past death and learns how to live again....Winner of 2005 Mark Twain Award.
Price: $4.99
Toss lovingly into cart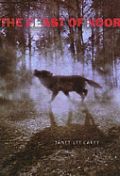 The Beast of Noor
Late one night, piercing screams awake the villages of Noor. And the next day the bones of a young woman are found deep in the surrounding forests. Terror courses through the hearts of the villagers, along with something else...relief. An attack such as this is not uncommon in Noor. The Shriker, a massive beast of unimaginable strength and rage, has roamed the dark woods for nearly three hundred years, savaging those unfortunate enough to encounter him. The people of Noor have lived in fear for so long that most have forgotten that the Shriker was once a loyal dog until the day his master betrayed and cursed him, condemning him to life as a monster. But Miles and Hanna Ferrell have never forgotten where the Shriker came from—how could they? It was, after all, their ancestor who betrayed the dog.
Price: $16.95
Toss lovingly into cart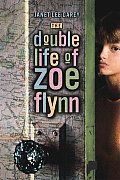 The Double Life of Zoe Flynn
She used to live in California, in a big old house —the best house in the world really—at 18 Hawk Road. It rambled and creaked and was full of good hiding places. She used to have a best friend named Kellen who lived right down the road, and a dog named Merlin who loved to play with her. But now she lives in a little town in Oregon, and everything has changed. Now, Zoe has to be careful. Careful that she doesn't tell anyone, not her friends or her teacher or especially that cop who's been watching her, that she doesn't live at 18 Hawk Road anymore. That now her family lives in an old green van that's cramped and dirty and doesn't even work all the time. Zoe's always hoping that someday she'll find her way back home....
Lyrically written by Janet Lee Carey, The Double Life of Zoe Flynn is a moving novel about hope, family, friendship, and the true definition of a home.
Price: $16.95
Toss lovingly into cart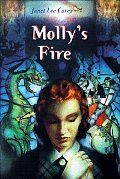 Molly's Fire
The telegram says that her father's Thunderbolt aircraft was shot down by the Germans over Holland — and that Lieutenant George Fowler is presumed dead. But for Molly, that's impossible. She knows she would feel it in her heart if her father were truly dead. After all, he had been shot down once before and survived. She feels certain that he has found a way to survive again. And she secretly clings to that belief as she stands alongside her mother and brother at the memorial service. As her small town of Keenan, Maine, slogs through the deprivations of wartime, Molly waits for a sign from her father—something to show that he is still alive. Months pass with no word. And even with the support of friends like Peter, the son of one of the town's wealthiest men, and Jane, whose Japanese heritage makes her the focus of suspicion and ridicule, keeping her faith is even harder for Molly. Then the appearance of a mysterious pocket watch gives Molly hope. Could this be the sign she's been waiting for? Molly risks all to find out.
Price: $16.95
Toss lovingly into cart