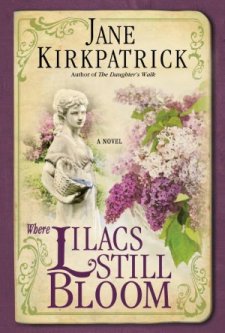 Where Lilacs Still Bloom
"Rarely does a book inspire me as much as this one has. To learn about what this one woman and her family did in their lifetime makes me want to try harder in my own life. I could never do what she did with flowers, but I can hope to live in such a way that my passion for God, my love for my family, and my hope for a beautiful garden will be remembered. I highly recommend reading this book!" — Sandi Smith, blogger
Buy Price: $14.99
Toss lovingly into cart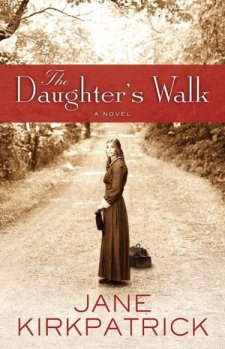 The Daughter's Walk
A mother's tragedy, a daughter's desire, and the 7000 mile journey that changed their lives.
"Jane Kirkpatrick is a wonderful writer who creates a story full of strong, admirable characters …I walked across the country with them, experienced their triumph and disappointment...Jane has given readers a wonderful story of a family schism that comes full circle to love and grace and the importance of family, especially when one has been an outcast. I highly recommend The Daughter's Walk!" — Francine Rivers, New York Times Bestselling Author
Buy Price: $14.99
Toss lovingly into cart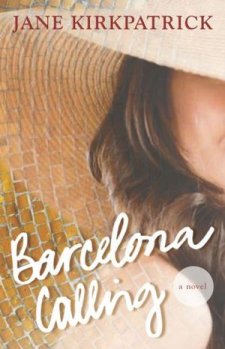 Barcelona Calling
Best-selling author Jane Kirkpatrick invites you into the lives of five women friends who promise to help each other achieve their life goals.
Annie Shaw's goal is far from simple: become famous. And she's in trouble after quitting her day job to write full-time. In pursuit of fame and an elusive bestseller, Annie travels to Chicago, acquires a rambunctious dog, and participates in antics better suited to a television reality show than real life. Can Annie's best friends help her achieve her goals without destroying her future?
Award-winning author Jane Kirkpatrick, known for her superb historical novels, writes this bold, fresh, contemporary story to "make people laugh and consider the true treasures of their hearts."
Buy Price: $14.99
Toss lovingly into cart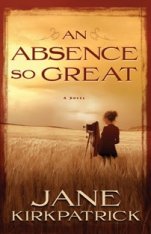 An Absence So Great
An Absence So Great (Portrait of the Heart Series) Did photography replace an absence in her life or expose the truth of her heart's emptiness? While Growing in confidence as a photographer, eighteen-year old Jessie Ann Gaebele's personal life is at a crossroads. Hoping she's put an unfortunate romantic longing behind her as "water under the bridge" she exiles herself in 1911 to Milwaukee to operate photographic studios for those owners who have fallen ill with mercury poisoning. But even a job she loves can't keep painful memories from seeping into her heart when the shadows of a forbidden love threaten to darken the portrait of her life. (Portrait of the Heart Series, Book 2, ©2010)
Buy Price: $14.99
Toss lovingly into cart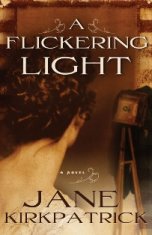 A Flickering Light
A Flickering Light (Portrait of the Heart Series Book 1) This luminous coming-of-age tale deftly exposes the intricate shadows that play across every dream worth pursuing--and the irresistible light that beckons the dreamer on.
Buy Price: $13.99
Toss lovingly into cart
Aurora: An American Experience in Quilt, Community and Craft

COMING December 16
Notice the embroidered initials "C G" for Christian Giesy, Emma Wagner Giesy's first husband or perhaps for her surviving son. Learn more about Emma of the Change and Cherish Series and other members of this fascinating 19th century gifted colony, the only successful Utopian community in the West.

Buy Price: $17.99
Toss lovingly into cart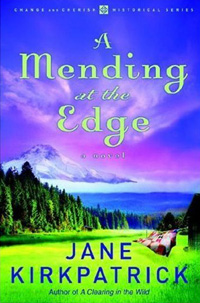 A Mending at the Edge
From the Change and Cherish Historical Series
"Of all the things I left in Willapa, hope is what I missed the most."
So begins this story of one woman's restoration from personal grief to the meaning of community. Based on the life of German-American Emma Wagner Giesy, the only woman sent to the Oregon Territory in the 1850s to help found a communal society, award-winning author Jane Kirkpatrick shows how landscape, relationships, spirituality and artistry poignantly reflect a woman's desire to weave a unique and meaningful legacy from the threads of an ordinary life. While set in the historical past, it's a story for our own time answering the question: Can threads of an isolated life weave a legacy of purpose in community?
Praise
"In A Mending at the Edge, Jane Kirkpatrick completes the literary quilt of the Emma Wagner Giesy trilogy, piecing together the historical fabric of Emma's personal story with that of the Aurora Colony. Emma's efforts to find a house—and a home—in this communal society in Oregon once again reflect the conflict of individual and community needs represented in Kirkpatrick's earlier two works in the Change and Cherish Historical Series. Based on a solid historical framework of the Aurora Colony and the broader social, political, and cultural landscape of the 1860s, Kirkpatrick offers a story of hope and achievement that captures the spirit of giving, sharing, and receiving central to 'mending' within a communal settlement." — James J. Kopp, communal historian and Board Member of Aurora Colony Historical Society
Price $13.99
Toss lovingly into cart
A Clearing in the Wild

From the Change and Cherish Historical Series

Emma Wagner seeks a singular voice in her 1850s religious community in Bethel, Missouri when she chafes at the constraints of a culture that values conformity over independent thought, especially in women.

Sent West with nine men challenged to secure land set apart from the world's distractions, this novel, inspired by historical events, follows one woman through her isolation from her community and the lessons learned in her spiritual journey.

In book one of this fact-filled fiction, Emma discovers what it truly means to serve--and to survive.

Price: $13.99
Toss lovingly into cart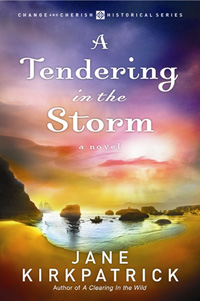 A Tendering in the Storm
Winner of 2008 WILLA Literary Award for Best Original Paperback Book.
From the Change and Cherish Historical Series Based on true events, this second book in the Change and Cherish Historical Series continues the saga of the feisty Emma Giesy, a member of the Missouri Bethelites, a repressive German religious colony. Set against the backdrop of Willapa Bay of the Washington Territory coast in 1856-1861, Emma and her husband, Christian, formerly a prominent leader in the community, carve out their own independent existence. Tragedy strikes, and alone and pregnant, Emma finds that her decision to ensure independence for her little family may cost her everything she holds dear.
A Tendering in the Storm is about living with the uncertainties of life and allowing others to give us gifts that will help us find new direction.
Price $13.99
Toss lovingly into cart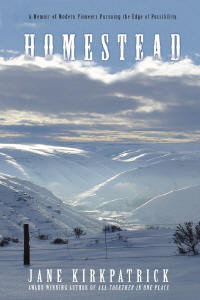 Homestead : Modern Pioneers Pursuing the Edge of Possibility
Homestead relates, with love and laughter, the non-fiction account of Jane & Jerry Kirkpatrick's own modern-day struggle to catch a dream in the Oregon Territory.
"We couldn't see then the agony that lay ahead ..."
"Nor could we know then of the miracles, large and small, and the people we would come to know and care about, who would help us, heal us, bring humor to our lives, share our tears and laughter, and take us closer to each other. And to God."
Millions of Americans move each year, usually for job-related reasons. But Jerry and Jane Kirkpatrick did more than just change jobs -- they changed lives! The couple left successful careers to build a life from scratch on 120 isolated, rattlesnake infested acres along Oregon's John Day River. With no running water and no electricity, the Kirkpatricks eventually built a hanger, a barn, a road and a two-story energy-efficient home. They laid their own telephone lines and acquired water and electricity.
Homestead is pioneering at its worst -- and best. It's Jane Kirkpatrick's testimony of floods, fire, wind, lost cattle and crops, unexpected visitors and a bureaucracy of 18 government agencies. But this book is also a reservoir of love, hope, family, friends and faith. Here's the story of ordinary people who took an extraordinary risk -- and won.
Price: $13.99
Toss lovingly into cart
A Land of Sheltered Promise

Finalist for Spur Award, Best Novel of the West, Western Writers of America.

A Land of Sheltered Promise is the story of a land flowing with blood, with abuse and disaster, of a landscape taken over by a commune that hatched plans of poisonings and other murderous acts, which God later transformed into what it is today: a premier camp to serve kids and introduce them to God's loving grace. It took generations, but there was a plan and God was in control, something one can only see by looking back through the patterns. In my story, three women discover God's presence through the ages. As Frederick Farber once wrote, "God only comes to those who wait."

Price $13.99
Toss lovingly into cart
A Simple Gift of Comfort

Reiussed in June, 2008 by Harvest House Publishers. Formerly A Burden Shared

A Simple Gift of Comfort is a book to give when you don't know what to say.

With images taken from the natural world of flowers and rivers, woven baskets and trees, it speaks of walking beside another person with compassion even when we don't know what might be troubling them.

Price: $11.99
Toss lovingly into cart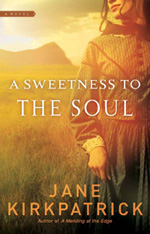 A Sweetness to the Soul
Winner of the Wrangler Award, Outstanding Western Novel of 1995.
From the Dream Catcher Series - This award-winning novel, also named to Oregon's Literary 100, one of the best books about Oregon published in the past 200 years, is being reissued in September, 2008. The Wrangler has been won by writers such as Barbara Kingsolver and Louie L'Amour and Larry McMurtry.
Set in Central Oregon, A Sweetness to the Soul is the story of the Sherar Family and their life with the Wasco, Warm Springs and Paiute People 150 years ago. Visitors today can travel to Sherar's Falls to see how Jane Sherar first saw the rope of rapids that became the backdrop of her life. Filled with heart-warming insight and glimpses of real-life pain, A Sweetness to the Soul paints a brilliant picture of love that conquers all obstacles and offers a powerful testimony to the miracle of God's healing power.
Price $12.99
Toss lovingly into cart
Love To Water My Soul

From the Dream Catcher Series - being reissued. This story is based on Jerry's Kirkpatrick's great-grandmother. Jerry is Jane's husband!

Love to Water My Soul is the story of Asiam or Alice M and is based on the author's family story. It's the story of a relative lost from a wagon train, found and raised by native people and her ensuing search to find out who she was and her purpose in this life.

Set in Eastern Oregon near Steens Mountain and Malheur National Waterfowl Refuge near Burns, the John Day River country, the Deschutes River and across the Cascade Mountains in old Salem, Oregon. A remarkable story of God's constancy and provision for all lovers of history, romance, and faith.

Price: $13.99
Toss lovingly into cart
A Gathering of Finches

From the Dream Catcher Series

A Gathering of Finches is a turn of the century story of the longing and light within Cassie Hendrick Stearns Simpson, a firey and passionate woman. It is a book about choice and the consequences of it.

Cassie Simpson inspired Shore Acres State Park, four acres of garden along the rugged southern Oregon coast near Coos Bay, Oregon. Though the story begins in New York State, it quickly becomes a northwest story moving from the early days of Hoquiam, Washington to the founding of the city of North Bend, Oregon, on the Coos Bay in the early 1900's.

Price $12.99
Toss lovingly into cart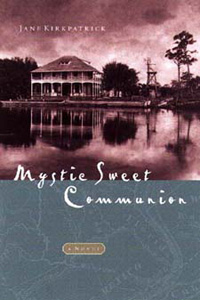 Mystic Sweet Communion
From the Dream Catcher Series
Mystic Sweet Communion is a story of patience, power and protection, a story set in South Florida at the turn of the century.
This is Ivy Stranahan's story, the first teacher in Broward County, and her life with her husband Frank, the first trader among the Seminole Indians along the New River. Fort Lauderdale built up around that post, but this is the story of a dream, Ivy's dream, to touch the lives of others and the power of faith in accomplishing that dream.
Price: $12.99
Toss lovingly into cart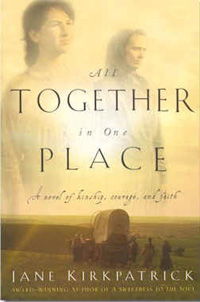 All Together in One Place
Finalist for Reader's Choice as Best Inspirational Novel of 2000
The first book in the "Kinship and Courage" series
All Together In One Place began from an old diary entry of Ezra Meeker, written in 1852. He recorded meeting eleven wagons heading east, all driven by women, their men having died and the women returning alone.
It is a story of walking in the wilderness and how the power of family, friends and faith can see us through.
Price $13.99
Toss lovingly into cart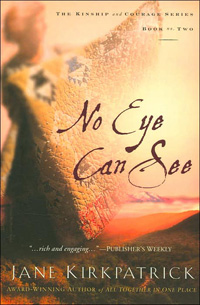 No Eye Can See
Book Two in the "Kinship and Courage" series
Facing challenges and loss, a community of extraordinary women fight to overcome the pain of the past - and embrace the future.
Suzanne felt the tears press at her eyes as the dream-state drifted away - taking with it the sight of the man she loved.
The turnaround women ... together they are changed forever as they discover that No Eye Can See all the good God has in store for those who love Him.
Price: $13.99
Toss lovingly into cart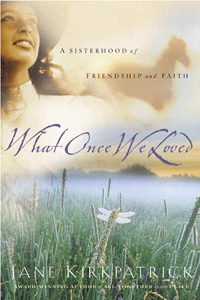 What Once We Loved
Book Three in the "Kinship and Courage" series
What Once We Loved ... In this final book of the Kinship and Courage series, Ruth and the other turnaround women learn to look beneath the surface to discover healing and hope despite life's trail of disappointment.
"What once we loved is memory now, buried deep and tangled up with time."
Price $13.99
Toss lovingly into cart
A Name of Her Own

Finalist, Ken Kesey Award for the Novel, Oregon Book Awards and a National BookSense 76 Bestseller.

Book One in the "Tender Ties" Historical series

"Into a man's world of war, ambition and intrigue stepped a woman, a wife, a mother. Marie." A Name of Her Own is the first book in the Tender Ties Historical Series set in the fur trapping era of 1811 which history suggests was a man's world. But women walked there, too.

History records that in 1811, the Lewis and Clark interpreter, Sacagawea, and Marie Dorion were at the same place at the same time for five weeks. A Name of Her Own reminds us that even tender ties can bind our hearts forever.

Price: $13.99
Toss lovingly into cart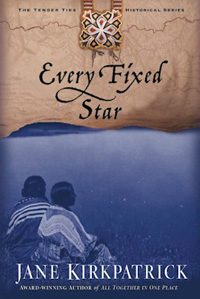 Every Fixed Star
Book Two in the "Tender Ties" Historical series
Widowed with two young boys, Marie Dorion finds her métier, work she is best suited to, work the world needs doing.
Book two, Every Fixed Star is set in the Okanogan Country of Washington State, Marie's story of finding her gifts and accepting the ones given to her is a compelling read. "You won't want to leave Marie's world." — Memorable TV review, Sidney, Australia.
"I enjoy reading about strong women and Marie Dorion is undoubtedly the strongest woman I have read about to date. Jane takes you to the Pacific Northwest with Marie and you share her sorrows, challenges and triumphs with the land and her family. Bravo Jane! Are there more sequels to come?" — Gail Slentz, owner, Voyager Bookstore, Craig, Alaska
Price $13.99
Toss lovingly into cart
Hold Tight the Thread

Book Three in the "Tender Ties" Historical series.

"Enchants as it educates." — Publisher's Weekly

In Book Three, the conclusion of Jane Kirkpatrick's Tender Ties series, Marie Dorion seeks to weave her family and her past into a fabric that will not tear. This series is based upon the life of the real Ioway Indian woman who crossed the Rocky Mountains shortly after Lewis and Clark. In Hold Tight the Thread, as the 1840s bring conflict to the Pacific Northwest's French Prairie region, Marie discovers an empowering truth: unconditional love can shed light on even the darkest places of the heart.

Price: $14.99
Toss lovingly into cart