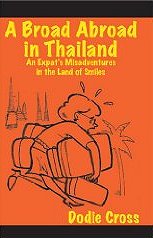 A Broad Abroad in Thailand
Who ever knew that a challenging relocation to a foreign land could be so entertaining!
A Broad Abroad in Thailand follows the adventures of this newlywed expat as she tries to settle into her new home and a life full of challenges she could not have foreseen.
First Place in the National Indie Excellence 2008 Book Awards for Autobiography/Memoir;
Finalist in Humor;
Silver in ForeWord Magazine's Book of the Year Award for Humor.
From the eastern squat toilets to the auto accident on the deadly Sukhumvit Highway that nearly took her life, her troubles begin early and keep coming. The final insult is bladder surgery performed by an inscrutable Thai doctor who decides to restore her virginity and an intolerant nurse who is after her with a vengeance—and an enema tube. As if that's not enough to slow down even the most determined of women, she has to deal with her husband's insatiable testosterone level-a textbook case of sexual fixation.
Interwoven throughout the fabric of her day-to-day life is an undercurrent of absolute control and jealousy perpetrated by a most unlikely source: the boss' wife, Mrs. Anorexia, who manipulates the wives of the employees with her need to govern every aspect of their lives—from shopping, to entertainment, to friends.
In the end, it's her unflagging sense of humor that sees her through all obstacles: from the first pitfalls and pratfalls in her new land, through times of seemingly insurmountable problems.
"...Dodie Cross' memoir is an unbelievably wild anecdotal ride. Her wit, wisdom and writing style belong to the Erma Bombeck school of humor. This broad will have you laughing until you cry-all the while wishing you were in Thailand with her." — Clair Vath — Armchair Interviews
"Dodie Cross has combined a great sense of humor with an equally keen eye focussed on the unique experiences of living in another country. It's a testament to her stamina that she managed to keep the former while dealing with the latter." — Gordon Kirkland, Author, Syndicated Columnist & Entertainer
Price: $15.00
Toss lovingly into cart