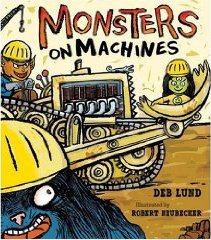 Monsters on Machines
Fire up the trucks! These monsters are ready to roll.
Meet Stinky Stubb, Dirty Dugg, Gorbert, and Melvina, the craftiest crew of monsters ever to build a house. With hard hats and heavy machinery, these feisty fellas dig, dump, hammer, nail, and—after a surprise lunch of Mama's special monsteroni and cheese—they even squeeze in time for an afternoon snooze.
With backhoes, bulldozers, and mud mounds galore, here is a book that young construction enthusiasts will want to dig into over and over again.
Praise
Lund's rhyming story, about a team of ghoulish monsters who ride bulldozers and cranes, has just about everything a child could hope for, from fantastical characters to vehicles, from muck and mud to screams and shouts to "monsteroni and cheese." The plot is uncomplicated—a crew of monsters builds a "Custom Prehaunted" house and then cleans up—and relayed with plenty of brio: "Foreman Gorbert stomps over. He's huge and he's hairy. He grunts out the orders and adds, "Make it scary!" Neubecker's (Wow! School!) bright, digitally colored full-bleed pictures of the workmonsters—Dirty Dugg, Stinky Stubb, Gorbert and Melvina—are reminiscent of Maurice Sendak's Wild Things, but rendered in an electric palette. A monster mama serves lunch, reads a story and oversees naptime, then withdraws: this quartet, apparently, doesn't view tidying up as fiendish ("Without too much whining, they each do their share"). The fun extends to the endpapers, which feature monsters in construction machines. — Publishers Weekly Starred Review
Price: $16.00
Toss lovingly into cart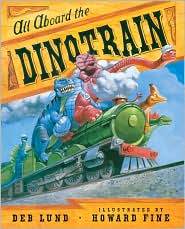 All Aboard the Dinotrain
They stoke the boiler, stow the luggage, and when hills are steep, they even get out and push. That's right, the thrill-seeking daredevil dinosaurs from Dinosailors are back, and now they're riding a train. But this train is more like a roller coaster--up, down, and faster and faster, until the dinos realize the brakes are out!
Laughs and thrills abound in this rip-snorting tale of reckless reptiles and their runaway train.
Deb Lund has created another dinovoyage of epic proportions, an outrageous journey that finds a dinomite match in the equally outlandish art of Howard Fine.
Praise
"This follow-up to Dinosailors follows the transportation-crazed reptiles as they work on and ride the rails. Once the dinocrew (wearing jaunty railroad caps) has loaded up the train with "Coal and lumber, oil and grain" and the prehistoric passengers have boarded (they ride atop the cars since they're far too big to fit inside), the train departs from its station on the plains and heads for the mountains. Fine renders his scenes of goofy, grinning and occasionally overall-wearing dinosaurs with a hilarious sense of skewed elegance-the painterly brushstrokes and luminous, almost romantic pastel hues make the pictures seem like natural history museum murals as imagined by a daft paleontologist. As in the first dino-tale, the journey soon devolves into a series of comic mishaps. At one point the scaly fellows get out to push the train (" 'We think we can!' they dinosay"), and they end up soaking wet and huddled together on a single handcar for the trip back home, swearing, "We'll never take another train..." However, they hint that their traveling days are not over ("But how about a dinoplane -"). While not quite as rollicking an adventure as Dinosailors (or as gross), there's plenty of slapstick fun in these pages, and Lund shows no sign of exhausting her supply of dino-hybrid words (a "dinostoker" shovels coal while the train's engine "coughs and dinochugs") Whether youngsters are fans of trains, T-rexes or both, they'll find this outing dino-mite. Ages 3-7." — Reed Business Information, January 2006
Price $16.00
Toss lovingly into cart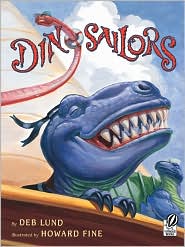 Dinosailors
Deb says: Whidbey Island's Shifty Sailors inspired this book. My brother-in-law Vern started the singing group, and my husband sings with them. My son Kaj and I sailed down to Olympia with them and took the train back. Watch for All Aboard the Dinotrain.
Prepare for a high-rhyming, tummy-tickling, rip-snortingly hilarious tale of hijinks on the high seas when a crew of novice dinosailors set sail for adventure...only to find that something even better awaits them back home.
Deb Lund has created a dinovoyage of epic proportions, an outrageous journey that finds a dinomite match in the equally outlandish art of Howard Fine.
Price: $16.00
Toss lovingly into cart