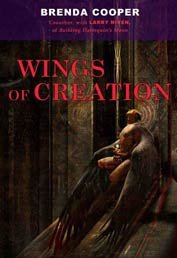 Wings of Creation (Book 3 of The Silver Ship Series)
Joseph has succeeded in rescuing his sister, Chelo, from a pitched battle on the colony planet Fremont. Now he and Chelo and the love of his life, Alicia, and all of their extended family, are finally returning home. Halfway there, a probe intercepts them, sending them new coordinates and a message from Joseph's enigmatic supporter and teacher, Marcus.
War is brewing.
Joseph is wanted for escaping to save Chelo. To stay safe, Joseph must bring his family and friends to the renowned planet of Lopali, where men and women can fly, and peace and freedom abound. Or do they? Alicia has always wanted to fly, but the modifications that give humans wings kill as often as they work.
Joseph must learn to actually change humans, to free the fliers of a tyranny that has enslaved them, since their species was born. If he can do this, the fliers have agreed to help him stop the war. But it's not as easy as it seems.
Hardcover Price: $27.99
Toss lovingly into cart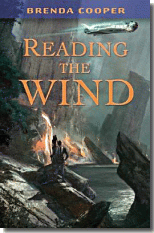 Reading the Wind (Book 2 of The Silver Ship Series)
The colony planet of Fremont was supposed to be free of all genetically altered beings--a new home for a pure race. So when Chelo and her brother Joseph, along with two other genetically altered teenagers, were abandoned on Fremont, they were not welcome. They vowed to get off the planet by any means necessary. Joseph and the others managed to escape, but Chelo was left behind with her new found love, forced to live underground.
Joseph and the others find that their homeworld is full of vengeance. Believing that the people of Fremont killed the teenaged castaways, they sent a technologically advanced mercenary team to Fremont to eliminate the entire planet's population. With the help of Joseph's father, the youngsters head back to Fremont to try to save Chelo.
"Brenda Cooper's newest novel is a feast of character and concept. She depicts the devastation of war on microcosmic and macrocosmic levels, and even more so, the driving motives of young men and women caught in deadly conflict. Cooper is a master explorer of the interaction of society and individuals. She probes the psychology of her genetically enhanced characters with both rare depth and fidelity to scientific plausibility. Moral conundrums drive the plot in this unforgettable narrative. Don't miss this compelling work by a major new talent." — Mary A. Turzillo, An Old-Fashioned Martian Girl.
"Brenda Cooper tells a tale of a powerful brother and sister in a fight for their lives, offering insights along the way into the nature of courage and the hunger for community that burns in every human being. This is a lively book, full of colorful images and a memorable cast of human and animal characters, a worthy successor to The Silver Ship and the Sea." — Louise Marley
Paperback Price: $7.99
Toss lovingly into cart
Hardcover Price: $25.95
Toss lovingly into cart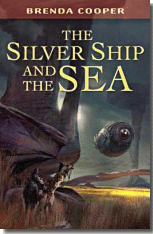 The Silver Ship and the Sea (Book 1 of The Silver Ship Series)
The colony planet Fremont is joyous, riotous, and very wild. Its grasses can cut your arms and legs to ribbons, the rinds of its precious fruit can skewer your thumbs, and some of the predators are bigger than humans. Meteors fall from the sky and volcanoes erupt. Fremont is verdant, rich, beautiful, and dangerous.
Fremont's single town, Artistos, perches on a cliff below rugged mountains. Below Artistos lie the Grass Plains, which lead down to the sea. And in the middle of the Grass Plains, a single silver spaceship lies quiet and motionless. The seasons do not dull it, nor do the winds scratch it—and the fearful citizens of Artistos won't go near it.
Chelo Lee, her brother Joseph, and four other young children have been abandoned on the colony planet. Unfortunate events have left them orphaned in a human colony that abhors genetic engineering—and these six young people are genetically enhanced.
With no one to turn to, Chelo and the others must now learn how to use their distinct skills to make this unwelcome planet home, or find a way off it. They have few tools—an old crazy woman who wonders the edges of town, spouting out cryptic messages; their appreciation and affection for each other; a good dose of curiosity; and that abandoned silver space ship that sits locked and alone in the middle of the vast grass plain...
Endeavor Award Finalist
Praise
"Combines the feel of classic SF adventure with strong, character—driven storytelling and lays the foundation for other tales set in her brave new world." — Library Journal
"Distinctive characterizations, well-limned interrelationships, and the vividly realized Fremont contribute to an exciting coming-of-age story with a strong message about the evils of prejudice...YAs are sure to relate to the travails and exploits of these extraordinary young people." — Booklist (starred review)
"Good plot, with some nice touches...Characterizations were particularly well done." — Locus
Price: $7.99
Toss lovingly into cart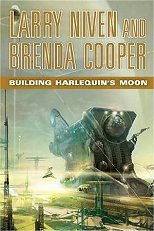 Building Harlequin's Moon
The first interstellar starship, John Glenn, fled a Solar System populated by rogue AIs and machine/human hybrids, threatened by too much nanotechnology and rife with political dangers. The John Glenn's crew intended to terraform the nearly pristine planet Ymir, in hopes of creating a utopian society that will limit intelligent technology.
But by some miscalculation they have landed in another solar system, and extremely low on the antimatter needed to continue to Ymir, they must shape the nearby planet Harlequin's moon, Selene, into a new, temporary home. Their only hope of ever reaching Ymir is to rebuild their store of antimatter through decades of terraforming the moon.
Gabriel, the head terraformer, must lead this nearly impossible task, with all the wrong materials. His primary tools are the uneducated and nearly illiterate children of the original colonists, born and bred to build Harlequin's moon into a virtual antimatter factory. With no concept of the future and with life defined as duty, one girl, Rachel Vanowen, begins to ask herself the question: what will become of the children of Selene once the terraforming is complete.
Praise
"Niven and Cooper have crafted a multi-generational, star-spanning epic, with intriguing, fast-paced action. Against a backdrop of mind-boggling technology, the authors ask important questions about how far science should go, and its impact on social structures and human rights. Niven and Cooper are playing God on a grand scale." — Brian Herbert, New York times bestselling author of Dune: The Battle of Corrin on Building Harlequin's Moon
"Recent astronomy hints at a beautiful but stark vision of the solar systems around us. Building Harlequin's Moon is the best fiction I've seen based on this vision." — Vernor Vinge, Hugo Award—winning author of A Fire Upon the Deep
"Fans of both hard and softer, psychological SF will welcome veteran Niven and newcomer Cooper's well-written tale of a 60,000-year layover in space....Niven and Cooper provide complicated characters, particularly the AI, which struggle with realistic moral dilemmas." — Publishers Weekly on Building Harlequin's Moon
Price: $7.99
Toss lovingly into cart