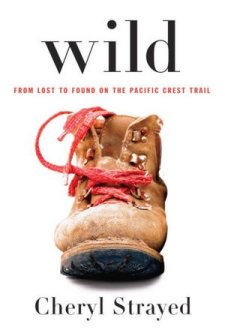 Wild: From Lost to Found on the Pacific Crest Trail
by Cheryl Strayed
Summary
A powerful, blazingly honest memoir: the story of an eleven-hundred-mile solo hike that broke down a young woman reeling from catastrophe—and built her back up again.
At twenty-two, Cheryl Strayed thought she had lost everything. In the wake of her mother's death, her family scattered and her own marriage was soon destroyed. Four years later, with nothing more to lose, she made the most impulsive decision of her life: to hike the Pacific Crest Trail from the Mojave Desert through California and Oregon to Washington State—and to do it alone. She had no experience as a long-distance hiker, and the trail was little more than "an idea, vague and outlandish and full of promise." But it was a promise of piecing back together a life that had come undone.
Strayed faces down rattlesnakes and black bears, intense heat and record snowfalls, and both the beauty and loneliness of the trail. Told with great suspense and style, sparkling with warmth and humor, Wild vividly captures the terrors and pleasures of one young woman forging ahead against all odds on a journey that maddened, strengthened, and ultimately healed her.
Praise
"...a charming, intrepid trial by fire, as she, [Strayed], emerges from the ordeal bruised but not beaten, changed, a lone survivor." — Publishers Weekly (Starred Review)
"Stunning...An incredible journey, both inward and outward." — Garth Stein, author of The Art of Racing in the Rain
"A rich, riveting true story.... Our verdict: A." — Entertainment Weekly
"Strayed's journey was as transcendent as it was turbulent. She faced down hunger, thirst, injury, fatigue, boredom, loss, bad weather, and wild animals. Yet she also reached new levels of joy, accomplishment, courage, peace, and found extraordinary companionship." — Christian Science Monitor
About the Author
Cheryl Strayed is the author of three books: Wild, Tiny Beautiful Things (forthcoming), and Torch, a novel. Strayed has written the "Dear Sugar" column on TheRumpus.net since March 2010. Her writing has appeared in the New York Times Magazine, the Washington Post Magazine, Vogue, Allure, Self, the Missouri Review, Brain, Child, Creative Nonfiction, Water~Stone Review, the Sun and elsewhere. She lives in Portland, Oregon with her husband, the filmmaker Brian Lindstrom, and their two children.

Buy Now - $25.95