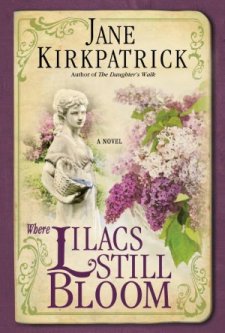 Where Lilacs Still Bloom
by Jane Kirkpatrick
Summary
One woman, an impossible dream, and the faith it took to see it through.
Jane Kirkpatrick's 19th historical novel, Where Lilacs Still Bloom, is based on the life of German immigrant and farm wife Hulda Klager. Hulda possesses only an eighth-grade education—and a burning desire to create something beautiful. What begins as a hobby to create an easy-peeling apple for her pies becomes Hulda's driving purpose: a time-consuming interest in plant hybridization that puts her at odds with family and community, as she challenges the early twentieth-century expectations for a simple housewife.
Through the years, seasonal floods continually threaten to erase her Woodland, Washington garden and a series of family tragedies cause even Hulda to question her focus. In a time of practicality, can one person's simple gifts of beauty make a difference? Based on the life of Hulda Klager, Where Lilacs Still Bloom is a story of triumph over an impossible dream and the power of a generous heart.
"Beauty matters... it does. God gave us flowers for a reason. Flowers remind us to put away fear, to stop our rushing and running and worrying about this and that, and for a moment, have a piece of paradise right here on earth." (excerpt from Where Lilacs Still Bloom)
"Rarely does a book inspire me as much as this one has. To learn about what this one woman and her family did in their lifetime makes me want to try harder in my own life. I could never do what she did with flowers, but I can hope to live in such a way that my passion for God, my love for my family, and my hope for a beautiful garden will be remembered. I highly recommend reading this book!" — Sandi Smith, blogger
"The book is beautifully written—an inspiring and life-affirming tribute to the courage and spirit of the amazing Hulda Klager...What a story it is!...her indomitable spirit shines throughout the years. In her own way, she was a pioneer for women's rights, a scientist, an environmentalist, and an example for anyone who won't take no for a final answer...The 'Hulda Klager Lilac Gardens' are a National Historic Site located in Woodland, Washington...As generations come and go, Hulda's sweetly scented legacy continues to enrich lives with its beauty." — Reviewer Virginia Campbell.
About the Author
Jane Kirkpatrick, noted for her lively presentations and well-researched stories that encourage and inspire, is the author of 22 books including 19 historical novels. Many of her titles are based on the lives of real people or incidents set authentically in the American West. She has won the coveted Wrangler Award from the Western Heritage Center, the WILLA Literary Award, and been named to Library Journal's Best Books; and her works have been finalists for the Christy, Spur, Oregon Book Award, Reader's Choice awards, and chosen as Book of the Month and Literary Guild selections.
After 26 years living on Starvation Lane on a remote ranch in Oregon, Jane Kirkpatrick and her husband, Jerry, recently moved back to Bend, Oregon with two dogs, a formerly outdoor cat, and two lilacs from Hulda Klager's garden.
Learn more at: http://www.jkbooks.com/ or check out more of her books at her ABFAS web page.