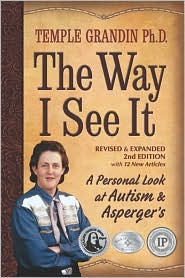 The Way I See It: A Personal Look at Autism and Asperger's
by Temple Grandin
Summary
In this innovative book, Dr. Temple Grandin gets down to the daily issues of autism, the ones parents, teachers, and individuals on the spectrum face every day. Temple offers helpful do's and don'ts, practical strategies, and try-it-now tips, all based on her "insider" perspective and a great deal of research.
Among the specific topics Temple delves into are:
How and Why People with Autism Think Differently,
Economical Early Intervention Programs that Work,
How Sensory Sensitivities Affect Learning,
Behaviors Caused by a Disability vs. Just Bad Behaviors,
Teaching People with Autism to Live in an Unpredictable World,
Alternative Medicine vs. Conventional Medicine,
Employment Ideas for Adults with Autism,
The Role of Genetics and Environmental Factors in Causing Autism,
Understanding the Mind of a Nonverbal Person with Autism,
Finding Mentors and Appropriate Colleges, and many more.
This revised and expanded edition contains revisions based on the most current autism research.
"If autism had a rock star, it would be Grandin. Diagnosed with autism when little was known about the condition, Grandin went on to earn a Ph.D., become an expert on the humane treatment of livestock, and write prominent autobiographical works on autism (e.g., Thinking in Pictures). This collection of articles from Autism Asperger's Digest that draw heavily from her own life provides snippets of her views on the condition. The columns are organized by theme, each with a new introductory section written by Grandin. Notable sections include labels and diagnoses, education (especially harnessing a child's special talent), and the social world of autism." — Library Journal
Temple Grandin, Ph.D., is a gifted animal scientist who has designed one-third of all the livestock-handling facilities in the United States. She also lectures widely on autism—because Temple Grandin, born with autism, has taken a leadership role, speaking out to help the rest of us understand how our autistic friends and neighbors experience the world.