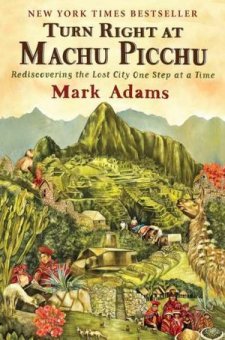 Turn Right at Machu Picchu: Rediscovering the Lost City One Step at a Time
by Mark Adams
Summary
What happens when an unadventurous adventure writer tries to re-create the original expedition to Machu Picchu?
In 1911, Hiram Bingham III climbed into the Andes Mountains of Peru and "discovered" Machu Picchu. While history has recast Bingham as a villain who stole both priceless artifacts and credit for finding the great archeological site, Mark Adams set out to retrace the explorer's perilous path in search of the truth—except he'd written about adventure far more than he'd actually lived it. In fact, he'd never even slept in a tent.
Turn Right at Machu Picchu is Adams' fascinating and funny account of his journey through some of the world's most majestic, historic, and remote landscapes guided only by a hard-as-nails Australian survivalist and one nagging question: Just what was Machu Picchu?
Praise
"Quite funny and unpretentiously well informed...The perfect way to acknowledge the lost city's 100th birthday." — Christian Science Monitor ("Editor's Choice")
"An engaging, informative guide to all things Inca." — Entertainment Weekly
"...ebullient…The book seamlessly joins three narrative threads: the brutal 16th-century conquest of the Incas by the Spanish conquistadors and the subsequent retreat of the rebellious ruler, Manco Inca, into a series of jungle redoubts; Bingham's 1911 expedition that retraced Manco's flight; and Adams's own mishap-filled recreation of Bingham's trip a century later." — The New York Times Book Review
"Adams gives all...theories their moment, but finally concludes that 'Machu Picchu is always going to be something of a mystery. Which is, of course, part of its allure.' En route to this judgment Adams makes his way to a number of extraordinary places, all of them spectacular but pale by comparison with Machu Picchu. He has a few adventures and a scare or two, and gets a considerably deeper immersion in Peruvian life and culture than he'd previously been exposed to in Lima." — The Washington Post
About the Author
Mark Adams's writing has appeared in GQ, Outside, The New York Times Magazine, Fortune, Rolling Stone, and National Geographic Adventure, among other publications. He lives near New York City with his wife and their three sons.

Buy Now - $16.00