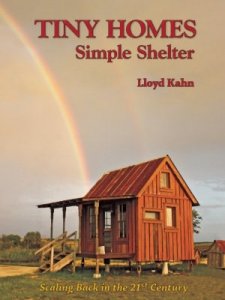 Tiny Homes: Simple Shelter
by Lloyd Kahn
Summary
Homeowners, designers, architects, road gypsies, water dwellers, dreamers—people of all ages, all over the world—are making do creatively with under—500 sq. ft. shelters. This is a real and powerful alternative to high rents, or a lifelong obligation to a bank on an overpriced home.
Lloyd Kahn's 1973 Shelter helped inspire a tiny home movement that continues to blossom in unexpected places and ways. This standalone follow-up demonstrates how small size can matter when you do it right. Its pocket-sized cabins, houseboats, buses, trucks, and prefabs display a winning and an envy-provoking simplicity.
John Field sold his 2800 sq. ft. house in upstate New York and built a 128 ft. cabin in the high Texas desert. The "Lady on the Road" (who wishes to remain anonymous), has been living full-time in a highly decorated bus since she was 51 (she's now 72). A couple in British Columbia have a houseboat with adjacent floating garden. A rustic cabin has been built on a remote beach in Mendocino, inspired by our book Shelter, and reachable only by boat. A lot of small houses have been built on trailers, so they can be moved around and don't necessarily require land ownership.
More and more people are living in buses, trucks, houseboats, and other movable shelters. There are a large number of prefabs and kits now available. There are innovative solutions in cities, such as the "capsules" in Tokyo. There are numerous websites with news, photos, and/or plans for tiny houses.
Like Kahn's previous building books, including Builders of the Pacific Coast, Tiny Homes has over 1000 photos, along with stories, interviews, and insights from people who have chosen to scale back in the 21st century.