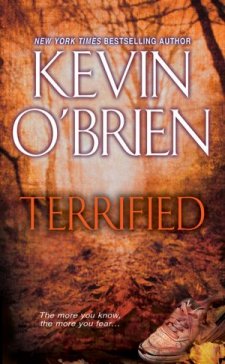 Terrified
by Kevin O'Brien
Summary
Everyone thinks she's dead, but Lisa Swann has disappeared to escape her sadistic husband, Glenn. When a woman's severed body parts are found near their home in suburban Chicago. Glenn is convicted for his wife's murder.
Two thousand miles away in Seattle, Lisa discovers she's pregnant. If she comes forward to exonerate her abusive husband, she'll put her unborn child in danger. So Lisa becomes Megan Keeslar. With her new identity, Megan builds a life for herself and her son, Josh. But Megan never forgets that she's a fugitive. Someone won't let her forget. Is he behind the rash of grisly "Garbage Bag" murders in the Seattle area? Is he the one sending her strange emails and following her son around at school? Shortly after Glenn's release from prison, the unthinkable happens. Someone breaks into Megan's home, savagely beats her, and abducts Josh.
To save her son, she must put herself at the mercy of a cunning maniac. Megan thought she knew fear, but her nightmare has just begun.
About the Author
Before his thrillers landed him on the New York Times bestseller list, Kevin O'Brien was a railroad inspector who wrote novels at night. He grew up on Chicago's North Shore, studied journalism at Marquette University in Milwaukee. He moved to Seattle in 1980. Kevin is one of the Seattle 7 Writers, a collective of best selling author's, dedicated to supporting literacy, writing and education. He is hard at work on his 14th novel.

Buy Signed Copy - $9.99