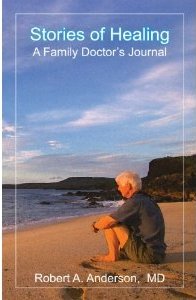 Stories of Healing: A Family Doctor's Journal
by Dr. Robert Anderson
Summary
In Stories of Healing: A Family Doctor's Journal, Dr. Robert Anderson documents an amazing series of patient encounters and case studies from over his forty years of medical practice. One of the founders of the American Holistic Medical Association and of the American Board of Integrative Holistic Medicine, his work as a family doctor has always been on the leading edge of holistic practice.
These stories of healing serve to explore the real mystery and wonder of medicine as a path to continual self-discovery, lifelong learning, the power of observation, and the mystery of the human condition. Section headings include such topics as Vital Nutrients, Infections, Our Toxic World, Allergies and Sensitivities, Lifestyle Practices, Attitudes and Emotions, Cancer, What's the Source of Healing?, and the final section, Mysterium. Stories of Healing quietly extends our awareness of the incredible depth and beauty available to us in the practice of medicine.
Best-selling Dr. Bernie Siegel, author of twelve books on healing, says: "This book is a treasure which needs to be read by everyone so that they understand our potential and self-empowerment abilities when confronting illness and the health care system. Healing and survival are due not to miracles or spontaneous remissions but to self-induced healing...this book makes it clear what is possible when we assume responsibility and participate in our care."
Christiane Northrup, MD, author of three New York Times Bestsellers including The Wisdom of Menopause calls it "a fantastic book written by one of the finest holistic doctors I've ever known."